Yacht For Sale
Yacht For Sale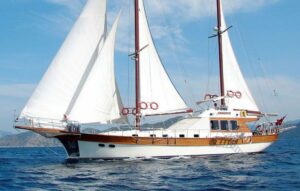 We can offer you our expertise to help you find a perfect sailing yacht built with grp, epoxy laminated, cold-molded wood, marine grade aluminum, or HTS (high tensile steel.). Buying a GRP (Glass Reinforced Plastic) shortly fiberglass yacht has many advantages over the classic wooden hull boats however the grp boats has also widely known common disease which is called "osmosis" and you might really want to know if your future yacht has been effected with osmosis. 
We sincerely recommend first-time buyers a preowned boat and to get professional help from an experienced captain as an expert. How many guests or family members would you like to accomodate onboard? Should it be a motor yacht or sailing yacht or gulet? How long time you would spend on board would you only care for coastal navigation or want to explore the oceans? How much would you like to spend? If you are looking for a used boat then even more important to have an expert checking your first yacht or let's call it, daddy's toy! – Yacht For Sale
From the anchor to chains, engine room, and all the extra apparatus which might have, ropes, fenders, electrical wiring, electric motors, pumps, control panels, etc. everything counts. The next step is to calculate how much annual maintenance, fuel, mooring fee, and crew wages you might be undertaking in order to know what you are really getting into. Not to forget the resale value of your yacht which should be maintained as high as possible. This is why we really recommend having the yacht for sale expertise with a professional captain and even take her to a sea trial, you will not regret the money you spend on such expertise.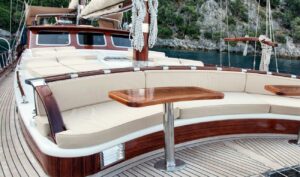 It is funny that there is a saying amongst yacht owners, that there are two very happy days on a boat owner's life,  first when you bought her and the next happy day is when you finally sold her. Yachts for sale Turkish motor sailing gulets have a long history behind the rounded stern or Transom types with superior performance and maneuverability when sailing however they are the most favorable leisure yachts with their spacious interiors since they are mostly designed for maximum comfort and can be compared with 5-star hotels suits with master cabin accommodations and they are as luxurious as sailing yachts.
Lately, ultra-luxury gulets are built in Turkey and are being sold all around the world, they are preferred for being strong, seaworthy and are built bigger and better each and every year to satisfy the most exigent cruise vacation customers and yacht owners. Akasia Yachting can help your yacht for sale locate and buy or help you with new construction of a traditional Turkish gulet built with marine type high tensile steel, aluminum, composite GRP, or epoxy laminated wood according to your taste, price, and furthermore to your hearts desire. – Yacht For Sale