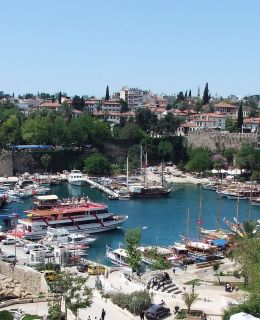 Antalya to Kalkan Route
In between yacht charter Antalya to Kalkan route there are hundreds of archaeologically concentrated regions in Turkey, between Alanya and Fethiye where early roman civilizations have surged such as Karian and the Lycian federation with numerous cities dating 2400 years old. Such as Alanya, Side, Aspendos, Perge, Antalya, Phaselis, Olympos, Telmessos, Myra, Arikanda, Andriake, Simena, Antiphellos, Xanthos, Patara. Letoon etc.
These once bright, Prosperous city countries have many archaeological remains and are under the strict protection of the Ministry of Tourism Turkey. Yacht charter Antalya to Kalkan route. Not limited to early greek or late roman civilizations furthermore Byzantium and Selchuk Turks then finally the Ottoman empire left traces of civilizations in Southern and southwestern Anatolia.
Antalya to Kalkan Route
1st Day of Antalya to Kalkan Route
The distance from the International airport to Celebi Marina is about 40 minutes drive, we can arrange your airport transfers, Certainly, you need to pull the shortest stick in order to get to the master cabin. The captain will brief you shortly to show you security measures and general rules to follow on board. On the first night we shall stay in the marina and you can enjoy a night out in old town Antalya after having a welcome dinner at the stern deck sipping good Turkish wine.
The cruise starts earlier than breakfast that takes place near rat island, where you can see byzantine ruins. Phaselis is still intact with a Roman bath and an amphitheater, Olympos is one of the greenest valleys of the Lycian federation, with Olympos river which Homero mentioned as "brave warriors who fought in Troya, coming from the river banks of Olympos" in Iliada.
Later you can see the tomb of the famous Karian pirate captain Eudemos, mounted on the rock with a drawing of a classic design Tirhandil and description which says.- Antalya To Kalkan Route
He entered the harbour and anchored forever,
thus no hope from the wind nor the sunshine
after the warm sunrise has abandoned captain Eudemos
Buried here like a white foam over the breaking waves.
2nd Day of Antalya to Kalkan Route
Captain and the crew are early risers and they start cruising before breakfast. It takes 3,5 hours to get to Cayagzi delta where sandy beaches and the beautiful amphitheater of Myra and the famous St. Nicholas church can be visited. As well as bathing in crystal clear waters where the cold waters of the river and warm seawater don't mix.
Go ahead and walk into the very source of this thermal river icy cold, snow melted river with strange minerals which is cure for many wounds and skin diseases. The evening party will take place in Gokkaya where you can go for a walk amongst the safe ruins.
3rd Day of Antalya to Kalkan Route
The rich Turkish breakfast is in Gokkaya where the lush green and crazy blue meets with mesmerizing thyme odors near kale village, where you can find many gifts and souvenirs hand made by the locals during winter month, you can easily bargain with the local girls who can speak almost each and every language with a few words to sell their goods.
After breakfast will take you to the sunken city of Simena, where you can see the ruins of 2500 years old walls under the water after a major earthquake. You may visit Kale village like a visit to an open-air museum and take breathtaking pictures or if you care for taking lunch where the fresh fish, octopus are prepared with olive oil thyme sauce on a barbecue. After lunch, we have another swimming spot called Kusluk where the aperitives and the evening tea will be served while the crew hoists the sails with a fresh wind on the way to Kekova bays.
4th Day of Antalya to Kalkan Route
The chef will be preparing a delicious breakfast before you wake up thus all you need is to jump in clear, silky waters to refresh yourself before taking your place at the breakfast table.
After breakfast, we are heading to Kas after passing the Greek island Castellorizonte or in greek Meisti in southernmost Kas. The Bayindir bay nearby kas is ideal for swimming and watersports however we prefer to go to kas to spend the night for fresh water and provisions supply, while at Kas you can see the Tandem paragliders with an adrenaline rush, a unique adventure.
Please don't hesitate to ask our crew for a bottle of wine and few glasses to drink on the Kas pier against the sunset, we recommend smiley's restaurant if you care for dinner over the harbor accompanied with a splendid view where the portions are generous and delicious. Not to mention Kas has many bars and restaurants with live music.
5th Day of Antalya to Kalkan Route
We set sails to Ucagiz village after the breakfast being served at Kas harbor where you can see the Lycian tombs as if they are afloat, the water is very clean and refreshing, we shall take you to a nearby cove to swim and also take a nap after the lunch. Lets us choose another gorgeous bay called Karaloz to stay overnight since it's a privilege to have a mooring space in Karaloz at night and we have to hurry up to fix our place before the other charter yacht occupies this place. The chef might offer a delicious first to prove that he can prepare varieties of salads, entries, main and dessert, The stars are so bright and they seem so close to touching, listen to the soft music and enjoy the peaceful silence.
6th Day to Antalya to Kalkan Route
You don't need to force yourselves to wake up very early in the morning since the fresh thyme and pine scented shores and clear waters where you can count the pebble stones are calling you to have a swim. We are already passing the Finike bay, try catching fish in these deep waters with a rappala, if you are lucky you might get a large fish during our sea passage. What if we anchor at the beach of Suluada where you can swim and play with colorful stones before lunch and get ready for smooth sailing with the afternoon breeze.
Our next stop is Sazak bay which can be described as a visual feast, with peaceful shores and lush green pine trees settled amongst rocks. The surprise is not over yet, we take you to Porto Ceneviz, where we can prepare a barbecue with fresh fish coming from the local fisherman.
7th Day of Antalya to Kalkan Route
After breakfast let's go for a walk in Maden bay where the Caretta Caretta turtles lay their eggs and the shores are under protection. Not to forget the little creek and a small river turned this place into a green heaven. Ask your captain to go ashore and walk to the ruins of Cirali and continue to the famous Chimera where Belloroponthes killed the fire-breathing monster chimera.
The natural metan gas is coming from everywhere, you can use your lighter and make fire under the rocks and even make some barbecue with sausages or marshmallows. Olympos mountain is behind you to approve the mythology.
We are heading to Phaselis one of the most beautiful places in southern Turkey. The richest community with 6 talents of silver equivalent income tax in the Lycian federation can be compared to Monaco today. Phaselis with three well sheltered bays is offering an archeological fiest with Roman aqueducts, baths a Greco –roman amphitheater, and half destroyed acropolis.
8th Day of Antalya to Kalkan Route
The breakfast will take place in this beautiful place with warm sunshine, captain might have decided To heave up the anchor to proceed to Antalya harbor, cruising alongside Tekirova, Kiris, Kemer. Goynuk and Beldibi Hotels and resorts. the transfer vehicle should be waiting for you to take to the airport. Make sure you have all your belongings with you before leaving your cabin and shake hands with the crew showing your gratitude.