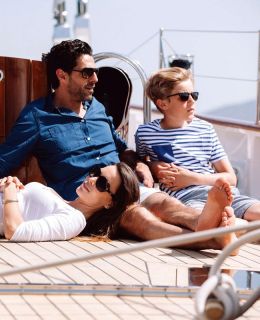 LUXURY YACHT CHARTER
Dear All,
We would like to take this opportunity to welcome you to "akasiayachting.com" we are very excited to see that you are interested our luxury yacht charter in Turkey otherwise buying or building a yacht with us, we are very pleased that you have decided to see what we can offer, while cruising the blue waters of Turkish Riviera.
Our philosophy and mission is to assure that every expectation is surpassed. We aim to cater for every need and nothing is impossible on our agenda, We take pride and ensure silver plate quality service through our professional and experienced yacht crew who will create the ideal atmosphere onboard to guarantee a unique and unforgettable experience for you and your loved ones.
"Carpe Diem" we would like to make sure you will remember your luxury yacht charter holiday with us, you will arrive as honored Guests and depart as close Friends, We appreciate the opportunity to welcome you on board one of our luxury yachts and to serve you and your family.
We invite you to join us on a Blue voyage across turquoise waters of the Eastern Mediterranean. Megayachts, Luxury motor yachts, Turkish luxury gulet charter with professional yacht crew and utmost attention on board Traditional Turkish Gulets or motoryacht charter are crewed luxury yacht charter options in Turkey.
Committed to being one of the most prominent megayachts, luxury yacht charter and management company, serving the blue water industry, with professional tyba contracts, we are determined to secure all of your needs through our professional yachtcrew and management team, making your next yacht charter holiday unforgettable. Our motto is " we leave you in peace, not alone".
Based out of Fethiye, Turkey our location is in close reach to some of the most desirable destinations within the Eastern Mediterranean region, including the captivating bays of Fethiye, Gocek, Marmaris Bodrum, Antalya,
Operating within the blue water industry since 1988 we have extensive experience in consulting, yacht building, and luxury yacht charter Turkey throughout the southwestern Turkish Riviera. Staying true to our values, integrity and experience ground our commitment to providing luxury yacht charter in Turkey.
Luxury Yacht Charter
we have provided well-illustrated photos with details of each and every Megayacht, Motoryacht or Turkish gulet from a wide array of yachts to choose from. To assist you in finding the yacht that best suits your needs on your luxury yacht rental holiday in Turkey. Let us be your gateway to explore the beautiful Mediterranean and the Aegean coastlines, Chartering a Turkish gulet operated by our experienced yachtcrew is a very popular option amongst many holiday makers who choose to highlight their summer holiday on the southwestern Turkish riviera.