Yacht Charter in Istanbul
Yacht Charter in Istanbul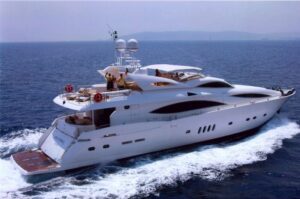 We offer a selection of luxury motor yacht charters in Istanbul to individuals or groups for private Bosphorus yacht charter & dinner cruises. Variable styles and sizes of standard and luxury motor yacht charter in Istanbul & powerboats to suit all your requirements are available. We offer a wide choice of private charter boats, motor-yacht charters in Istanbul for hire on the Bosphorus according to the size of your group of friends and family. Luxury or standard class party boats available on an hourly or daily basis,
Private yacht charter Bodrum & Istanbul Cruises for small groups from 2 hours to whole day long trips. Sunset dinner cruises, lunch or cocktail cruises. Choice of international menus for elegant dining. On board Entertainment, Belly dancers with music, etc.
English-speaking local guidance guided assistance throughout the cruise. Bosphorus business meetings, VIP conference & incentives, company events, Grand Prix (GP) yachts, Formula One (F1) charters, weddings, dinner dance cruises, reunions, birthdays, anniversaries, sightseeing boat rides, student groups, or educational trips.
Turkish variety of meze served on a well-appointed deck ready for your own private enjoyment. You will cruise along with the magnificent yacht charter Istanbul Bosphorus shores passing ornamented Ottoman palaces, waterfront mansions, and picturesque villages between the two continents of Europe and Asia. Sightseeing yacht charter in Istanbul seen from the Bosphorus is an unforgettable cruising experience. Enjoy unique views in a relaxing environment with this Sightseeing Cruise gliding by some of the famous and historical sights of the Bosphorus Strait.
Night Lifes with Yacht Charter in Istanbul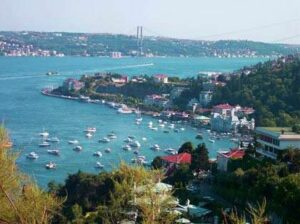 Bosphorus Sunset Cruise, On the way to your favorite restaurant, why not start the evening with some drinks during a Sunset Cruise on the Bosphorus. After the cruise, we can drop you off at the below restaurants or piers such as. Lacivert, Delmare, Poseidon, Feriye Restaurant, Kabataş, Çırağan Palace, Four Seasons hotel on Bosphorus. Bosphorus Dinner Cruise The ultimate yacht and dining experience.
Enjoy the cruise in style along the Bosphorus illuminated by night while sampling some of the finest local food and wines especially selected for you. A memorable way to spend an evening or celebrate a special occasion with Bosphorus yacht charter in Istanbul.
Cruise to the Black Sea at Anadolu Kavağı Experience a cruise along the Bosphorus up towards the Black Sea and back, stopping at the furthermost point in the picturesque fisherman village of Anadolu Kavağı where you can enjoy lunch or visit the hill-top castle for panoramic views overlooking the Black Sea. Princess Islands Cruise a refreshing day out, swapping the city for one of the idyllic offshore islands in the Marmara Sea.
Enjoy a relaxing yacht charter in Istanbul cruise over and back with a stop for lunch on one of the islands. While docked, you may explore ashore, stay relaxing on board, or enjoy swimming opportunities.
Please Note: Yacht charter in Istanbul prices are quoted as the total for the private yacht hire (Not Per Person) for the duration and route indicated, including the crew, insurance, and legal taxes. Dinner prices are quoted separately above and per person. Guaranteed departures rain or shine with Bosphorus.