Motor Yacht Charter Croatia
Motor Yacht Charter Croatia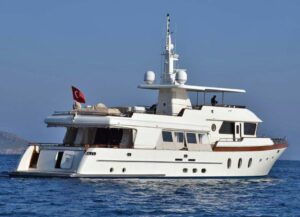 Yacht charter in Croatia is still an unexplored hidden treasure, uncrowded and completely unique in its unspoiled wild beauty. and there is no more complete and intimate way of exploration of the country's remarkably preserved natural wonders combined with culturally enriching inland forays into atmospheric coastline towns than by taking a magical yachting tour.
Yacht charter in Croatia, named by Lord Byron "The most beautiful encounter between land is the sea." is most profoundly and compellingly perceived from aboard a boat, where nothing stands between your feelings and breathtaking magnanimity of mountain gorges covered in dense pine and cider trees plummeting majestically into the pristine waters of the sea.
You have enough time to motor yacht charter Croatia adjust your senses and spirit to the newly opening shades and contours of the landscape, to linger in this postcard of peace and tranquility a bit longer than being inland might allow immersing into an overarching feeling of endless freedom and completeness.