Olimp Motor Yacht
Olimp Motor Yacht
---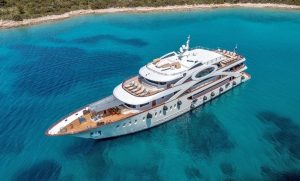 Olimp Motor Yacht is a magnificent ship of the maritime world where luxury and entertainment come together Decently. This 49-meter-long ship was built in 2017 and underwent a major renovation in 2022.
Spacious Accommodation and Modern Design
A total of 20 guests can be accommodated in 10 luxury cabins of the Olimpia. Each cabin has a private bathroom and modern amenities. It offers a perfect holiday to seafarers with its spacious interiors and comfortable deck.
Water Sports and Entertainment
Olimp attaches importance to water sports and entertainment. A tender boat equipped with the Novurania Equador 500 (160 HP) offers many activity options, such as water skiing, jet skiing, donut ride, paddle board and snorkeling. Enjoy the pleasure of enjoying the sea.
Technical Details and Performance
The Olimp has a cruising speed of 8 knots and can reach a maximum speed of 10 knots. This ship offers both comfort and performance to seafarers.
Weekly Charter Rates
General Specifications
Water Toys
Tender boat Novurania Equador 500 (160 HP) Water ski, Jet ski, Donut ride, Paddle boards, Snorkeling equipment
Su
Mo
Tu
We
Th
Fr
Sa
Su
Mo
Tu
We
Th
Fr
Sa
Su
Mo
Tu
We
Th
Fr
Sa
Su
Mo
Tu
We
Th
Fr
Sa
Su
Mo
Tu
We
Th
Fr
Sa
Su
Mo
May

1

2

3

4

5

6

7

8

9

10

11

12

13

14

15

16

17

18

19

20

21

22

23

24

25

26

27

28

29

30

31

June

1

2

3

4

5

6

7

8

9

10

11

12

13

14

15

16

17

18

19

20

21

22

23

24

25

26

27

28

29

30

July

1

2

3

4

5

6

7

8

9

10

11

12

13

14

15

16

17

18

19

20

21

226 days Confirmed

---

22.07.2023 16:00PM
till
28.07.2023 10:00AM

---

Split / TBC to Split / TBC

236 days Confirmed

---

22.07.2023 16:00PM
till
28.07.2023 10:00AM

---

Split / TBC to Split / TBC

246 days Confirmed

---

22.07.2023 16:00PM
till
28.07.2023 10:00AM

---

Split / TBC to Split / TBC

256 days Confirmed

---

22.07.2023 16:00PM
till
28.07.2023 10:00AM

---

Split / TBC to Split / TBC

266 days Confirmed

---

22.07.2023 16:00PM
till
28.07.2023 10:00AM

---

Split / TBC to Split / TBC

276 days Confirmed

---

22.07.2023 16:00PM
till
28.07.2023 10:00AM

---

Split / TBC to Split / TBC

286 days Confirmed

---

22.07.2023 16:00PM
till
28.07.2023 10:00AM

---

Split / TBC to Split / TBC

29

30

31

August

1

2

3

4

5

66 days Confirmed

---

06.08.2023 16:00PM
till
12.08.2023 10:00AM

---

Split / TBC to Split / TBC

76 days Confirmed

---

06.08.2023 16:00PM
till
12.08.2023 10:00AM

---

Split / TBC to Split / TBC

86 days Confirmed

---

06.08.2023 16:00PM
till
12.08.2023 10:00AM

---

Split / TBC to Split / TBC

96 days Confirmed

---

06.08.2023 16:00PM
till
12.08.2023 10:00AM

---

Split / TBC to Split / TBC

106 days Confirmed

---

06.08.2023 16:00PM
till
12.08.2023 10:00AM

---

Split / TBC to Split / TBC

116 days Confirmed

---

06.08.2023 16:00PM
till
12.08.2023 10:00AM

---

Split / TBC to Split / TBC

126 days Confirmed

---

06.08.2023 16:00PM
till
12.08.2023 10:00AM

---

Split / TBC to Split / TBC

136 days Confirmed

---

13.08.2023 16:00PM
till
19.08.2023 10:00AM

---

Split / TBC to Split / TBC

146 days Confirmed

---

13.08.2023 16:00PM
till
19.08.2023 10:00AM

---

Split / TBC to Split / TBC

156 days Confirmed

---

13.08.2023 16:00PM
till
19.08.2023 10:00AM

---

Split / TBC to Split / TBC

166 days Confirmed

---

13.08.2023 16:00PM
till
19.08.2023 10:00AM

---

Split / TBC to Split / TBC

176 days Confirmed

---

13.08.2023 16:00PM
till
19.08.2023 10:00AM

---

Split / TBC to Split / TBC

186 days Confirmed

---

13.08.2023 16:00PM
till
19.08.2023 10:00AM

---

Split / TBC to Split / TBC

196 days Confirmed

---

13.08.2023 16:00PM
till
19.08.2023 10:00AM

---

Split / TBC to Split / TBC

206 days Confirmed

---

20.08.2023 16:00PM
till
26.08.2023 10:00AM

---

Split / TBC to Split / TBC

216 days Confirmed

---

20.08.2023 16:00PM
till
26.08.2023 10:00AM

---

Split / TBC to Split / TBC

226 days Confirmed

---

20.08.2023 16:00PM
till
26.08.2023 10:00AM

---

Split / TBC to Split / TBC

236 days Confirmed

---

20.08.2023 16:00PM
till
26.08.2023 10:00AM

---

Split / TBC to Split / TBC

246 days Confirmed

---

20.08.2023 16:00PM
till
26.08.2023 10:00AM

---

Split / TBC to Split / TBC

256 days Confirmed

---

20.08.2023 16:00PM
till
26.08.2023 10:00AM

---

Split / TBC to Split / TBC

266 days Confirmed

---

20.08.2023 16:00PM
till
26.08.2023 10:00AM

---

Split / TBC to Split / TBC

27

28

29

30

31

September

1

26 days Confirmed

---

02.09.2023 16:00PM
till
08.09.2023 10:00AM

---

Split / TBC to Split / TBC

36 days Confirmed

---

02.09.2023 16:00PM
till
08.09.2023 10:00AM

---

Split / TBC to Split / TBC

46 days Confirmed

---

02.09.2023 16:00PM
till
08.09.2023 10:00AM

---

Split / TBC to Split / TBC

56 days Confirmed

---

02.09.2023 16:00PM
till
08.09.2023 10:00AM

---

Split / TBC to Split / TBC

66 days Confirmed

---

02.09.2023 16:00PM
till
08.09.2023 10:00AM

---

Split / TBC to Split / TBC

76 days Confirmed

---

02.09.2023 16:00PM
till
08.09.2023 10:00AM

---

Split / TBC to Split / TBC

86 days Confirmed

---

02.09.2023 16:00PM
till
08.09.2023 10:00AM

---

Split / TBC to Split / TBC

96 days Confirmed

---

09.09.2023 16:00PM
till
15.09.2023 10:00AM

---

Split / TBC to Split / TBC

106 days Confirmed

---

09.09.2023 16:00PM
till
15.09.2023 10:00AM

---

Split / TBC to Split / TBC

116 days Confirmed

---

09.09.2023 16:00PM
till
15.09.2023 10:00AM

---

Split / TBC to Split / TBC

126 days Confirmed

---

09.09.2023 16:00PM
till
15.09.2023 10:00AM

---

Split / TBC to Split / TBC

136 days Confirmed

---

09.09.2023 16:00PM
till
15.09.2023 10:00AM

---

Split / TBC to Split / TBC

146 days Confirmed

---

09.09.2023 16:00PM
till
15.09.2023 10:00AM

---

Split / TBC to Split / TBC

156 days Confirmed

---

09.09.2023 16:00PM
till
15.09.2023 10:00AM

---

Split / TBC to Split / TBC

166 days Confirmed

---

16.09.2023 16:00PM
till
22.09.2023 10:00AM

---

Split / TBC to Split / TBC

176 days Confirmed

---

16.09.2023 16:00PM
till
22.09.2023 10:00AM

---

Split / TBC to Split / TBC

186 days Confirmed

---

16.09.2023 16:00PM
till
22.09.2023 10:00AM

---

Split / TBC to Split / TBC

196 days Confirmed

---

16.09.2023 16:00PM
till
22.09.2023 10:00AM

---

Split / TBC to Split / TBC

206 days Confirmed

---

16.09.2023 16:00PM
till
22.09.2023 10:00AM

---

Split / TBC to Split / TBC

216 days Confirmed

---

16.09.2023 16:00PM
till
22.09.2023 10:00AM

---

Split / TBC to Split / TBC

226 days Confirmed

---

16.09.2023 16:00PM
till
22.09.2023 10:00AM

---

Split / TBC to Split / TBC

236 days Confirmed

---

23.09.2023 16:00PM
till
29.09.2023 10:00AM

---

Split / TBC to Split / TBC

246 days Confirmed

---

23.09.2023 16:00PM
till
29.09.2023 10:00AM

---

Split / TBC to Split / TBC

256 days Confirmed

---

23.09.2023 16:00PM
till
29.09.2023 10:00AM

---

Split / TBC to Split / TBC

266 days Confirmed

---

23.09.2023 16:00PM
till
29.09.2023 10:00AM

---

Split / TBC to Split / TBC

276 days Confirmed

---

23.09.2023 16:00PM
till
29.09.2023 10:00AM

---

Split / TBC to Split / TBC

286 days Confirmed

---

23.09.2023 16:00PM
till
29.09.2023 10:00AM

---

Split / TBC to Split / TBC

296 days Confirmed

---

23.09.2023 16:00PM
till
29.09.2023 10:00AM

---

Split / TBC to Split / TBC

306 days Confirmed

---

30.09.2023 16:00PM
till
06.10.2023 10:00AM

---

Split / TBC to Split / TBC

October

16 days Confirmed

---

30.09.2023 16:00PM
till
06.10.2023 10:00AM

---

Split / TBC to Split / TBC

26 days Confirmed

---

30.09.2023 16:00PM
till
06.10.2023 10:00AM

---

Split / TBC to Split / TBC

36 days Confirmed

---

30.09.2023 16:00PM
till
06.10.2023 10:00AM

---

Split / TBC to Split / TBC

46 days Confirmed

---

30.09.2023 16:00PM
till
06.10.2023 10:00AM

---

Split / TBC to Split / TBC

56 days Confirmed

---

30.09.2023 16:00PM
till
06.10.2023 10:00AM

---

Split / TBC to Split / TBC

66 days Confirmed

---

30.09.2023 16:00PM
till
06.10.2023 10:00AM

---

Split / TBC to Split / TBC

7

8

9

10

11

12

13

14

15

16

17

18

19

20

21

22

23

24

25

26

27

28

29

30

31