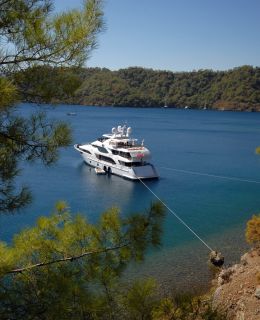 Marmaris to Rhodes Route
Marmaris to Rhodes Route commences the sea passage early in the morning towards Rhodes which is the largest of the Dodecanese Islands. The island is a very popular holiday place as it has one of the best protected and the largest European Medieval city and has warm sunny weather for 300 days of a year.  Rhodes has been home to many civilizations starting with the knights of St. John in the Middle Ages, then Ottomans and Italians thus the island has a unique historical harmony and beauty. The other very touristic areas of yacht charter Marmaris Rhodes routes are Lindos and Kamiros.
The city, which is still surrounded by 12-meter thick city walls, gives you the feeling of starting a yacht charter Marmaris, cruise to Datca which is still unspoiled by mass tourism. A traditional Turkish yacht charter Marmaris around the many beautiful bays enables you to enjoy exploring in your own boat without any of the responsibilities of sailing.
Proceeding to Symi which is a very friendly island with a population of only around 2,500. There are no high-rise hotels, no villa complexes, just some small friendly boutique hotels, holiday houses, and studios which are traditional Symbian houses, some of which were originally wealthy sponge merchant's mansions, renovated with love and care and modern conveniences which you expect during your holiday.- Yacht Charter Gocek to Marmaris Route
Marmaris to Rhodes Route
1st Day of Marmaris to Rhodes Route
As soon as you join the yacht, the captaın will collect your passports for outward clearance from the customs and the harbor master's office. the first swimming stop in order to enjoy the first day would be near Kechi Island (Goat Island) where you would be served an aperitive or 5  o'clock tea pause, thus the captain might take the opportunity to brief you about the rules and security issues of the yacht during your cruise. Not to forget that your chef should be preparing delicious food for dinner while you are sipping your wine or cocktail.
2nd Day of Marmaris to Rhodes Route
Your captain most probably would heave up the anchor and arrive at Rhodos during early hours in order to avoid bad weather which is very common in the Rhodos channel, its about 2,5 hours of cruising from Marmaris to Rhodes.
The breakfast would be served in Rhodos while you are having your breakfast at the stern deck. We recommend you to go for a walk or even shopping inside the fortress, especially liqueur shops are cheaper than turkey with tons of various drinks. Otherwise, you might want to see the famous Lindos beach with a minibus since it's not very logical to go to lindos with your boat due to heavy swell and unnecessary cruising hours. you might very well enjoy a greek tavern for dinner and listen to Greek music with folkloric sirtaki dans.
3rd Day of Marmaris to Rhodes Route
The early morning cruise for two hours is to take you to Alimia island, the bay owns a little chapel at the peak of a little peninsula, the beach is great and the pristine waters are ideal for a calm breakfast, having lunch in the same spot gives you a lot of time to swim and or schnorkel. yacht charter Marmaris To Rhodes Route
Departure would be in the afternoon towards Chalki island, otherwise, your captain might anchor at Ormos Patnos bay if you care to spend the overnight. Chalki is a small fisherman's island with white stone built small Greek houses.
4th Day of Marmaris to Rhodes Route
Early morning departure from Chalki island to Tilos after 2,5 hours of cruising, at the southern end of Tilos there is a valley that ends in a splendid bay where you would be having your breakfast and a refreshing swimming stop.
Naturally, the seawater is very clean in between the islands and your next stop would be Agios bay after a 30 minutes cruise, lunch will be served in Agios bay as well as a coffee break or siesta, later on, your captain would take you to the northern end of Tilos where you could enjoy local fresh fish restaurants serving grilled octopus or fish. Greek music and sirtaki are a must in taverns. Yacht Charter Bodrum and Marmaris To Rhodes Route
5th Day of Marmaris to Rhodes Route
This morning again your captain will start humming the engines for 3,5 hours to reach the southern part of Simi island where the breakfast and swimming will take place, later on heading to the northern part of Simi where most Symians live near Turkish coast.
Your captain would be taking care of outward clearance with greek customs and port authorities while you are shopping or visiting colorful and very exotic Symian architecture. Your captain might propose you return to Datca the same evening or stay in Symi overnight for another greek night in a nearby tavern. If you choose to get back to the Turkish coastline it will take about 45 minutes to get to Kargi bay where there is an awesome coastline and a good restaurant to enjoy dinner.
6th Day of Marmaris to Rhodes Route
Morning departure to Dirsek Buku bay where breakfast will be served in such a beautiful bay, after the breakfast and swimming stop will take you to Bozukkale which happens to be very calm and ideal for a little siesta, Bozukkale is home for many sailing yachts and private boats for its unusual shelter however the next stop is Serce Bay where the crew would be preparing dinner and aperitives for overnight stay. The barbecue should be ready while you are having your favorite cocktail, a cold beer, or an icy Turkish raki to quench your thirst.
7th Day of Marmaris to Rhodes Route
There is no need to hurry to enjoy the serenity and swimming in crystal clear waters in the morning that is accompanied by a rich Anatolian breakfast, there is an Arab island in a distance of one-hour cruising, the next course is Ciftlik bay for lunch and further swimming,
Your captain might have already decided to go to Paradise island for a romantic dinner and overnight stay, the chef and the service crew should be preparing a delicious dinner which you can smell from a distance, forget about diet for the time being and enjoy your stay with your loved ones and served by the yacht crew during one week. – Marmaris to Rhodes Route
8th Day of Marmaris to Rhodes Route
the last day of your blue journey which should be an excellent opportunity for you and your family to spend quality time together with, as you might consider the crew deserves a generous tip together with a sincere thankyou since they were trying to make you smile and do their best to attend your desires during the week. Time to say goodbye and hit the road to the airport to return home. As they say, the best part of the holiday is to have a home to return to yacht charter Marmaris To Rhodes Route.