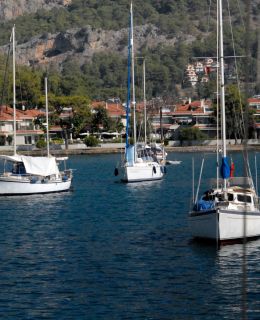 Gocek to Marmaris Route
Gocek To Marmaris Route is one of the highlights of the Turkish yacht charter Gocek to Marmaris destinations located in Southwestern Turkey, Marmaris is well known with lively nightlife and endless shopping possibilities with very competitive prices, not to mention waterfront cafes, bars, and restaurants always offering a good service accompanied with a splendid view.
Gocek is a small but mighty town, hosting hundreds of megayachts, motor yachts, and sailing boats with her ever-sheltered, deep waters which makes Gocek unique in the Mediterranean basin. Yacht Charter Gocek, recently Gocek Municipality has improved this little town so much that it is one of the meeting points for rich and famous as well as glamourous megayachts. Fethiye to Gocek Route.
Gocek To Marmaris Route
1st Day of Gocek to Marmaris Route
We prepare our yacht charter in Gocek harbor, our experienced staff will help you settle in your cabins. The Sooner the better captain will inform you in the welcome cocktail about our destinations and simple rules on board the yacht for your own security and comfort. He won't make the short story long since he knows that you have been dreaming about swimming in turquoise waters as soon as possible.
Your very first swimming stop would be at Boynuz bay. We wish you get the best spot because this place is the favorite of most yacht charter captains. We propose to take you to Sarsala bay to spend the first night, all you have to do is be grateful to god for such an opportunity and enjoy the ever-dancing lights on the dark blue Mediterranean waters and listen to happy cheers in the darkness of the night.
2nd Day of Gocek to Marmaris Route
The breakfast is ready, pamper yourselves with the lukewarm Turkish morning breeze of Sarsala bay, Gocek To Marmaris Route.
let your captain take care of small details before heaving up the Anchor, relaxed at the bottom all night long.
Do you mind if we take you to Dis Gobun bay where the water is so clear and attractive for snorkeling, together with those pine trees, so close to the sea, as if they are also trying to swim?
You will be enchanted at Dis Gobun bay where we take our lunch as well, your captain has to make sure you spend the overnight in a safe and sweet place to keep on relaxing so he steers the rudder to the Aga Limani where you will be served a 5 o´clock tea, aperitives before dinner and of course the highlighted meal of the day, the dinner.  You might wanna take your camcorders with you and take a little walk to the little chapel at the end of the road and have a look at the natural beauty.
3rd Day of Gocek to Marmaris Route
This morning we are early Risers, you may wake up with the smooth sound of our Engine humming since we have to cover a distance before breakfast to reach Semizce bay.
We recommend that you take a trip to the natural labirents with small local boats where you will enjoy labyrinth channels, muddy bath, and Koycegiz Lake however if you don't like this your captain will take you to Kadirga Bay which is an excellent resting place for charter yachts where we serve you lunch, later on, we shall take you to Kumlu bay to spend an unforgettable evening.
4th Day of Gocek to Marmaris Route
The breakfast will take place at Kumlu bay, don't miss the opportunity to swim and aground your feet at the Sandy beaches of Kumlu bay, jogging would be a good idea on the Beach to Speed up blood circulation.
Breakfast with Rich varieties of fresh food thence we take you to Cennet (Paradise) island up until 5 o´clock to enjoy the relaxing afternoon. Then we take you to the famous Marmaris to spend the evening. Our yacht will have to replenish fresh water and supplies while you are out for a colorful and Entertaining night in Marmaris. Trust your captain, he will lead you to the right places to have some fun.
5th Day of Gocek to Marmaris Route
We are going to wake you up with the humming of the Engine and the waves splashing sound, to take you to Ekincik bay for a great Breakfast afterwards swimming stop at Disibilmez bay.
right behind the small peninsula, there is a small but splendid bay which is called lovers bay locals. get your fins, masques, and snorkels and hit the water for an underwater promenade.
Another swimming stop at Kuyruk point. the Beach is so special as if someone has built this place for private use. Dinner will be served here with Delicious Mediterranean dishes while listening to soft and contemporary music.
6th Day of Gocek to Marmaris Route
Wake yourselves up in this oxygen flooded paradise, even though you have slept few hours less, swimming is the best activity in the morning before breakfast. toasted bread and Turkish sucuk make you forget about the last diet that you have started for this summer.
We are heading to Domuz island, Pancho bay, you may count the pebble stones at 10 meters depth, so clean, so clear and so refreshing. We are going to Binlik bay for an overnight stay. Walking on the island or, snorkeling is another option. Our Cook prepares some aperitives or Turkish meze to company your cold Raki which is the favorite Mediterranean drink of all.
7th Day of Gocek to Marmaris Route
The Mediterranean is so attractive at 07H00 in the morning, so calm and crystal clear that you won't be able to resist taking your morning shower with seawater.
After a week on board you may realize that swimming stops feel shorter in Binlik bay where Cleopatra used to swim there is a roman bath built for her, who knows why would she need a bath there however Binlik bay makes you feel like a Celebrity.
The lunch is colorful and tasty, Vira bismillah we heave up the anchor, and the soft afternoon breeze takes us to Yassicalar without humming of the engine just sailing in complete silence the crew is experienced and aware of that you are enjoying with utmost pleasure. Aperitives are ready we are sipping 5 o clock tea is while we say goodbye to the sun. Overnight in Yassica island.
When you see me shining with a smile
castles ruined in my heart,
Dive, discover the depths of my eyes,
Thou shall see the droopy mermaid…
-Mevlana Celaleddin Rumi
8th Day of Gocek to Marmaris Route
An early breakfast since you have a long way to home, tanned, tired of being pampered, recharged, and healthy, you are leaving behind week-old good ole Seaman friends whom you will find difficult to say so long. has been an unforgettable week. Have your tips ready since these fine seaman who has taken good care of you.