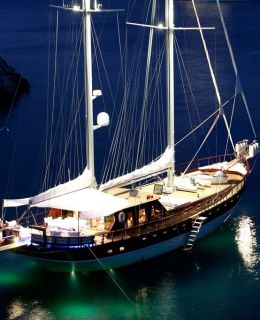 Gocek Kekova Gocek Route
Gocek Kekova Gocek Route, destinations including Kekova are being prepared by captain Adem Temiz and captain Yavuz Porsuk. We have tried to give you an idea of what's waiting for you with professionally taken photos taken by Capt. Adem and the lyric explanations of Capt. Yavuz had been in each and every one of these bays for many years and they recommend the most beautiful and clean places in these yacht charter Bodrum destinations.
Between Gocek and Kekova there are so many archeological sites and must-see places such as Xantos, Patara, Antiphellos, Kalkan, Kas, Kale, Myra, Demre, where famous priest St. Nicholas lived all his life and ever since Demre became a pilgrimage place for Christianity. The Kekova bays are so well sheltered and so clean that they can be considered saltwater lakes.
Gocek Kekova Route
1st Day of Gocek Kekova Gocek Route
Yachts are prepared with utmost attention just like brides getting ready for their wedding, every detail, every aspect has been taken care of, and the fresh provisions are just brought and ready to set sail.
The captain makes his routine welcome speech as you are settled in your cabins. Our first stop Gocek island for a swimming stop, after having warm Turkish tea at 17H00 crew heave up the anchor and we hit the road to spend the night in Sirali bay. We recommend you to sleep on the deck watching the clear, blue sky, counting the stars in a milky way.- Gocek to Marmaris Route
2nd Day of Gocek Kekova Gocek Route
Destination Oludeniz right after breakfast, this worldwide known peninsula is under protection that's why we can't enter with our yacht however we drop anchor very close not to disappoint you. The tandem paragliders are landing like seagulls from mount Baba which is 2050 meters high.
the crew and the chef are in a hurry to prepare the best possible Mediterranean cuisine to impress you.  care for a siesta or another swimming in crystal blue waters? since we are heading to St. Nicholas island where you may observe byzantine ruins,  ask your captain to take you out with his tender for a walk in the island where we spend the night.
3rd Day of Gocek Kekova Gocek Route
Captain proceeds early in the morning to comply with the program without disturbing you, Yedi Burunlar (Seven Points) to reach Patara with an 18 km long unrivaled sandy beach enjoy, if you would like to watch the sunrise please do so, wake up with the crew. we have a good 3,5 hours of navigation, the fresh morning breeze and coffee will remind you how lucky and privileged you are.
After passing fork island we invite you to have breakfast at Yesilkoy, Furnaz bay and after relaxing swimming we take you to Kas Bayindir bay where you enjoy pepple stone beaches. Right in front of Kas, you see a greek island called Castellorizon. Passing ulu point and the narrow strait you are in Lycia, called Kale nowadays is an open-air museum.
4th Day of Gocek Kekova Gocek Route
Can't imagine a better place than Karaloz bay for breakfast, don't think twice, just jump in. Who knows you might never have a chance to this paradise. Vira bismillah crew heave up the anchor, heading to Cay delta near Demre.
There is so much to see such as Andriake, an early Byzantine amphitheater in Myra. The church of the famous St. Nicholas (Santa Claus) is here. Suluklu Beach is so precious. The delta of Demre cay river is a birds nest, it's worthed to swim in the ice cold freshwater.
5th Day of Gocek Kekova Gocek Route
Once you're getting used to wake up at sea and jump into the fresh, crystal water straight from the bed, which is very healthy.  The breakfast is rich and served while you were swimming, enjoy your breakfast with a healthy smile on your face.
We gotta hurry to see the walls and remains of an ancient city dating the 13th century to remind us how powerful the earthquake was to devour the city with its inhabitants. The lunch will be served at another bay of your choice after several swimming stops we should look for a suitable place to spend the night, captains choice would be overnight at Furnaz bay, soft and contemporary music accompanied with a delicious dinner from our chef and why not two glasses of icy raki.
6th Day of Gocek Kekova Gocek Route
This morning you might want to spend a little more time in your bed since the captain started the engines earlier to reach the next stop to serve you breakfast in a calm paradise called Aga Limani, we drop the anchor and you are to jump into turquoise waters again. After breakfast, you may take a walk in the vicinity or keep swimming in this unrivaled beauty of Aga Limani,  lunch will be served here and after a dire strait, you're back to gorgeous Gocek bays. Later on, head to batik Hamam another piece of paradise where you may enjoy the beauty of other luxury Turkish gulets on charter.
7th Day of Gocek Kekova Gocek Route
Don't we always think that time is passing so far st, in a blue voyage on a gulet charter you might feel that time is passing like a blink of an eye, however they say the best part of the holiday is to return home with a golden tan. You have so much to tell and so much to share with your friends and family when you're back home.
After breakfast the soft breeze will be nourishing our sails, let's heave up the anchor and kill the engine for smooth sailing to Pig island, how about lunch and a siesta here till 17h00 tea time then we should go to another bay to overnight in Boynuz Buku (Horn Bay) were the rich tones of green are competing with each other to spend the night. If you like fishing you came to the right place, we have fish for dinner luckily, The night is still young with whispering winds.
8th Day of Gocek Kekova Gocek Route
After breakfast, you might be packing up your luggage, and exchanging e-mails with the yacht charter crew, and maybe the most difficult part is saying goodbye to you, who knows the world is small and it would be great to return to Turkey for another awesome holiday with gulet charter Gocek.