Blue Cruise Gocek
Blue Cruise Gocek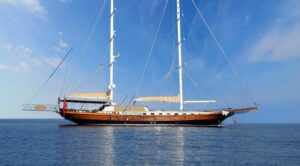 Gocek is the starting point for private blue cruise Gocek holidays in this popular sailing region. Therefore, there are several modern marinas such as Port Gocek Marina as well as Marinturk Gocek Village Port Marina, the Marina Club, the Scopia Marina that offer high-quality yacht mooring services. – Blue Cruise Gocek
The southwestern Turkish riviera, also known as Asia Minor coast between Marmaris and Fethiye is marked by numerous bays and pine forested mountains, especially from Koycegiz, where the river Dalyan meanders on its way to the sea through the local Lycian labyrinths and Caretta Caretta sea turtles lay their eggs in the sand. by the city of ancient Kaunos, which was founded in the early 200 BC.
The starting point for sailing trips in this blue cruise Gocek destination is Gocek. This town is protected by barrier islands in the northern corner of the Gulf of Fethiye, the many small bays and islets harbor in its northern and northwestern parts.
Gocek is surrounded by forested slopes of the part even in the spring on its peaks snowy Taurus Mountains. In the southern part of the Gulf of Fethiye, the same place is located in a sheltered cove by the Oyuk Peninsula. For each weather conditions can be on the coast of ancient Lycia and especially in the Gulf of Fethiye find a safe anchorage and remnants from the ancient world there is practically in every bay.
Therefore, you should allow at least two weeks in this gorgeous region. Blue cruise Gocek includes The Gulf of Fethiye which is very well suited for sailing trips with family or for Flotilla. Yacht Charter Gocek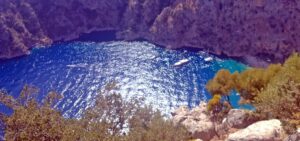 Gocek is the output port of the one week crewed blue cruise Gocek events. The climate is typically Mediterranean with dry and hot summer months, the heat caused by the Meltemi winds is bearable. The Meltemi blows from mid-June to the end of September in this popular sailing region mostly from the late morning until sunset, where he achieved his greatest strength with up to 6 Beaufort afternoon.
Along the coast outside of Fethiye Bay blows the sails Wind in summer from the northwest. In the Gulf itself, he comes from a southwesterly direction. On the west side of the Gulf violent gusts may occur. Long-chain and leash land downwind are recommended during the blue cruise Gocek holidays in this area for a safe berth. In spring and autumn, low pressure systems can move through the region. In the fall also severe thunderstorms may occur.
The best sailing period is from May to November. Turkish charts are very precise. Terrestrial navigation with compass and sea chart is sufficient. In bays where there are taverns, usually, there is a jetty. The provisioning will be most convenient in the port cities of Göcek and Fethiye. The shops are open every day until midnight. In most bays there are taverns where you can satisfy your hunger with Turkish specialties Ekincik is a nice marina, which offers all the usual services.
From here you can start the day trip to Dalyan. In the park like campus is located on the terrace located above a restaurant overlooking the bay of Koyceğiz. The western part of the gulf is recommended the Bauer Bay, Manastir, Sarsala, and sources Bay as an anchorage. Blue Cruise gulet in Gocek