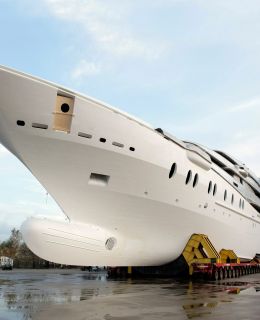 Megayacht Building
A custom megayacht building is a long-term project and a major investment, it is, therefore, critical to determining the right team for your specific needs. Akasia Yachting works very closely with the world's megayacht building boatyards, projects, designers, naval architects, suppliers, and experienced captains to ensure the client's complete satisfaction.
Our experience in mega yacht building and the Marine industry in practical application on the water can be incorporated into the development of a custom megayacht building project, from the exterior styling to decks, from layouts to interior arrangements, ensuring good flow through the yacht's storage and service areas, machinery spaces, crew quarters, etc.
First Quality in Megayacht Building
Our ability to introduce specialists into a project on behalf of the client as their specific services are required, from independent naval architects to electrical, refrigeration, air conditioning and electronic equipment, hydraulics, acoustical engineers, with designers in the industry gives us the knowledge to help to recommend a designer to a client who will complement the project and be compatible with the client. Our experience with Megayacht building including the strengths and weaknesses of each and every boatyard.
In this regard, a well-informed decision can be made as to where to send bid packages and where to ultimately build. Last but not least, our knowledge of what sells and what adds value to a yacht. These lessons, including very successful projects and familiarity with some unsuccessful projects, provided us the ability to positively contribute to the megayacht building projects.