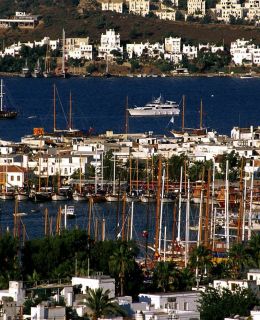 Gocek to Bodrum Route
We recommend Gocek to Bodrum Route our guests who would like to enjoy our yacht charter services and visit our page to fulfill their dreams with yacht charter needs to choose the group of friends or family to spend their holidays with, very carefully. We suggest you consider dont try to fill up the extra cabins with people whom you don't know well, these people may ruin your holiday since they pay the same amount of money and you may end up with a disastrous holiday instead of a yacht charter Bodrum holiday.
With years of experience, we have witnessed unfortunate situations with couples who had quarrels and jealousy crises on board with people who decided to go on a yacht charter Bodrum and end up sad. Thus we ask you to reconsider the people you choose to be with for a week or two on board a yacht which is a small world. you really do not need to waste your yacht charter Bodrum holiday with people with whom you are not familiar. This is why we don't organize cabin charters where n0 one knows one another. – Gocek Kekova Gocek Route
Wonderful Memories with Gocek To Bodrum Route
We transfer you and your luggage from the Airport to the yacht harbor and we have a welcome cocktail as soon as you arrive on board our yacht, captain will inform you shortly about Do´s and Don't do´s for our comfort and safety on board.
We start the engine and heave up the anchor. the first bay and your very first swimming stop far from the harbour called Horse Vay (At Buku) let's relax a bit. The second stop is Bedri Rahmi bay where he used to be exiled in this paradise, you can still see the fish which he draw on a rock, overnight here in this awesome bay.
2nd Day of Gocek To Bodrum Route
The morning is even more beautiful in here, the breakfast is appetizing with rich varieties, we are heading to the end of Gocek bays where the sunken bath is, Please don't jump in the water before we drop the anchor, our service boat will take you ashore where Cleopatra used to swim, says the legend, 5 o'clock tea at (Dis Gobun) Bay. Let's spend the night at Aga Limani, in this safe and sweet bay.
3rd Day of Gocek To Bodrum Route
Captain orders to heave up the anchor before the sunrise, either stay in your bed or wake up with a Fresh morning breeze on the deck here. We are at Ekincik, Semizce Bay after three hours of motoring a rich and slow breakfast can be exhausting, so we invite you to swim later on we are heading Marmaris Kumlu Buk (Sandy Bay) for lunch this is a breathtakingly beautiful place, great for watersports activities and relaxing, but we choose another gorgeous place to spend the night called Kadirga Bay.
4th Day of Gocek To Bodrum Route
There is no better place to wake up in the crystal clear waters of Kadirga Bay, followed by an excellent breakfast. Thence Serce Bay which is safe heaven For sailors, have a cold drink and swim there, talk the talk or walk the walk here, Take pictures until 5 tea. Follow us to Bozukkale great for overnight. Our chef is pitiless for the Dinner, he is trying to make sure you gain a few extra pounds here in Turkey.
5th Day of Gocek To Bodrum Route
Bozukkale (Ruined Fortress) is an unforgettable place, we are heading to Bozburun In the morning, the old sponge hunters are building yachts/gulets nowadays, you can see dozens of yachts being built here, after the lunch, we supply some freshwater. Heading church island, swimming pause can be joyful with a coffee break accompanied with a piece of cake, We drop anchor at Hisaronu bay this is a no mans land, no constructions none whatsoever, if you are planning to dine out you may try Yalniz restaurant at Hisaronu They serve fresh fish calamari and octopus at their best.
6th Day of Gocek To Bodrum Route
The twilight and excess of oxygen accompanied with thyme odor won't let you sleep any longer, please enjoy the water here at Hisaronu as if morning exercise. We are heading to Kemeriye island for lunch and drop the anchor for a swim and having lunch, lets have a siesta. The next stop is Selimiye Kizkumu for another swimming paradise. The rock formation is so interesting In this picturesque place, great for schnorkelling and swimming or certainly the best place for sleeping.
7th Day of Gocek To Bodrum Route
After having a great breakfast at Dislice island, we are heading to Ciftlik Bay More or less 1,5 hours of navigation we drop anchor and enjoy swimming, later on we are proceeding to Datca for supplies, while we are refilling our fresh water tanks, fuel and buying fresh fruits and vegetables you may visit the city, buy souvenirs and familiarize with this small and beautiful town or why not take a nap? When you return aboard we set sails to Aquarium bay near Kargi. Perfect for swimming, diving, schnorkelling and we stay overnight here.
8th Day of Gocek To Bodrum Route
The playful waves caressing the beautiful beach of Kargi bay in the morning, after having a joyful breakfast lets heave up the anchor and proceed to Antique harbour of Knidos, your captain will take you ashore with the dinghy, visit the antique city, When you return with awesome photos a cold beer or any drink will be waiting for you. We are heading to Mersincik bay to spend the night in silence and safety. The dinner will be served with soft and contemporary music, the night is still too young.
9th Day of Gocek To Bodrum Route
Now that we are in the Gokova bays, you are visiting the most precious places in Turkish coastal paradise, you really have made the right decision to spend your holiday on a yacht. Even a novice could ask and learn the basics of navigation and survival at sea from your captain.
Our course to steer is Harmony bay, 3,5 hours of motoring, you may steer the vessel, calculate distances, learn how to use a compass, how to draw a course, how to read navigational maps use GPS, and make waypoints. Let's have lunch and coffee here, we take you to Cati Bay and prepare the barbecue with Turkish raki for dinner.
10th Day of Gocek To Bodrum Route
We set sails early in the morning, lets us not be late for breakfast in the calm and peaceful waters of Cati Bay, when you wake up in the morning.
Here we are at seven islands, Camalti Bay, you can go ashore walk on the beach or swim after fishes, the natural beauty of This place is stunning. We are not exaggerating at all since you have seen all these green and turquois together with your very own eyes,  now that you understand better you might say what a beautiful country Turks are living that we are grateful to god. after the lunch at seven islands we take you to Kufre bay for the dinner and to spend the night.
11th Day of Gocek To Bodrum Route
There are so much to see that we have disturbed you every morning.
Tonight could be our very last night,
Tell em to bring the rose scented wines
Fool, no return once you reburied down,
You ain't no gold, worth digging…!
-Omar Khayyam 
12th Day of Gocek To Bodrum Route
The breakfast is rich and the crew is doing their best, to make sure you are comfortable and everything is well organized, At 11H00 every day the winds are towards Gokova giving you an excellent push with Genoa, mainsail, or both, let's hoist the sails altogether. We need every able hand to dominate the winds in our favor, stop the noisy engine and turn off the music. Nothing but the whistling wind on the sails and boat friction sound with blue water. What else could sound better, Verdi? let's play, four seasons, with a magnitude of silence.
We are heading to Okluk Bay where the famous Turkish navigator Cpt. Sadun Bora with His 46 years old Tirhandil S/Y KISMET is moored. At the entrance of Okluk Bay, there is a mournful mermaid, who might be waiting for him. 5 o clock tea would be served at English harbor followed by a Delicious dinner.
13th Day of Gocek To Bodrum Route
We believe that you are aware of being a guest is much better than behaving like the owner of the yacht. Those seamen could turn out to be so serviceable and generous when treated right. Certainly, you have both learned from each other during this voyage, if there has been any inconvenience please let us know in order to improve ourselves.
Following breakfast our course to steer is Sedir island, we drop anchor only an hour later. We serve you a tea break here, don't forget to take your cameras with you let's walk out. Finally, we take you to Karacasogut bay to spend the night, Marmaris is only 30 minutes away, if you want a night out just ask your captain he will be more than happy to lead you. 
14th and 15th Days of Gocek To Bodrum Route
Sailors heave up the anchor very early in the morning before you wake up, Even though we shall stop a little while later than usual, it's worthed to wait to get there. Cokertme is the place where we serve your breakfast with pride.
An unparalleled beauty with turquoise waters, take your fins and masque, Discover Cokertme Bay. after a lazy siesta following lunch we take you to kara island where we spend the night in Poyraz Bay.
This is your last night onboard, right across you can see the lights of Kos island which belongs to Greece. The night is calm and silent, its packing time since the transfer bus will be waiting for you in the morning, exchanging e-mails and cell phone numbers, After the last breakfast on board, the crew pick up the anchor and hit the road to Bodrum, the transfer bus is already there, the crew will be carrying your luggage. Gocek To Bodrum Route Tanned, relaxed, happy, smiling people, hugging, waving, with moistured eyes who knows its because of homesickness or being regretful of leaving the earthly heaven?