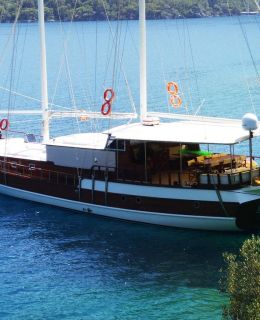 Yacht Charter Testimonials
Here are some e-mails which are sent by our valued customers who cherished beautiful moments onboard our yachts. We have taken only a few of them as samples since we don't have enough space to show each and every one of them. 
Certainly, we have had few complaints during our yacht charter services however we keep track of our guest's daily routine and contact them regularly in order to make sure everything is running smoothly on board and if you need shore assistance where the captain and the crew can't manage, we cater shore assistance and always make sure that we have happy customers aboard, Thus we settle those little complaints during the voyage and there are almost very few negative commentaries about our services. Here are some testimonials from our satisfied customers.
This is our yacht charter Testimonials
Hi Adem,
We had a fantastic trip everything was simply fantastic. The crew was fantastic, Captain Mete was a superhero with all members and especially the kids we had a great time with him and became close friends during the week together. Aisha the cook also a very nice lady. 
-T.H. from Lebanon chartered Gulet Sannika in Turkey in August 2018
Dear Oguz,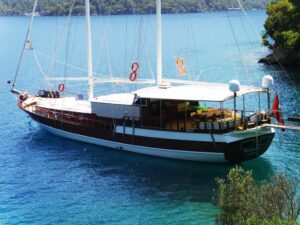 The yacht charter was an amazing experience. The highlight of our trip for all 12 of us. We really enjoyed the crew immensely. The food was outstanding (the chef is a hero). The itinerary was fantastic. We thoroughly enjoyed each place we stopped. There was only one significant problem. We didn't have enough time!!! So as you can see, we are charterers now. We will always relish the moments in every way.
-W.B. from USA chartered M/Y Moon Star in Bodrum August 2018
Dear Oguz,
Sorry for the late reply, just returned home. Just a small mail to say that we absolutely loved the charter (on Mikado) and the crew did everything to make it a success. Even so, there are younger boats, the crew makes all the difference. 
-M.P. from Israel July 2018
Dear captain Adem,
Just wanted to say a huge thank you to you and the crew of the Asilnaz for looking after us on our exciting and much enjoyed a cruise around Gocek not only was the scenery spectacular the yacht was a perfect way to see the area and the support and company of the crew made the holiday one remember. Ali was a fantastic chef who not only delivered great meals, he was a delight to deal with, always wanting to make sure we were looked after, little Tulay was always on hand to cater for all our needs, and made everything so easy for us we didn't have to do anything and nothing was a problem.
The boys were also great support, if we wanted to go snorkeling or a ride on the kayaks they had everything organized, and made everything so easy to do. The crew is such a delight to deal with and made us feel so welcome on your yacht. We felt like the crew were part of our lives and couldn't leave without having a few beers with them, just to say a huge thank you for making our holiday such a wonderful experience.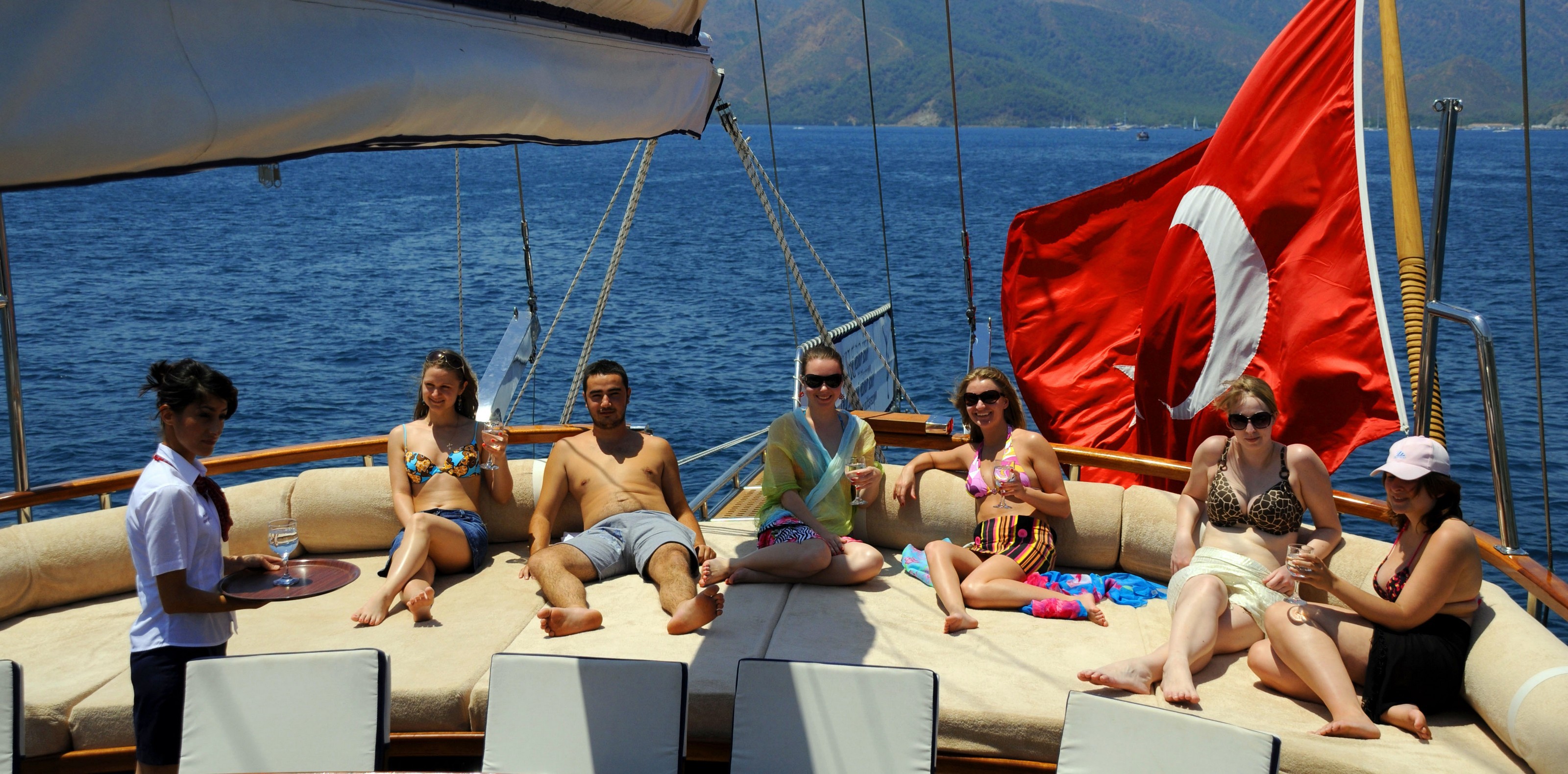 That was our way of saying thanks for such a wonderful holiday. You have a great team who really compliment the beautiful yacht that make the experience one to remember. Thanks so much for a wonderful holiday.- Yacht Charter Gocek Marmaris Bodrum
– WJS from New jersey Chartered Esma Sultan July 2018
Dear Oguz,
Just a brief note to let you know we had a great week aboard the Gulet Getaway, The yacht is in great condition, everything appears as new the furnishings are tasteful and comfortable and all the fixtures worked perfectly well. The navigation equipment also appears state of the art, looks like the renovation was extensive and very complete. 
But what really made our stay most enjoyable was the crew, always ready and anticipating our every desire, attentive to the smaller details, always a smile on their face and a genuine interest in providing us with an unforgettable experience while giving us all a great sense of safety and security with their professional attitude and ease of maneuvering the sailboat even into the tightest of mooring spots.
The food was delightful and light, impeccably served, totally appropriate for the heat we experienced, a pity that joe will not make a career of cooking, Bravo!
-M.M. from Spain chartered in Bodrum July 2018
Hi there!
Our yacht trip was amazing!! Hasan and his crew are the best crew ever and we all loved them so much and felt so spoiled. I am missing Mustafa cooking dearly. Thank you both so much for helping us coordinate this amazing journey.  Our whole group agreed it was the best trip they have ever taken. My husband & I are also very in love with Serenity 86. It's a gorgeous yacht. It was in tip top shape from top to bottom every day at sea. 
The crew never stopped to rest the entire week. They are very hard workers and we were very fortunate to have them. 
-A.K. from USA chartered in Marmaris in July 2019
Hi Oguz,
I want to pass along our thanks for a lovely time on the Cobra King Gulet. Not only is she a magnificent boat (new, well kept, lots of outdoor space, equal sized and lovely room with beautiful bathrooms) that is well equipped (jet ski, kayak, water ski), but the service and attention of (the owner who was with us the entire trip!) and his team was truly EXCEPTIONAL!!!
From meals that would be hard to find in the nicest restaurants to daily adventures experiencing the local flavors and personalities, we could not have been happier. 
We have been all over the world with our family and we would have to say that our trip on the MareNostrum surely has been one of the best. Our hearty thanks!
– M.N. from USA chartered in Bodrum July 2020
Yacht Charter Testimonials
Dear Adem,
Thanks for all your hard work. The week was fantastic. We all loved the boat and especially the crew. They did an amazing job of looking after us for the week. Ferhat is a great captain and made all the family feel safe as well as ensuring that we had a wonderful schedule. 
Thanks again. We will be back next year.
-M.H. from Paris chartered Levantin in Gocek, June 2019
Dear Akasia yachting staff,
It was really a fantastic trip. The boat was absolutely gorgeous and the perfect size.
Turkey was so Beautiful, Kids enjoyed it so much but mostly the water sports, jet ski etc…
The crew was excellent and they were very attentive, food was delicious and all in all no complaints none what so ever… thank you again for everything. thank you for your excellent service
-Sanders Family chartered Motor Yacht AXA in Gocek June, 2019 
to Akasia Yachting
Everything was perfect! The yacht, the crew and the activities…
The crew in particular was off the charts! They really did go out of their way to please us. They have deserved the full amount of the gratuity. I have nothing but good things to talk about the charter, an opinion shared amongst all of the guests. 
Thank you for all your help with the charter of Gulet Meira, everything went smoothly and you were very professional and efficient during the whole process. I will not hesitate in contacting you for our next charter (next year, hopefully!!). 
-F.H. from Switzerland chartered in Fethiye july 2019
Dear Akasia,
We had a fabulous time on Bedia Sultan Cpt Hasan is our Hero, Aydin catered to our every need, the food was amazing, they are both so nice and knowledgable about the area and of course Gulet Bedia Sultan was as adorable as his picture. Thank you for setting everything up for us. We would have rebooked for next year before we even got off the boat but we have an extended family vacation for my mother-in-law's birthday that's already been planned for next July.
Thank you again. It was a pleasure working with you planning our trip.
-J.T. from New jersey Chartered Bedia Sultan in Bodrum on August 2019.
Dear Oguz and Adam
Thank you so much for organizing our Endless yacht charter. I really appreciate your hard work in getting it organized. Your diligence in following up to make sure we had thought of everything, and your honesty and integrity in bringing to our attention the lower actual cost of the boat right at the start. I have already recommended your services to a few people and will continue to enthusiastically do so. I look forward to working with you to book many more charters in the coming years.
-C. D. From Plymouth Chartered in Fethiye August 2019
Hi there Oguz,
just wanted to thank you on behalf of all of the Hamiltons,
Our yacht charter was better then we had expected, everything from the food, to the crew were outstanding.
We would recommend your charter to our friends and family and if we were ever to consider a charter in the future to Turkey, it would be yours. Thanks Oguz for all of your help and I know you went out of your way to make sure all of the details and information was well executed. Job well done!!
-J.W. from England Chartered Gocek september 2019
Dear Akasia
As promised, I wanted to provide you with some further feedback on our experience this year on Getawaywhich I am happy to share with other prospective charterers of this yacht.
1) The Captain was superb. He was very informative, welcoming, and in total charge of the team. He knew the area well and was willing to help us in any which way he could so that we would have a wonderful experience.
2) The rooms were wonderful with all the necessary amenities, great working showers and facilities.
3) The layout was also great with nice size sitting areas and deck on top was were we mostly stayed.
4) The "front staff" were the most attentive of the seven previous charters we had. 
5) the crew was welcoming, extremely pleasant, highly professional, attentive and yet not intrusive. They maintained the cabins is perfect condition. As John says, they provided a 7-Star service. the chef was superb in his selection of food, the presentation, the quality, and taste.
6) Hulya, Mehmet, and Cengiz were also some of the nicest people we had met on any of the previous boats.
They were very careful that we were safe at all times and enjoyed our activities in the sea. 
7) The engineer was also great simply because we as guests did not experience any problems with the boat or the equipment. Overall, I think we should give it a 98 out of 100 score (98 because only God is perfect!) Thanks very much for recommending this yacht.
-H.Y. from Germany Chartered in Gocek August 2019
Dear Adam
The yacht trip was wonderful. The boat was really good and the crew was amazing. Everything ran very smoothly, the weather, the itinerary, etc. Thanks for everything. Looking forward for next year! K. C. from Brazil chartered in Gocek, Aug 2019
We really appreciated the cruise. Crew and food was excellent. The captain manages very well the boat. We had plenty of good times – diving, kite surf and many activities… We are very happy and thanks for organising the good weather too!
-S.R from Switzerland chartered in Aug 2019
Dear Akasia yachting
We all more than enjoyed our stay on board Asilnaz Gulet. Everything was just perfect and the staff were highly professional. We may be willing to renew the experience next year depending on where the ship will be cruising early July.
Please keep me informed if you and when you know something about it. Thanks once again for your assistance.
-E.K. from Switzerland chartered in Bodrum, July 2019
Hi Oguz and Adam,
In terms of feedback, we didn't wish to leave the boat! We could have quite happily started all over again. The boat and crew were excellent; they could not have made us feel more welcome. Some of the waters we travelled in and areas we visited were new to cpt Mete but he made every effort to read about the area and local tourist attracts so he was as aware as possible of the local history.
Chef Mevluts food was out of this world, it was just amazing, always so light but so full of flavour, also the presentation was just fabulous; I now have a collection of photos of Mevlut's food! Asli couldn't have done enough for us, she was just excellent and really nice. We all had a wonderful two weeks and can't thank the crew enough for their efforts.
-S.C from the UK chartered white soul july 2019
Dear Akasia yachting
From the moment our transport driver from Dalaman contacted the Captain for directions to the moment the crew waited at port for our taxis to arrive in Gocek we were very well taken care of !!! Exceptional service from every member of the crew. We talked daily with Captain Deniz about the next day's journey, making adjustments as needed. The stewardesses never stopped asking what they could do to assist us whether a drink, a towel, a snack etc. 
Beyhan the chief stewardess is a perfectionist about her work and those she manages. Ali the mate, has been on the yacht the longest (6 years) and its easy to understand why. He cares for his guests with kid gloves. Gracious and kind, he tendered us to see spectacular coves, ports, joy rides, water skiing etc. Plus he does so much on board to keep things in check for the Captain taking great pride in Mirage S. Savas, the engineer, gave us great confidence that all was well and if something went wrong, he would solve the problem. The best was seeing him take Tom's mother at 82 on the jet ski…! at full speed. It was a joy ride of her life. 
Ahmet the new chef, was loved by all. Flexible, open to our ideas, asking everyday about our requests for the next day. Very creative as a chef and we loved his presentations as well as his food combinations. Always a new surprise. Cpt Deniz runs a serious ship and you can see he commands tremendous respect from all.
We felt very safe with him in charge.
The ship itself was a beautiful setting and size for our family. Plenty of space not to be on top of each other. All meals except one large dinner were outside on the upper deck. Spectacular views and sea breezes. The crew gave us our space for many family deep conversations, always being attentive yet discreet when needed.
Cabins worked out perfectly. The stewardesses always keeping them in perfect order and timely. The table settings for every meal were beautiful and always a little different beautiful china, crystal, casual settings, placemats, decorations etc. We had several special occasions I planned for every other night, they set things up perfectly as I had requested and on every meal on the yacht. 
If you need any references for Mirage S. or you as a yacht broker, please don't hesitate to email us. The entire experience as you have read was superior and exceeded our dreams and expectations.
-J.C from the USA chartered in Gocek Turkey June 2020
Dear cpt. Oguz
We had a nearly perfect vacation. The crew were unbelievable. Osman is a fabulous chef, and both entertained us with watersports, drinks, etc., in fantastic fashion. We can't wait to go back. Everyone in my family from my 8-year-old up, enjoyed every moment of the trip. 
It rained only one day, and for half of that we were scuba diving so we didn't even notice. The yacht was very comfortable and we couldn't ask for more. Our itinerary took us to all the highlights I had hoped to visit. Every day we had at least two major outings, one morning and one afternoon. Although the crew ready to take us to shore for the evenings, most nights we just relaxed on the boat." Thanks to you for all your help."
-T.H. Chartered M/S Albatros june 2020
Dear Oguz
Thank you very much for the trip. The crew and the yacht were excellent. There were no problems with any arrangements. The decorations on the birthday were beautiful.
S.D from Russia chartered in Bodrum June 2020 
Dear cpt Oguz and cpt Adem
We've just arrived home from Paris. Everything went absolutely fantastic, much more than we expected. The boat had a perfect size and fitted us all with lots of comfort. The "everything is possible" Captain was irritatingly tireless when we have asked to make many last minute changes. The Crew as well was, since the beginning, very solicitous and pleasant making us feel no symptom at all of homesickness. 
Finally on behalf of all our friends we would like to thank you very much for your outstanding efforts to make this vacation unforgettable. it was a unique pleasure doing "business" with you hoping that we can repeat it many times. with our more than warmest regards.
-F & H chartered in Fethiye Sept 2020
Hi Adam,
The charter was great and we thank you for all you did for us; you and Oguz were beyond helpful and we appreciate it. We want to extend our sincere thanks to the crew for two great weeks cruising aboard M/Y Merve. The yacht, crew, food, arrangements, and weather could not have been better. We had high expectations for the cruise and you and the crew exceeded them. Thanks you again and we hope to see you on another cruise in the future.
-V. N. from Russia Chartered Motor Yacht Merve in Bodrum sept 2020
Dear Cpt Oguz
The boat and the crew were fantastic. Each member of the crew was outstanding at what they did and always went the extra mile. For the whole charter everyone was happy and helpful and not once did the standards slip, which I think is pretty impressive. All crew were amazing with the children which made our trip very special. 
The boat was perfect for us and set up very well for young children. The attention to detail on the boat for us and our guests was immaculate at all times. An absolutely great bunch of people who were fun yet professional. With regards to the itinerary it was a shame the Aegean sea in August is so windy but overall a truly superb trip. Thanks for organizing it.
-G & E chartered M/S Impact in the in Aug 2020
Dear Oguz
I'm happy to provide the feedback requested. 
First, you (Akasia yachting) were great. I will definitely call you again. You were always available, responsive, responsible and prompt. We'd never before "blindly" selected a boat and crew before and I was very uneasy about doing so when I started this process with you.
You however made the process easy and your observations, comments suggestions etc were all right on target. Thank you from all of us for doing such a great job. 
I'm positive the other three will use you if and when they need to arrange something they don't already have contacts for, and we're interested in trying to do something in Turkey with you next summer.
-T. S. from England chartered M/Y Melis Gocek Sept 2020
Dear Akasia yachting staff,
I apologize for not getting back to you sooner regarding feedback on Emotions. It was a stunning holiday and I believe it was enjoyed by all. We have experienced some amazing beaches, islands and snorkelling.
The crew were very accommodating and the boat was very well looked after. Thank you for your time arranging the boat.
-H.S from Australia chartered in Fethiye June 2020
Thanks, Akasia staff
We really had a most fantastic holiday! And we were so lucky with the weather, we got lots of sunshine right up til our last day. The crew were just brilliant. They really made our trip. Captain Mustapha was able to advise us day to day on the best places to go and we were thrilled with our itinerary. As it turns out, we all loved being at anchor and just getting away from it all, and the crew was more than accommodating at all times for us. So we weren't really fussed about trying to get a berth, once we'd experienced the magic of being at anchor. The stewardess looked after us every minute of the day. 
We really felt so lucky to have such a wonderful team, they know from experience how to make everything run smoothly and cater to the taste of the client. So thank you Oguz for all your wonderful organizing, we have memories to last a long time. Kind regards and thanks to all .
-T.O. from Germany (Chartered in Bodrum in May 2020 ).
Hi Adam and Oguz
It has taken me a few days to get back into the swing of things so I apologize for the delay in answering your email. Here is our feedback…it is a little long. Our vacation was more than we expected!, The boat was just fabulous. I would sail on it again anytime or anywhere. It is a very comfortable and luxurious boat.
Loved the king sized beds, en suite baths, beautiful wood all over and the AC for hot nights. There was plenty of deck space for everything we wanted to do. It was also outfitted with all the gear we needed for the week…snorkeling gear, kayaks, water skis, and a beautiful saloon. I can not tell you enough about cpt Hasan and his crew. 
They were outstanding, They started out as our crew and about half way through the vacation we considered them our friends. The kids grew very attached to them. We loved the fact that they could share a different culture with us. The first day it was an adjustment for all of us but after that it was great.
Hasan's capability as a captain for such a large and expensive boat was exceptional. He keeps the boat in tip top shape. He let everyone who wanted help sail, which some of us did every day. 
Others, like me, just enjoyed the views. He has a fun personality that we enjoyed very much. 
The first thing I can tell you about Suleiman is that we all fell in love with him, except our husbands of course! he is not only a fabulous chef cooking us light, exceptionally tasty fare with homemade dessert at every meal, but a wonderfully kind and funny man. 
The kids wanted to be around him all the time and peeked in on him while in the galley since so many wonderful smells kept coming from there.
It made us hungry all the time! he took very good care of us and spent time playing some cards and teaching us Turkish. We took home some of his best recipes.
Turkey was gorgeous but what made this trip most special was being with our family, cruising an outstanding boat, and a fabulous crew. We probably took 600-700 pictures and hours of videos to remember this special vacation!!! I would highly recommend this boat and crew to anyone who wants a vacation they will always remember. 
-D.Y. From Switzerland chartered in Gocek Sept. 2020
Dear Oguz
Our sailing adventure on Taronga was great ! We enjoyed something new everyday. The comfortable boat and great crew, along with beautiful scenery, excellent food, colorful local markets, wonderful people, artistry, flowers, incredible boats, plus the charm of old towns like Bodrum kept us engaged and entertained everyday. The crew handled all the details, allowing us to relax and enjoy the decadence of a week of pampering in the beautiful temperate climate along the Turkish Riviera!. 
Although the wind was calm every day but one, Captain Yavuz always found us a new and interesting place to explore each day.
Both cpt Yavuz and his first mate Cengiz were delightful, very skilled in their roles, Yavuz handled all aspects of the boat masterfully! 
Although we might have enjoyed more direct involvement in sailing the boat the way we are accustomed to back home, we did eventually relax and leave all the work to Yavuz! He came up with a wonderful itinerary that ensured plenty of shore time, swimming, hiking, sightseeing, shopping, etc. every day. He was very easy to work with and exceptionally skilled. I would happily recommend him to others. 
Yahya was absolutely delightful! His food preparation was so fresh and delicious everyday. 
I put on five pounds from his always-enticing culinary wonders! In fact, we all agreed to skip our planned night out to a restaurant, just to enjoy one more of hir masterpiece dinners on board! Yahya's open, communicative style, and fun-loving sense of humor helped us all and let our hair down and added a special charm to our days!
The boat was beautiful. She handled especially well the one day we sailed into 25 knot head winds, providing an exciting start to our week!"
-A.W. from Newyork city chartered in Gocek August 2020