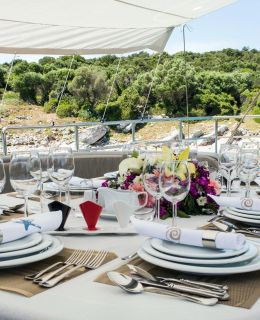 Yacht Charter Questions
Frequently asked questions about yacht charter Terms in the Eastern Mediterranean Yacht Charter rates are quoted per week for the hire of the yacht. Seven days is generally the minimum yacht charter period accepted by yachts, but charters can be for any duration over seven days. During low season periods, some yachts may consider charters of less than seven days.
Frequently Asked Yacht Charter Questions
Yacht Charters Generally starts at 16:00pm and finishes at 10:00am High season rates apply to July/August, Midseason rates apply to June and September Low season rates apply to May and November Please note that charter rates quoted on this site are believed to be correct but may be subject to change. – Yacht Charter Questions
1 – Is VAT applicable on the charter fee?
Please note that due to European Union tax legislation, Value Added Tax (such as French TVA, Italian IVA, etc.) applies to the gross charter fee for charters taking place in European Union Waters on yachts that are not commercially registered. Turkish VAT is 18%. – Yacht Charter Questions
2 – Yacht charter What is included within the charter rate?
What is MYBA Most charter rates that appear on this website are based on MYBA Terms, that implies that the yacht will be provided to the charterer at full commission and with all necessary equipment, properly insured against marine risks. and managed by a crew, whose wages, food and clothing are for the owner's account?
All other operating expenses are paid by the lessee and consist of the following items: fuel and lubricating oils for the yacht, her tenders, and motorized water toys; local taxes; pilotage; port, harbor, and marina dues; customs clearance; water and electricity; personal laundry; All provisions, if any, for the lessor, wines, beers, spirits, soft drinks, and consumables, including satellite telecommunications, if applicable.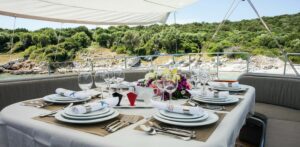 3 – What do I need to do to secure my chosen yacht?
All charters are subject to a fully executed contract, so once the availability of your picked yacht has been confirmed, you will take an international MYBA comp. Charter Agreement for mutual signatures. Positioning fees if your chosen cruise itinerary requires embarkation or disembarkation from a point other than the yacht's home port, positioning charges (necessary delivery fees) may be required. These charges, if applicable, will be confirmed in advance and affirmed in the Charter Agreement, together with any taxes that may apply. – Yacht Charter Questions
4 – What are the payment terms for a charter?
A deposit of 50% of the total charter fee is payable by bank transfer on the signature of the Charter Agreement. This confirms your booking. The remaining 50% plus an Advance Supply Allowance will be paid via bank transfer one month prior to the start of the charter, with all taxes, delivery/re-delivery charges plus agreed fees.- Yacht Charter Questions
5 – What is APA and how is it calculated?
The Advance Provisioning Allowance (APA) is due at the time of the final charter payment. Under MYBA Terms, this sum is usually equivalent to 25% of the total charter fee but maybe 30% in some cases. These funds, which are intended to cover the operating expenses of a charter such as fuel, food, beverage, and port fees, will be given to the captain before your charter begins.
He will ensure that your yacht is fully fuelled and provisioned when you step on board. Whilst an up-to-date summary of accounts can be requested at any time during your charter, a full set of accounts will normally be submitted by your captain at the end of the cruise. At the time of charter, additional cash funds will be required at once if the expenditure exceeds the amount already paid. All unpaid invoices must be paid in cash before leaving the yacht.
Of course, any remaining credit at the end of your charter will be reimbursed to you in full. On request, transfer arrangements to and from the yacht can be made by Akasia or by your captain, payment for which will be deducted from your APA. – Yacht Charter Questions
6 – Can I specify the food and wine to be served aboard the yacht?
Every detail counts. A few weeks before boarding your yacht, we will ask you to fill out a detailed questionnaire describing your preferences, such as dietary or medical needs, allergy details, and your sports or recreational wishes. This will enable us and the crew of your chosen yacht to ensure that everything possible is done to make your charter a fabulous experience. – Yacht Charter Questions
7 – Do all yachts accept children on board?
Most yachts are very welcoming to children and some are equipped with children in mind. However, a few yachts may stipulate a minimum age for children and/or require a nanny to be on board during the charter. The crew cannot provide childminding or babysitting services. Please inform your Akasia broker at the outset of planning your yacht charter if there are children in your party. – Yacht Charter Questions
8 – Can I smoke on the yacht?
Smoking is prohibited on most yachts. However, please consult us for verification, as this policy may vary based on certain circumstances. – Yacht Charter Questions
9 – How much should I tip the crew?
Crew gratuities are optional, but it is customary for a charterer to extend a tip, taking advantage of the courteous and attentive service crew. Crew gratuities are normally in the region of 10% of the charter fee but can be adjusted up or down according to your level of satisfaction. The best way to ensure that all crew members receive equal recognition is to entrust the distribution of gratuities to the captain. Thus, inconspicuous team members such as engineers and galley staff, who make a significant contribution to your safety and enjoyment, will not go unnoticed.- Yacht Charter Questions
10 – Am I covered by insurance?
We recommend that charterers take out Cancellation and Curtailment Insurance to protect their investment if unforeseen circumstances prevent or curtail their charter. Additionally, all members of the charter party should be covered by Personal Accident and Medical Insurance, and their personal effects should be insured against theft, loss, or damage.
Other types of insurance, such as charter Liability, may also be prudent. Akasia Brokers will be happy to help regulate any policy that is not covered by the core Charter Agreement.- Yacht Charter Questions
11 – Am I allowed to use the yacht's water sports toys and SCUBA equipment? – Yacht Charter Questions
In some countries, a Certificate of Competency is required to participate in water sports activities (jet skis, wave runners and other mechanically propelled watercraft). Please consider members of your organizations would like to ride the yacht's motorized water toys. If they do not have the required licenses/certificates we can arrange for an instructor to come on board the yacht during the charter to issue a certificate.
Please note that all educator fees are for the renter's account and the availability of local educators cannot be guaranteed. Some areas completely prohibit the use of motorized water toys. Use of personal watercraft is permitted only if the operator has the appropriate license and complies with local operating regulations. Any liability arising from non-compliance is entirely at the operator's risk.
If the yacht is equipped with Scuba equipment, it may only be used by certified divers with a certified Padi license or equivalent. – Yacht Charter Questions