Reine Des Coeurs Motor Yacht
Reine Des Coeurs Motor Yacht
---
24m Reine Des Coeurs Motor Yacht – Discover the ultimate luxury experience on your perfect motor yacht charter in Turkey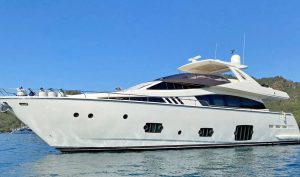 Do you dream of exploring the stunning beaches of Turkey and the azure waters of the Mediterranean Sea? REINE DES COEURS offers you and your loved ones the perfect opportunity to sail on an exclusive 7-day boat trip designed to create endless memories. Experience the charms of Gosek, Marmaris and Bodrum, all guided by a special staff who know the place like the back of their hand Take a breath of fresh air, soak up the warm sun, and enjoy tailor-made activities you that will elevate your cruise to new heights
Relax aboard the Reine Des Coeurs Motor Yacht and be charmed by its luxurious interiors and modern design. This motor yacht accommodates up to 8 guests in 4 beautifully appointed cabins, including 3 couples and 1 twin, providing ample space and comfort for everyone on board Enjoy comfortable and comfortable sofas on inside the dreamy saloon, where you can relax and enjoy your favorite entertainment. Enjoy a sumptuous family meal at the indoor dining table, and enjoy cherished time with your loved ones.
Reine Des Coeurs Yacht showcases a harmonious blend of modern and classic elements, beautifully designed by the renowned studio Zuccon International Project. The interior displays tasteful wood finishes and maintains an inviting and warm atmosphere. The spacious deck offers a luxurious escape with stunning ocean views from the large windows. Ensuite master bathroom, fully equipped for a truly luxurious stay. The spacious and sophisticated VIP lounge upstairs promises a serene ambience, while a new duplex and twin rooms cater to the wishes of other guests
The exterior of the Reine Des Coeurs Motor Yacht is a paradise for sun seekers and water lovers. Relax in the comfy chairs furnished with plush white sofas and enjoy the stunning views while dining al fresco. Enjoy delicious Turkish cuisine while exploring the attractions, and make the most of your extensive selection of water sports equipment for fun From water skis and wakeboards to boats and paddleboards, ways to the ways you can have fun on the water are limitless.
You can expect a simple and professional experience when renting Reine Des Coeurs Motor Yacht charter in turkey. MYBA charter policy ensures that the charter fee covers boat hire, crew wages, insurance, other expenses, such as fuel, port fees, food and beverages are extra Usually if the charter fee is calculated at 30%, you are free to you will charter your luxury yacht in Turkey You can customize this.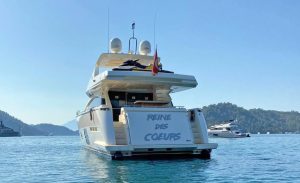 Embark on a journey of luxury and transcendence with 24m Reine Des Coeurs luxury Motor Yacht charter. As you explore the hidden gems of Turkey's coastline and indulge in your favorite activities, this luxury private yacht promises an experience that will make you want to come back year after year. Learn the thrill of motorboat charter in Turkey and immerse yourself in the model of luxury with Reine Des Coeurs Motor Yacht rent in turkey. Plan now for an unforgettable boat trip to create lasting memories.
Weekly Charter Rates
General Specifications
Boat Name
Reine Des Coeurs
Length Over All
24.38 meters
Water Toys
Jetski, Water Skis, Wakeboard, Stand-up Paddleboard, Donut, Snorkeling Gear, 1 x 4.50m rib tender with outboard 50 hp
Reine Des Coeurs Motor Yacht 2024 Booking Calender
Booked
Optioned
Confirmed Available
Available
Su
Mo
Tu
We
Th
Fr
Sa
Su
Mo
Tu
We
Th
Fr
Sa
Su
Mo
Tu
We
Th
Fr
Sa
Su
Mo
Tu
We
Th
Fr
Sa
Su
Mo
Tu
We
Th
Fr
Sa
Su
Mo
May

1

2

3

4

5

6

7

8

9

10

11

12

13

14

15

16

17

18

19

20

21

22

23

24

25

26

27

28

29

30

31

June

1

2

3

4

5

6

7

8

9

10

11

12

13

14

15

16

17

18

19

20

21

22

23

24

25

26

27

28

29

30

July

1

2

3

4

5

6

7

8

9

10

11

12

13

14

15

16

17

18

19

20

21

22

23

24

25

26

27

28

29

30

31

August

1

2

3

4

5

6

7

8

9

10

11

12

13

14

15

16

17

18

19

20

21

22

23

24

25

26

27

28

29

30

31

September

1

2

3

4

5

6

7

8

9

10

11

12

13

14

15

16

17

18

19

20

21

22

23

24

25

26

27

28

29

30

October

1

2

3

4

5

6

7

8

9

10

11

12

13

14

15

16

17

18

19

20

21

22

23

24

25

26

27

28

29

30

31