Marmaris Built Ketch Gulet
Marmaris Built Ketch Gulet
---
Embark on a Luxury Cruise with the Marmaris Built Ketch Gulet
Introduction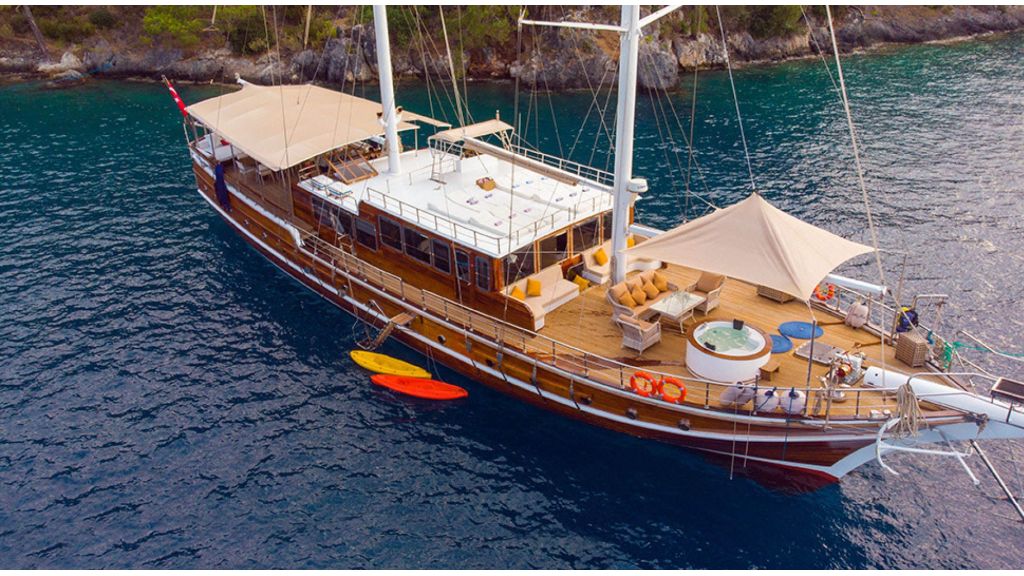 Experience the epitome of luxury and elegance while introducing you to the Marmaris Built Ketch Gulet built in Marmaris. built in 2006 and undergoing a stunning renovation in 2022, this ship stands as a testament to maritime excellence. In this article, we invite you to explore the exquisite features of Marmaris Built Ketch Gulet, Made in Marmaris, where luxury comfort, impeccable design and attentive service combine to offer a unique blue cruise experience.
A Symphony of Craftsmanship
Born in 2006 and redefined in 2022, the Marmaris-Built Ketch Gulet showcases a harmonious blend of craftsmanship and modernity. With its impressive dimensions of 33 meters long and 8 meters wide, this ship stands as a testament to precision engineering. Marmaris Built Ketch Gulet, built in Marmaris with a private crew of 3 People, is ready to offer an uninterrupted and enjoyable blue cruise to your esteemed guests.
 Stylish Accommodation Units
Step into a rich world of life with the Marmaris Built Ketch Gulet made in Marmaris. There are a total of 8 cabins on the yacht, offering 8 cabins, each elegantly designed with its own shower, toilet and climate control. Your comfort and relaxation are paramount, every detail is meticulously curated to ensure a generous experience. Powered by 2 x 450 HP IVECO engines and supported by 2 x 22 KW generators, this ship provides a smooth and comfortable journey.
Possibilities Beyond Comparison
The Marmaris Built Ketch Gulet built in Marmaris not only provides accommodation, but also offers a complete luxury paradise. Separate living areas for the crew, a fully equipped kitchen, indoor and outdoor dining areas, relaxation areas and an American bar – every aspect is designed to enhance your nautical adventure. Sunbathing cushions, chairs and service sets ensure that every moment on board is a celebration of comfort.
 Maritime Excellence
With a cruising capability of up to 10 nautical miles, the Marmaris Built Ketch Gulet takes you on a journey that combines luxury, comfort and exploration. Equipped with a complete radio system and comprehensive communication and navigation tools, including a GSM phone, this ship ensures your safety and peace of mind when passing through famous blue cruise destinations such as Bodrum, Marmaris, Fethiye, Gocek and Gokova.
 Fun and Entertainment
Marmaris Built Ketch Gulet, understands the desire for adventure and entertainment. On the boat, you will find a lounge equipped with an LCD TV, DVD player and music system, which ensures that your entertainment needs are met. Optional water sports such as Water Skiing, Ringo and Kayaking are available for thrill seekers on the water, which provides an excellent opportunity to embrace the pleasures of the sea.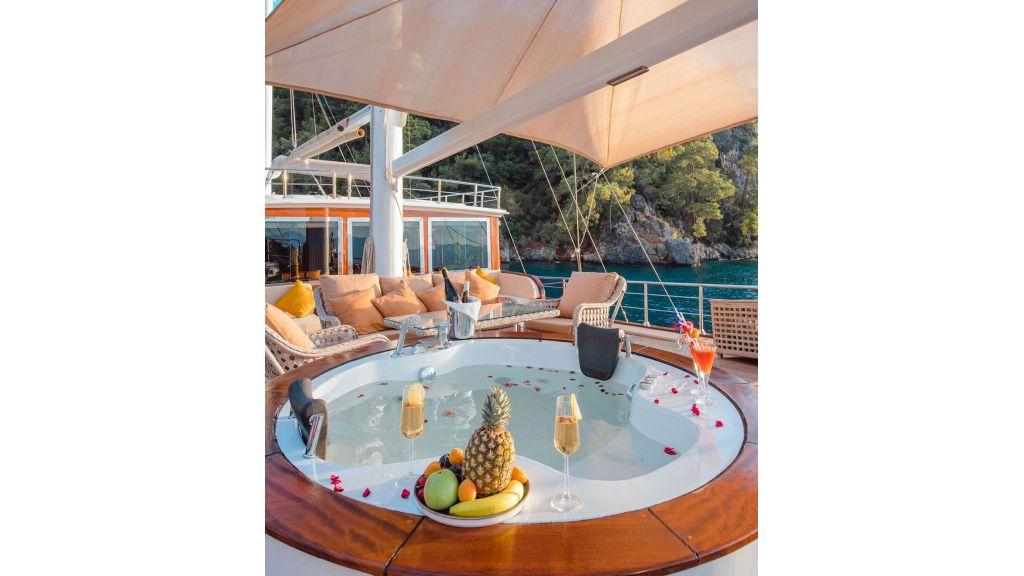 Your Unforgettable Journey Is Waiting for You
Embark on a luxury cruise with the Marmaris Built Ketch Gulet, where unforgettable memories are waiting for you. With daily charter prices starting from €, Bodrum is ready to welcome its valued guests who are looking for a luxury yacht charter experience in Marmaris, Gocek, Gokova, Hisaronu and beyond.
Conclusion
The Marmaris Built Ketch Guletis not just a yacht; it is the embodiment of luxury, elegance and discovery. From its meticulous design and luxurious accommodations to its attentive crew and extensive amenities, this ship promises an exceptional blue cruise experience. Get on board and let Marmaris Built Ketch Gulet redefine your perception of luxury rentals, inviting you to immerse yourself in the world of wealth and beauty on the high seas.
Asking Price
1.100.000 Euros
Yacht Availability
available
Length overall
30.80 meters
Machinery & Electronics
Main Engines
2x Iveco 450 Marine
Power Generators
22 Kwa Mitsubishi