Five Cabins Primitive Gulet
Five Cabins Primitive Gulet
---
Five Cabins Primitive Gulet: The Perfect Holiday Experience Where Nature and Luxury Meet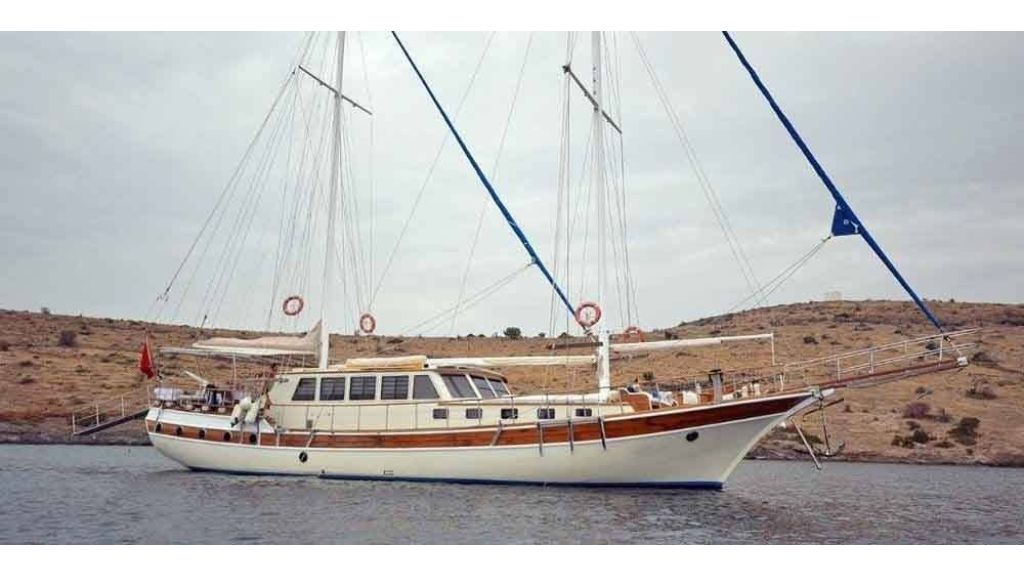 If you are dreaming of an unforgettable getaway in the embracing blue of the sea, Five Cabins Primitive Gulet offers just the sea holiday you need. get ready to experience joyful moments on the blue waters with this elegant and luxurious 23-meter gulet. Come, let's travel together to the fascinating world of Five Cabins Primitive Gulet.
Unique Accommodation Experience
Five Cabins Primitive Gulet is ready to welcome you with magnificent accommodation options. you will enjoy luxury and comfort in a total of 5 cabins consisting of 2 master and 3 double cabins. You will experience the comfort of your home at sea thanks to the special air conditioning, shower, home toilet, hair dryer, bathroom and hand towels in each cabin. You can enjoy entertainment and comfort throughout your holiday with the dining table, bar, seating group, LCD TV and music system located in the living room. The duration of air conditioning usage varies between 4-6 hours per day, so you can spend every moment in a cool and Decadent atmosphere.
Trust and Hardware
Five Cabins Primitive Gulet has everything you need for a fully equipped and safe sea holiday. You can make your trip safely with full safety equipment, navigation equipment, life jackets and fire extinguishers. Thanks to the sailing equipment, you can witness the wind carrying you to the most beautiful bays. Thanks to the satellite antenna, you can maintain your connection with the world without disconnecting from communication.
An Incredibly Beautiful Deck Area
The deck of Five Cabins Primitive Gulet is a paradise designed for you and your loved ones to spend pleasant moments. The deck, the floor is covered with teak wood, offers an elegant atmosphere, while you can enjoy social interaction with the rear deck and front deck seating areas and dining tables. Sunbathing cushions and a sea ladder allow you to enjoy the sea to the fullest, while you can enjoy cooling off with a deck shower.
A Feast of Taste in The Kitchen
Five Cabins Primitive Gulet offers not only luxurious accommodation, but also exquisite tastes. There is a fully equipped kitchen with equipment such as oven, refrigerator, soft drink cabinet, freezer, ice maker, coffee maker and filter coffee maker. During your holiday at sea, special dishes can be prepared according to your taste buds, delicious memories can come together. Decadent meals can be prepared according to your taste buds.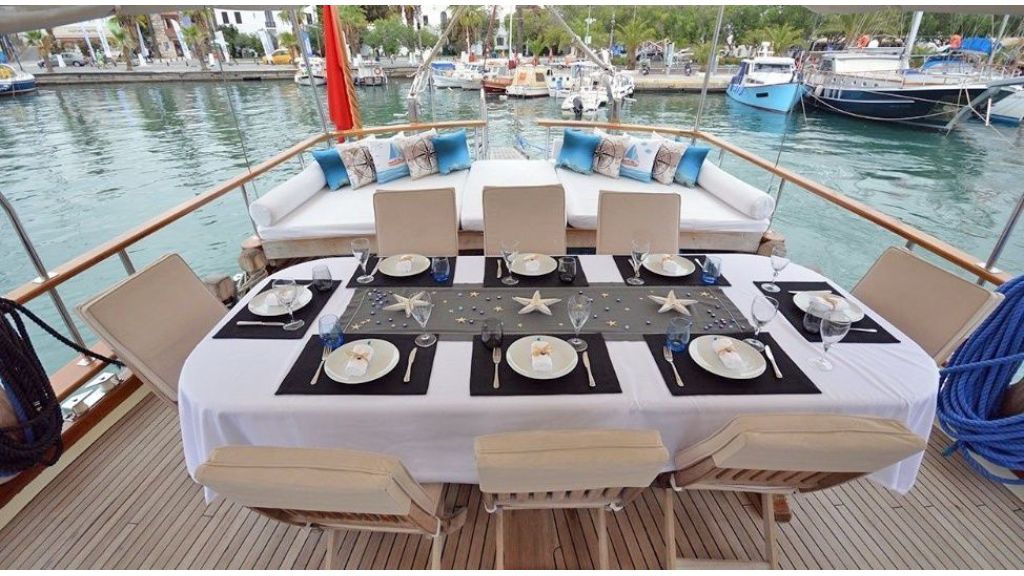 Entertainment and Activities at Sea
There are no limits to fun at sea with Five Cabins Primitive Gulet. You can enjoy the sea with water activities such as shuttle boat, canoe, fishing equipment and mask pallet snorkel. You can also have enjoyable moments with backgammon, okey and playing cards on the deck. These activities, which offer a guarantee to have fun without getting bored during your holiday, will allow you to accumulate unforgettable memories with Five Cabins Primitive Gulet.
As a result
Five Cabins Primitive Gulet promises an unforgettable sea holiday with its unique accommodation experience and rich activity options. A dreamlike holiday awaits you with this gulet, which is the right choice for the joyful moments you will spend with your loved ones on the blue waters. Enjoy the sea, the sun and the comfort with Five Cabins Primitive Gulet, add unforgettable memories to your life.
Asking Price
270.000 Euros
Yacht Availability
available
Machinery & Electronics
Main Engines
1 x 360 Hp Volvo
Power Generators
1 x 22.5 kW