Admiral Motor Yacht 181 ft
Admiral Motor Yacht 181 ft
---
Luxury Admiral Motor Yacht for sale: Discover beyond the Admiral's 55.2-metre luxury yacht
Take a trip to a world of unparalleled luxury and wonder aboard the 55.2-metre (181-foot) luxury yacht designed by renowned shipyard Admiral. providing plenty of space and comfort for everyone on board. admiral yachts for sale for you.
About admiral yachts
Uncompromising Elegance Admiral yacht for sale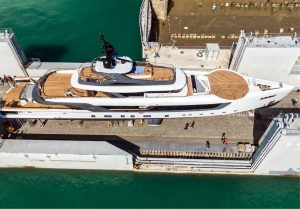 The exterior and interior of this boat exude elegance and grandeur. Admiral yacht for sale and this luxury resort accommodates up to 12 guests, and features six stunning suites, including a sumptuous Master Suite, VIP Suite, two Double Cabins and two Twin Cabins, all thoughtfully designed to be it will provide every guest with the utmost comfort and relaxation The furnishings, rich wooden details and high quality materials create an atmosphere of luxury and sophistication, creating an unforgettable experience for all who board.
A crew of stars in admiral yachts
With a crew of 10 in five cabins, and an experienced captain, exceptional service is guaranteed throughout your journey. Their dedication and attention to detail ensures that every moment on board is effortlessly enjoyable, creating an unforgettable experience. Admiral yacht for sale, The professional staff is adept at providing impeccable hospitality from gourmet meals to personal service, catering to each guest's wishes with grace and flair.
Wonderful performance
Powered by two CAT C32 Acert engines, each delivering 1418 kW at 2300 rpm, this wonderful yacht glides effortlessly through the water, achieving impressive speeds of 16.5 – 18 knots Gear reduction is facilitated by ZF two units on, and the propulsion system has two power Fixed Pitch Propellers. Admiral yacht for sale, The boat's advanced engineering ensures fuel efficiency, allowing for longer cruises without sacrificing performance or luxury.
Luxurious Features
In addition to impressive performance, this yacht is equipped with high-end features to take your experience to the next level. Onboard facilities include a master suite and a stunning VIP Suite, designed for maximum luxury and comfort. The master suite is a private sanctuary, complete with Jacuzzi bath for ultimate relaxation. Admiral yacht for sale, The VIP lounge offers its own amenities, offering discerning guests a tranquil escape.
The yacht features twin cabins and twin cabins, each with a unique style that offers a comfortable and welcoming retreat. All cabins have en-suite facilities, beautifully designed with high quality fixtures and finishes. Beautiful wood furnishings, elegant furnishings and luxurious linens create an atmosphere of luxury and comfort, ensuring a good night's sleep after a luxurious day of exploring and adventure
Seamless navigation and comfort
RINA ships as: C  HULL  MACH, Y (Ch), Unrestricted Navigation, AUT-UMS (Y) Green Plus(Y), ensures safe and unrestricted navigation. Two ZF units facilitate the gear reduction system, and two Fixed Pitch Propellers are part of the propulsion system. CMC 110 kW Bow Thruster and CMC Electric fins "zero speed" stabilizer fins for impeccable stability and power, ensuring smooth and comfortable travel even in rough waters
Efficiency and convenience
With 63,000 L (16,600 gal) fuel capacity, 16,000 L (4,200 gal) freshwater capacity, and 6,000 L (1,600 gal) gray/black water capacity, this boat is A 10 knot speed, so you won't miss You can outlying mirror regions. Admiral yacht for sale and Admiral boats for sale, the boat's excellent fuel economy and generous tank capacity make it ideal for short and long trips, giving you the freedom to explore remote and secluded places
Impeccable maintenance and quality
The vessel is equipped with a DVZ Bilge separator, Alfalaval fuel purifier and Hamann black water purification system, all of which contribute to excellent vessel maintenance and durability This advanced system ensures environmentally friendly operation meeting the highest industry standards for marine safety and pollution prevention.
Your gateway to unforgettable adventures
The 55.2-metre Admiral yacht is the epitome of luxury and sophistication. Through exceptionally unique, luxurious and effective facilities for this lucky owner offers an unforgettable journey and nourishing memories, a burst of unparalleled style and beautiful style in the world. Lassya , is a festival of adventure and adventure.
Asking Price
34.500.000 Euros
Yacht Availability
available
Length overall
55.2m meters
Machinery & Electronics
Main Engines
2 x CAT C32 Acert (1418 kW @ 2300 rpm)
Power Generators
2 x 150 kW 400V 50Hz 3ph