Zeemar
Zeemar
---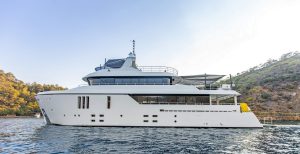 Trawler Zeemar is a great luxury in the middle of the sea..
this large 30.7-meter Trawler has a capacity of 10 people with 5 cabins. The cabins and the entire boat are equipped with air conditioning. Timeless and stylish furniture welcomes you in the lounge, decks and cabins. The dining and living areas in the fairly spacious hall are elegant and attractive. The spaciousness and comfort in the cabins will impress you.
Flybridge offers extra sunbathing and living areas. The rear platform is a nice advantage.
6 crew members will accompany you on this private yacht charter holiday.
Weekly Charter Rates
General Specifications
Length Over All
30.7 meters
Water Toys
2 x Lift Foil, 2 x Paddle Board, 1 x Jet Ski, 1 x Water Ski, Tender 8m Northstar with 300 hp outboard
Zeemar 2024 Booking Calender
Booked
Optioned
Confirmed Available
Available
Su
Mo
Tu
We
Th
Fr
Sa
Su
Mo
Tu
We
Th
Fr
Sa
Su
Mo
Tu
We
Th
Fr
Sa
Su
Mo
Tu
We
Th
Fr
Sa
Su
Mo
Tu
We
Th
Fr
Sa
Su
Mo
May

1

2

3

4

5

6

7

8

9

10

11

12

13

14

15

16

17

18

19

20

21

22

23

24

25

26

27

28

29

30

31

June

1

2

3

4

5

6

7

8

9

10

11

12

13

14

15

16

17

18

19

20

21

22

23

24

25

26

27

28

29

30

July

1

2

3

4

5

6

7

8

9

10

11

12

13

14

15

16

17

18

19

20

21

22

23

24

25

26

27

28

29

30

31

August

1

2

3

4

5

6

7

8

9

10

11

12

13

14

15

16

17

18

19

20

21

22

23

24

25

26

27

28

29

30

31

September

1

2

3

4

5

6

7

8

9

10

11

12

13

14

15

16

17

18

19

20

21

22

23

24

25

26

27

28

29

30

October

1

2

3

4

5

6

7

8

9

10

11

12

13

14

15

16

17

18

19

20

21

22

23

24

25

26

27

28

29

30

31