VIP Luxury Gulet
VIP Luxury Gulet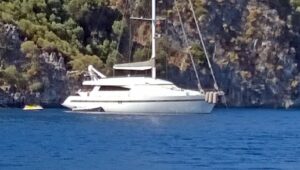 Custom-built Turkish VIP luxury Gulets are well known all around the world with their sleek silhouettes and beautiful riggings, top of the line VIP luxury gulets are mostly built with epoxy lamination system or recently preferred hull materials such as high tensile steel or marine-grade aluminum which happens to be the latest pride of Turkish boatyards where Mediterranean tradition luxury yacht charter and space-age technology meets.
Ultra-luxury 5 or 6 suits can accomodate up to 12 VIP guests in elegance and style where Turkish VIP luxury gulets are prepared to perform up to 14 knots speed with their twin 750 hp engines to make sure her guests have seamless blue water cruising under any sea conditions.
Most Luxury yacht charter and VIP gulet charters are designed and built with luxury modern flybridges and they offer the feeling of a convertible Porsche with Elegance and 360 degrees scenic drive through the Turkish Riviera, Dodecanese Greek islands, and the Eastern Mediterranean waters.