Aresteas
Aresteas
---
Discover a Unique Luxury Experience with Aresteas Yacht: A Magnificent Rental Experience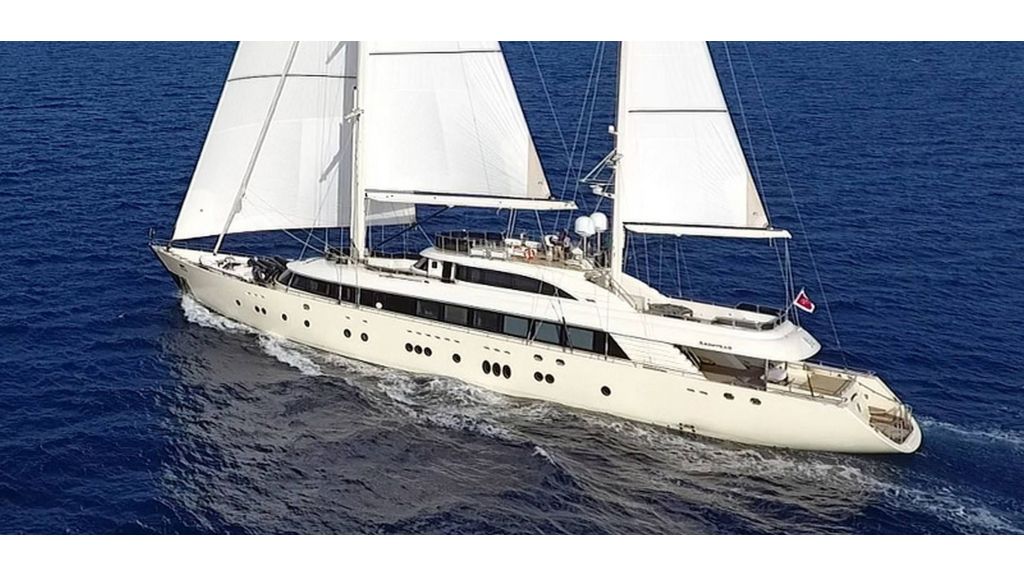 We are pleased to introduce to you the magnificent ship "Aresteas", which offers the pinnacle of elegance and innovation in yacht rental. This 51-meter (167′) gulet yacht, providing a luxurious and contemporary experience for everyone who steps on board.
Introducing Aresteas: It Offers the Harmony of Traditional Sailing Tradition and Modern Comfort
Aresteas sailing yacht charter embarks on a privileged and sophisticated journey by showcasing the combination of classic and modern design.
A Pleasant Trip with Great Accommodation and Amenities:
Aresteas gulet cruise turkey welcomes a total of 12 guests in six luxurious cabins, offering each of them a comfortable and personalized stay.
Luxury and relaxation are intertwined in Aresteas chartered sailing trips. You can detox and refresh your body by relaxing in the Himalayan salt-walled. You can continue your routines in the well-equipped gym, or you can literally relax by sitting in the jacuzzi located on the glass-bottomed deck and watching the changing ocean view.
Architectural Wonder: A Brilliant Combination of Design
The breathtaking exterior design of Aresteas luxury superyacht charter, high performance and superior craftsmanship Decently.
The artistic touch of Italian designer Aldo Viani is echoed in the interiors of the ship. A luxurious and inviting atmosphere is created, in which earth tones, luxurious fabrics and rich materials – leather, wood and marble – harmonize elegantly.
Weekly Charter Rates
General Specifications
Length Over All
50.75 meters
Su
Mo
Tu
We
Th
Fr
Sa
Su
Mo
Tu
We
Th
Fr
Sa
Su
Mo
Tu
We
Th
Fr
Sa
Su
Mo
Tu
We
Th
Fr
Sa
Su
Mo
Tu
We
Th
Fr
Sa
Su
Mo
May

1

2

3

4

5

6

7

8

9

10

11

12

13

14

15

16

17

18

19

20

21

22

23

24

25

26

27

28

29

30

31

June

1

2

3

4

5

6

7

8

9

10

11

12

13

14

15

16

17

18

19

20

21

22

23

24

25

26

27

28

29

30

July

1

2

3

4

5

6

7

8

9

10

11

12

13

14

15

16

17

18

19

20

21

22

23

24

25

26

27

28

298 days Confirmed

---

29.07.2023 16:00PM
till
06.08.2023 10:00AM

---

Porto Vecchio, Corsica to Portisco

308 days Confirmed

---

29.07.2023 16:00PM
till
06.08.2023 10:00AM

---

Porto Vecchio, Corsica to Portisco

318 days Confirmed

---

29.07.2023 16:00PM
till
06.08.2023 10:00AM

---

Porto Vecchio, Corsica to Portisco

August

18 days Confirmed

---

29.07.2023 16:00PM
till
06.08.2023 10:00AM

---

Porto Vecchio, Corsica to Portisco

28 days Confirmed

---

29.07.2023 16:00PM
till
06.08.2023 10:00AM

---

Porto Vecchio, Corsica to Portisco

38 days Confirmed

---

29.07.2023 16:00PM
till
06.08.2023 10:00AM

---

Porto Vecchio, Corsica to Portisco

48 days Confirmed

---

29.07.2023 16:00PM
till
06.08.2023 10:00AM

---

Porto Vecchio, Corsica to Portisco

58 days Confirmed

---

29.07.2023 16:00PM
till
06.08.2023 10:00AM

---

Porto Vecchio, Corsica to Portisco

68 days Confirmed

---

29.07.2023 16:00PM
till
06.08.2023 10:00AM

---

Porto Vecchio, Corsica to Portisco

7

8

9

10

11

12

13

14

15

16

17

18

19

20

21

22

23

24

25

26

27

28

29

30

31

September

1

2

3

4

5

6

7

8

9

10

11

12

13

14

15

16

17

18

19

20

21

22

23

24

25

26

27

28

29

30

October

1

2

3

4

5

6

7

8

9

10

11

12

13

14

15

16

17

18

19

20

21

22

23

24

25

26

27

28

29

30

31