Maske
Maske
---
Set Sail on a Luxurious Voyage Aboard the Gulet Maske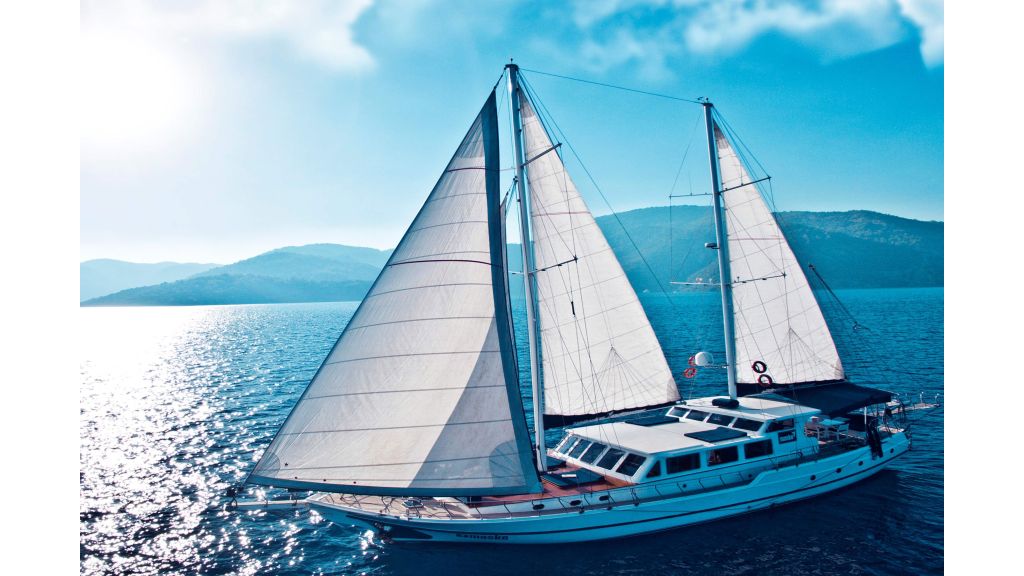 Introduction:
Unveil the epitome of maritime luxury with the enchanting Gulet Maske. Spanning 26 meters in length and 6 meters in beam, this exquisite vessel was crafted in Fethiye in 2014. From its elegantly designed interiors to its dedicated crew, Gulet Maske promises an unparalleled experience for those seeking the ultimate voyage of opulence. Join us as we delve into the captivating features and offerings of the Gulet Maske, a vessel that stands ready to redefine your perception of luxury charters.
Elegance in Design:
Step aboard the Gulet Maske and be greeted by an atmosphere of sophistication. The owner's penchant for white illuminated interiors has bestowed the vessel with a fresh and vibrant ambiance. With 4 luxurious cabins , Gulet Maske accommodates up to 8 guests in spacious comfort. Every inch of the vessel exudes an aura of elegance, promising an unforgettable retreat at sea.
Dedicated Service:
Your comfort and enjoyment are paramount aboard the Gulet Maske. A seasoned crew consisting of a captain, chef, and two deckhands is at your service around the clock, ensuring that your every need is met with professionalism and warmth. Whether you're basking in the sun-soaked decks or exploring the azure waters, the crew is committed to curating an experience that surpasses your expectations.
Tailored Experiences:
Embark on a journey of customizable experiences as the Gulet Maske offers an array of optional extras. Indulge in delectable food and beverages, explore national parks and nature reserves, and discover vibrant cities with guided tours.
Culinary Delights:
Choose from an array of delectable food options, from half-board to full-board packages, ensuring that your culinary preferences are catered to with finesse. Delight in the exquisite flavors of Croatian cuisine while savoring every moment of your dining experience. Beverage options offer an all-inclusive selection of Croatian wines, beers, soft drinks, and more, enhancing your voyage with a touch of indulgence.
Conclusion:
The Gulet Maske is not just a vessel; it's a gateway to an extraordinary voyage of luxury and discovery. From the exquisite design to the dedicated crew, every facet of this vessel is meticulously curated to ensure that your journey is nothing short of remarkable. Prepare to set sail on a voyage that transcends expectations, as the Gulet Maske invites you to embrace the allure of opulence, adventure, and unforgettable memories on the open seas.

Weekly Charter Rates
General Specifications
Maske 2024 Booking Calender
Booked
Optioned
Confirmed Available
Available
Su
Mo
Tu
We
Th
Fr
Sa
Su
Mo
Tu
We
Th
Fr
Sa
Su
Mo
Tu
We
Th
Fr
Sa
Su
Mo
Tu
We
Th
Fr
Sa
Su
Mo
Tu
We
Th
Fr
Sa
Su
Mo
May

1

2

3

4

5

6

7

8

9

10

11

12

13

14

15

16

17

18

19

20

21

22

23

24

25

26

27

28

29

30

31

June

1

2

3

4

5

6

7

8

9

10

11

12

13

14

15

16

17

18

19

20

21

22

23

24

25

26

27

28

29

30

July

1

2

3

4

5

6

7

8

9

10

11

12

13

14

15

16

17

18

19

20

21

22

23

24

25

26

27

28

29

30

31

August

1

2

3

4

5

6

7

8

9

10

11

12

13

14

15

16

17

18

19

20

21

22

23

24

25

26

27

28

29

30

31

September

1

2

3

4

5

6

7

8

9

10

11

12

13

14

15

16

17

18

19

20

21

22

23

24

25

26

27

28

29

30

October

1

2

3

4

5

6

7

8

9

10

11

12

13

14

15

16

17

18

19

20

21

22

23

24

25

26

27

28

29

30

31