Maske 2 Gulet
Maske 2 Gulet
---
Maske 2 Gulet: A Unique Holiday Experience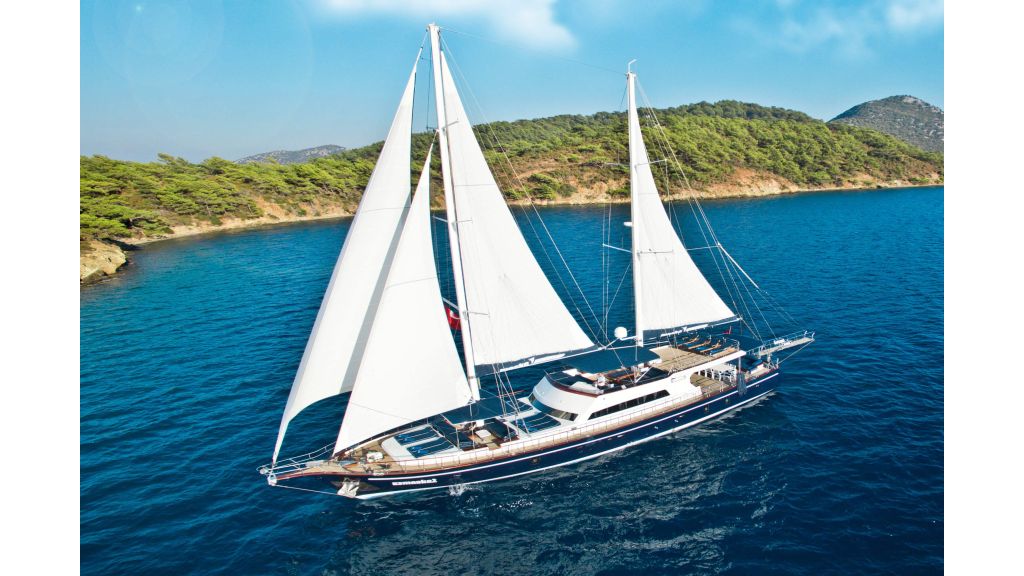 Step into an unforgettable sea adventure with Maske 2 Gulet, the most elegant way to meet the blue of the sea. This magnificent gulet, which attracts attention with its transom design, was completed at the end of summer 2013 and has the capacity to accommodate 12 guests in 6 spacious and comfortable cabins. Built in accordance with Lloyd standards using three-storey steel and mahogany materials, the gulet has the appearance of an elegant sailing boat. Thanks to its two engines and powerful generators, it offers comfort and maritime safety to its guests in the waters of the southwestern Turkish Riviera and Eastern Mediterranean Turkey.
Luxury and Comfort Decouple at the Same Time
Maske 2 Gulet promises an unforgettable sea holiday with its modern design and rich features. It offers the opportunity to accommodate 12 guests in spacious cabins, each of which you can comfortably stay. The interiors have been carefully thought out to create a stylish and spacious living space. The natural light coming from the wide windows brings the sea view in and it has been designed with modern furniture that prioritizes the comfort of the guests.
Dazzling Design
Maske 2 Gulet's impressive transom design and elegant sailing appearance will be the favorite of those who are looking for elegance and elegance at sea. The three-storey steel and mahogany structure offers the highest level of performance in terms of durability and safety. Attention to detail in the design of the gulet Deconstructs both aesthetics and functionality.
Confidence and Performance at Sea
Maske 2 Gulet offers a safe and comfortable trip at sea thanks to its powerful engines and generators. Holidaymakers will enjoy Maske 2 Gulet's performance and passion for the sea while exploring the beauties of the Turkish Riviera and the Eastern Mediterranean.
Designed For The Requests Of Guests
Maske 2 Gulet is designed according to the wishes of the guests. Every detail has been thought out to offer the highest level of comfort and pleasure. The spacious deck areas provide the perfect setting for outdoor dining and relaxation. Sun loungers, cushions and seating areas where you can relax while enjoying the sea make your holiday unforgettable.
A Dream Vacation With Maske 2 Gulets
Maske 2 Gulet brings luxury and sea lovers together. Dec.2 gulet brings luxury and sea lovers together. Get ready for a unique holiday experience with this distinguished gulet where blue and green embrace in the calm waters of the Turkish Riviera and the Eastern Mediterranean. Choose Maske 2 Gulet to find peace in the sea accompanied by the colors of the sunset, to experience romantic moments under the stars and to travel freely in the arms of the sea. Get ready to have a perfect sea holiday with Maske 2 Gulet in order to discover the unique beauties and enjoy the luxury!
Weekly Charter Rates
General Specifications
Su
Mo
Tu
We
Th
Fr
Sa
Su
Mo
Tu
We
Th
Fr
Sa
Su
Mo
Tu
We
Th
Fr
Sa
Su
Mo
Tu
We
Th
Fr
Sa
Su
Mo
Tu
We
Th
Fr
Sa
Su
Mo
May

1

2

3

4

5

6

7

8

9

10

11

12

13

14

15

16

17

18

19

20

21

22

23

24

25

26

27

28

297 days Confirmed

---

29.05.2023 16:00PM
till
05.06.2023 10:00AM

---

Marmaris - Marmaris

307 days Confirmed

---

29.05.2023 16:00PM
till
05.06.2023 10:00AM

---

Marmaris - Marmaris

317 days Confirmed

---

29.05.2023 16:00PM
till
05.06.2023 10:00AM

---

Marmaris - Marmaris

June

17 days Confirmed

---

29.05.2023 16:00PM
till
05.06.2023 10:00AM

---

Marmaris - Marmaris

27 days Confirmed

---

29.05.2023 16:00PM
till
05.06.2023 10:00AM

---

Marmaris - Marmaris

37 days Confirmed

---

29.05.2023 16:00PM
till
05.06.2023 10:00AM

---

Marmaris - Marmaris

47 days Confirmed

---

29.05.2023 16:00PM
till
05.06.2023 10:00AM

---

Marmaris - Marmaris

57 days Confirmed

---

29.05.2023 16:00PM
till
05.06.2023 10:00AM

---

Marmaris - Marmaris

6

7

8

98 days Confirmed

---

09.06.2023 16:00PM
till
17.06.2023 10:00AM

---

Gocek - Gocek

108 days Confirmed

---

09.06.2023 16:00PM
till
17.06.2023 10:00AM

---

Gocek - Gocek

118 days Confirmed

---

09.06.2023 16:00PM
till
17.06.2023 10:00AM

---

Gocek - Gocek

128 days Confirmed

---

09.06.2023 16:00PM
till
17.06.2023 10:00AM

---

Gocek - Gocek

138 days Confirmed

---

09.06.2023 16:00PM
till
17.06.2023 10:00AM

---

Gocek - Gocek

148 days Confirmed

---

09.06.2023 16:00PM
till
17.06.2023 10:00AM

---

Gocek - Gocek

158 days Confirmed

---

09.06.2023 16:00PM
till
17.06.2023 10:00AM

---

Gocek - Gocek

168 days Confirmed

---

09.06.2023 16:00PM
till
17.06.2023 10:00AM

---

Gocek - Gocek

178 days Confirmed

---

09.06.2023 16:00PM
till
17.06.2023 10:00AM

---

Gocek - Gocek

187 days Confirmed

---

17.06.2023 16:00PM
till
24.06.2023 10:00AM

---

Fethiye - Fethiye

197 days Confirmed

---

17.06.2023 16:00PM
till
24.06.2023 10:00AM

---

Fethiye - Fethiye

207 days Confirmed

---

17.06.2023 16:00PM
till
24.06.2023 10:00AM

---

Fethiye - Fethiye

217 days Confirmed

---

17.06.2023 16:00PM
till
24.06.2023 10:00AM

---

Fethiye - Fethiye

227 days Confirmed

---

17.06.2023 16:00PM
till
24.06.2023 10:00AM

---

Fethiye - Fethiye

237 days Confirmed

---

17.06.2023 16:00PM
till
24.06.2023 10:00AM

---

Fethiye - Fethiye

247 days Confirmed

---

17.06.2023 16:00PM
till
24.06.2023 10:00AM

---

Fethiye - Fethiye

257 days Confirmed

---

24.06.2023 16:00PM
till
01.07.2023 10:00AM

---

Fethiye - Bodrum

267 days Confirmed

---

24.06.2023 16:00PM
till
01.07.2023 10:00AM

---

Fethiye - Bodrum

277 days Confirmed

---

24.06.2023 16:00PM
till
01.07.2023 10:00AM

---

Fethiye - Bodrum

287 days Confirmed

---

24.06.2023 16:00PM
till
01.07.2023 10:00AM

---

Fethiye - Bodrum

297 days Confirmed

---

24.06.2023 16:00PM
till
01.07.2023 10:00AM

---

Fethiye - Bodrum

307 days Confirmed

---

24.06.2023 16:00PM
till
01.07.2023 10:00AM

---

Fethiye - Bodrum

July

17 days Confirmed

---

24.06.2023 16:00PM
till
01.07.2023 10:00AM

---

Fethiye - Bodrum

27 days Confirmed

---

01.07.2023 16:00PM
till
08.07.2023 10:00AM

---

Bodrum - Bodrum

37 days Confirmed

---

01.07.2023 16:00PM
till
08.07.2023 10:00AM

---

Bodrum - Bodrum

47 days Confirmed

---

01.07.2023 16:00PM
till
08.07.2023 10:00AM

---

Bodrum - Bodrum

57 days Confirmed

---

01.07.2023 16:00PM
till
08.07.2023 10:00AM

---

Bodrum - Bodrum

67 days Confirmed

---

01.07.2023 16:00PM
till
08.07.2023 10:00AM

---

Bodrum - Bodrum

77 days Confirmed

---

01.07.2023 16:00PM
till
08.07.2023 10:00AM

---

Bodrum - Bodrum

87 days Confirmed

---

01.07.2023 16:00PM
till
08.07.2023 10:00AM

---

Bodrum - Bodrum

97 days Confirmed

---

08.07.2023 16:00PM
till
15.07.2023 07:00AM

---

Bodrum - Marmaris

107 days Confirmed

---

08.07.2023 16:00PM
till
15.07.2023 07:00AM

---

Bodrum - Marmaris

117 days Confirmed

---

08.07.2023 16:00PM
till
15.07.2023 07:00AM

---

Bodrum - Marmaris

127 days Confirmed

---

08.07.2023 16:00PM
till
15.07.2023 07:00AM

---

Bodrum - Marmaris

137 days Confirmed

---

08.07.2023 16:00PM
till
15.07.2023 07:00AM

---

Bodrum - Marmaris

147 days Confirmed

---

08.07.2023 16:00PM
till
15.07.2023 07:00AM

---

Bodrum - Marmaris

157 days Confirmed

---

08.07.2023 16:00PM
till
15.07.2023 07:00AM

---

Bodrum - Marmaris

167 days Confirmed

---

15.07.2023 16:00PM
till
22.07.2023 10:00AM

---

Gocek - Gocek

177 days Confirmed

---

15.07.2023 16:00PM
till
22.07.2023 10:00AM

---

Gocek - Gocek

187 days Confirmed

---

15.07.2023 16:00PM
till
22.07.2023 10:00AM

---

Gocek - Gocek

197 days Confirmed

---

15.07.2023 16:00PM
till
22.07.2023 10:00AM

---

Gocek - Gocek

207 days Confirmed

---

15.07.2023 16:00PM
till
22.07.2023 10:00AM

---

Gocek - Gocek

217 days Confirmed

---

15.07.2023 16:00PM
till
22.07.2023 10:00AM

---

Gocek - Gocek

227 days Confirmed

---

15.07.2023 16:00PM
till
22.07.2023 10:00AM

---

Gocek - Gocek

237 days Confirmed

---

22.07.2023 16:00PM
till
29.07.2023 10:00AM

---

Gocek - Fethiye

247 days Confirmed

---

22.07.2023 16:00PM
till
29.07.2023 10:00AM

---

Gocek - Fethiye

257 days Confirmed

---

22.07.2023 16:00PM
till
29.07.2023 10:00AM

---

Gocek - Fethiye

267 days Confirmed

---

22.07.2023 16:00PM
till
29.07.2023 10:00AM

---

Gocek - Fethiye

277 days Confirmed

---

22.07.2023 16:00PM
till
29.07.2023 10:00AM

---

Gocek - Fethiye

287 days Confirmed

---

22.07.2023 16:00PM
till
29.07.2023 10:00AM

---

Gocek - Fethiye

297 days Confirmed

---

22.07.2023 16:00PM
till
29.07.2023 10:00AM

---

Gocek - Fethiye

307 days Confirmed

---

29.07.2023 16:00PM
till
05.08.2023 10:00AM

---

Fethiye - Fethiye

317 days Confirmed

---

29.07.2023 16:00PM
till
05.08.2023 10:00AM

---

Fethiye - Fethiye

August

17 days Confirmed

---

29.07.2023 16:00PM
till
05.08.2023 10:00AM

---

Fethiye - Fethiye

27 days Confirmed

---

29.07.2023 16:00PM
till
05.08.2023 10:00AM

---

Fethiye - Fethiye

37 days Confirmed

---

29.07.2023 16:00PM
till
05.08.2023 10:00AM

---

Fethiye - Fethiye

47 days Confirmed

---

29.07.2023 16:00PM
till
05.08.2023 10:00AM

---

Fethiye - Fethiye

57 days Confirmed

---

29.07.2023 16:00PM
till
05.08.2023 10:00AM

---

Fethiye - Fethiye

67 days Confirmed

---

05.08.2023 16:00PM
till
12.08.2023 10:00AM

---

Fethiye - Bodrum

77 days Confirmed

---

05.08.2023 16:00PM
till
12.08.2023 10:00AM

---

Fethiye - Bodrum

87 days Confirmed

---

05.08.2023 16:00PM
till
12.08.2023 10:00AM

---

Fethiye - Bodrum

97 days Confirmed

---

05.08.2023 16:00PM
till
12.08.2023 10:00AM

---

Fethiye - Bodrum

107 days Confirmed

---

05.08.2023 16:00PM
till
12.08.2023 10:00AM

---

Fethiye - Bodrum

117 days Confirmed

---

05.08.2023 16:00PM
till
12.08.2023 10:00AM

---

Fethiye - Bodrum

127 days Confirmed

---

05.08.2023 16:00PM
till
12.08.2023 10:00AM

---

Fethiye - Bodrum

137 days Confirmed

---

12.08.2023 16:00PM
till
19.08.2023 10:00AM

---

Bodrum - Gocek

147 days Confirmed

---

12.08.2023 16:00PM
till
19.08.2023 10:00AM

---

Bodrum - Gocek

157 days Confirmed

---

12.08.2023 16:00PM
till
19.08.2023 10:00AM

---

Bodrum - Gocek

167 days Confirmed

---

12.08.2023 16:00PM
till
19.08.2023 10:00AM

---

Bodrum - Gocek

177 days Confirmed

---

12.08.2023 16:00PM
till
19.08.2023 10:00AM

---

Bodrum - Gocek

187 days Confirmed

---

12.08.2023 16:00PM
till
19.08.2023 10:00AM

---

Bodrum - Gocek

197 days Confirmed

---

12.08.2023 16:00PM
till
19.08.2023 10:00AM

---

Bodrum - Gocek

207 days Confirmed

---

19.08.2023 16:00PM
till
26.08.2023 10:00AM

---

Gocek - Bodrum

217 days Confirmed

---

19.08.2023 16:00PM
till
26.08.2023 10:00AM

---

Gocek - Bodrum

227 days Confirmed

---

19.08.2023 16:00PM
till
26.08.2023 10:00AM

---

Gocek - Bodrum

237 days Confirmed

---

19.08.2023 16:00PM
till
26.08.2023 10:00AM

---

Gocek - Bodrum

247 days Confirmed

---

19.08.2023 16:00PM
till
26.08.2023 10:00AM

---

Gocek - Bodrum

257 days Confirmed

---

19.08.2023 16:00PM
till
26.08.2023 10:00AM

---

Gocek - Bodrum

267 days Confirmed

---

19.08.2023 16:00PM
till
26.08.2023 10:00AM

---

Gocek - Bodrum

277 days Confirmed

---

26.08.2023 16:00PM
till
02.09.2023 10:00AM

---

Bodrum - Bodrum

287 days Confirmed

---

26.08.2023 16:00PM
till
02.09.2023 10:00AM

---

Bodrum - Bodrum

297 days Confirmed

---

26.08.2023 16:00PM
till
02.09.2023 10:00AM

---

Bodrum - Bodrum

307 days Confirmed

---

26.08.2023 16:00PM
till
02.09.2023 10:00AM

---

Bodrum - Bodrum

317 days Confirmed

---

26.08.2023 16:00PM
till
02.09.2023 10:00AM

---

Bodrum - Bodrum

September

17 days Confirmed

---

26.08.2023 16:00PM
till
02.09.2023 10:00AM

---

Bodrum - Bodrum

27 days Confirmed

---

26.08.2023 16:00PM
till
02.09.2023 10:00AM

---

Bodrum - Bodrum

37 days Confirmed

---

02.09.2023 16:00PM
till
09.09.2023 10:00AM

---

Bodrum - Marmaris

47 days Confirmed

---

02.09.2023 16:00PM
till
09.09.2023 10:00AM

---

Bodrum - Marmaris

57 days Confirmed

---

02.09.2023 16:00PM
till
09.09.2023 10:00AM

---

Bodrum - Marmaris

67 days Confirmed

---

02.09.2023 16:00PM
till
09.09.2023 10:00AM

---

Bodrum - Marmaris

77 days Confirmed

---

02.09.2023 16:00PM
till
09.09.2023 10:00AM

---

Bodrum - Marmaris

87 days Confirmed

---

02.09.2023 16:00PM
till
09.09.2023 10:00AM

---

Bodrum - Marmaris

97 days Confirmed

---

02.09.2023 16:00PM
till
09.09.2023 10:00AM

---

Bodrum - Marmaris

107 days Confirmed

---

09.09.2023 16:00PM
till
16.09.2023 10:00AM

---

Marmaris - Bodrum

117 days Confirmed

---

09.09.2023 16:00PM
till
16.09.2023 10:00AM

---

Marmaris - Bodrum

127 days Confirmed

---

09.09.2023 16:00PM
till
16.09.2023 10:00AM

---

Marmaris - Bodrum

137 days Confirmed

---

09.09.2023 16:00PM
till
16.09.2023 10:00AM

---

Marmaris - Bodrum

147 days Confirmed

---

09.09.2023 16:00PM
till
16.09.2023 10:00AM

---

Marmaris - Bodrum

157 days Confirmed

---

09.09.2023 16:00PM
till
16.09.2023 10:00AM

---

Marmaris - Bodrum

167 days Confirmed

---

09.09.2023 16:00PM
till
16.09.2023 10:00AM

---

Marmaris - Bodrum

177 days Confirmed

---

16.09.2023 16:00PM
till
23.09.2023 10:00AM

---

Bodrum - Gocek

187 days Confirmed

---

16.09.2023 16:00PM
till
23.09.2023 10:00AM

---

Bodrum - Gocek

197 days Confirmed

---

16.09.2023 16:00PM
till
23.09.2023 10:00AM

---

Bodrum - Gocek

207 days Confirmed

---

16.09.2023 16:00PM
till
23.09.2023 10:00AM

---

Bodrum - Gocek

217 days Confirmed

---

16.09.2023 16:00PM
till
23.09.2023 10:00AM

---

Bodrum - Gocek

227 days Confirmed

---

16.09.2023 16:00PM
till
23.09.2023 10:00AM

---

Bodrum - Gocek

237 days Confirmed

---

16.09.2023 16:00PM
till
23.09.2023 10:00AM

---

Bodrum - Gocek

24

25

26

27

28

29

307 days Confirmed

---

30.09.2023 16:00PM
till
07.10.2023 10:00AM

---

Bodrum - Marmaris

October

17 days Confirmed

---

30.09.2023 16:00PM
till
07.10.2023 10:00AM

---

Bodrum - Marmaris

27 days Confirmed

---

30.09.2023 16:00PM
till
07.10.2023 10:00AM

---

Bodrum - Marmaris

37 days Confirmed

---

30.09.2023 16:00PM
till
07.10.2023 10:00AM

---

Bodrum - Marmaris

47 days Confirmed

---

30.09.2023 16:00PM
till
07.10.2023 10:00AM

---

Bodrum - Marmaris

57 days Confirmed

---

30.09.2023 16:00PM
till
07.10.2023 10:00AM

---

Bodrum - Marmaris

67 days Confirmed

---

30.09.2023 16:00PM
till
07.10.2023 10:00AM

---

Bodrum - Marmaris

77 days Confirmed

---

30.09.2023 16:00PM
till
07.10.2023 10:00AM

---

Bodrum - Marmaris

8

9

10

11

12

13

14

15

16

17

18

19

20

21

22

23

24

25

26

27

28

29

30

31