Immersive
Immersive
---
The Address of Luxury and Splendor: Rent an Immersive Mega Yacht
The award-winning 50.42m motor yacht Immersive, specially one of the leading shipyards in Turkey, is taking part in the charter Sunday this season. Attracting attention with its stylish and modern design, Immersive attracts the eyes with its impressive appearance.
with a length of 50.42m and a width of 9.30m, Immersive can accommodate a total of 12 guests (up to 14 guests) in 7 luxury guest cabins. Thanks to the volume of the 707 GT, it has spacious and spacious interiors. It is also ideal for long trips with a draft of 3.28m and a range of 4,500nm.
Immersive is equipped with features such as a water terrace that dazzles with its design, a 13m Ocean 43 Goldfish chase boat and various water toys. Thanks to the flexible cabin layout, you can accommodate 12 guests (up to 14 guests) and have a luxurious experience.
Immersive's interiors feature an open concept and a large interior volume. it is possible to accommodate 12 guests (up to 14 guests) in 7 luxury staterooms. The master suite, VIP suite and other guest cabins offer a warm and inviting ambience. Natural light and Turkish traditional design are at the forefront in the interiors.
A spacious and cozy lounge is located on the main deck and offers stunning sea views. The sky lounge on the upper deck is equipped with various relaxation areas and there is a cocktail table perfect for game nights.
Immersive's minimalist exterior design was designed by Turquoise's own team and built from Turkish steel. Large windows allow you to see your destination without interruption. There are many lounges and dining areas where you can enjoy the outdoor life.
There is a comfortable dining table and seating arrangement on the main deck and upper deck, while the sun terrace offers a charming experience with its view. Jacuzzi combines elegance and comfort with Deckchairs and stunning views.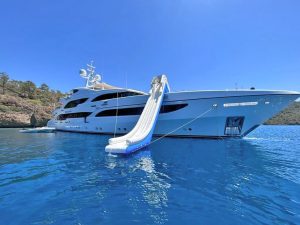 Immersive's indoor and outdoor spaces combine elegance and a unique experience Decoupled. Filled with extras such as water toys, a 13m Ocean 43 Goldfish chase boat and a 6m slide, Immersiv promises an unforgettable sea holiday.
Hurry up to make your dream vacation a reality with the Immersive Mega Yacht. It is an ideal option for those who want to have an unforgettable experience with its expert crew and luxurious accommodation facilities. You can have a wonderful holiday with the Immersive Mega Yacht to meet the incomparably beautiful nature and enjoy the sea. Contact us immediately for a reservation and step into a dreamy sea adventure.
Chase Boat: 13m Ocean 43 Goldfish
– Top speed 53 knots
– Twin Yanmar Diesel 370 Hp (2.1 Lit/NM at 40 knots)
Main Tender: Castoldi Jet Tender 21
Rescue Tender: Zodiac RIBO 450 Blanc
Jet Skis: 2 x Kawasaki STX-15
Dive Equipment: 5 Full Diving Sets, compressor
Accomodation
5x Double
2x Twin (each with bunkbed)
Watersports Equipment:
1x Transparent Double Person Kayak
1x Paddle Board – Hobie Mirage I Eclipse 11 ( Inflatable )
1x Canoe – Hobie Mirage I Trek 14 Duo ( Inflatable )
1x Scuba Jet Pro All-In One
1x Seabob F5SR
1x E Surf – Awake Ravik 3
1x E-Foil – Lift Foil E4
1x – Slide (6m) – Fun Air
1x Swimming Pool – Yacht Beach
4x Swimming Platform – Yacht Beach
2x Towable Ringo
1x 2 Person Towable Ringo
2x Waterskies
1x Wakeboard
1x Banana
1x Ringo (Double)
Weekly Charter Rates
General Specifications
Length Over All
50.42 meters
Water Toys
Chase Boat: 13m Ocean 43 Goldfish - Top speed 53 knots - Twin Yanmar Diesel 370 Hp (2.1 Lit/NM at 40 knots) Main Tender: Castoldi Jet Tender 21 Rescue Tender: Zodiac RIBO 450 Blanc Jet Skis: 2 x Kawasaki STX-15 Dive Equipment: 5 Full Diving Sets, compressor Watersports Equipment: - 1x Transparent Double Person Kayak - 1x Paddle Board - Hobie Mirage I Eclipse 11 ( Inflatable ) - 1x Canoe - Hobie Mirage I Trek 14 Duo ( Inflatable ) - 1x Scuba Jet Pro All-In One - 1x Seabob F5SR - 1x E Surf – Awake Ravik 3 - 1x E-Foil – Lift Foil E4 - 1x – Slide (6m) – Fun Air - 1x Swimming Pool – Yacht Beach - 4x Swimming Platform – Yacht Beach - 2x Towable Ringo - 1x 2 Person Towable Ringo - 2x Waterskies - 1x Wakeboard - 1x Banana - 1x Ringo (Double)