Funda D
Funda D
---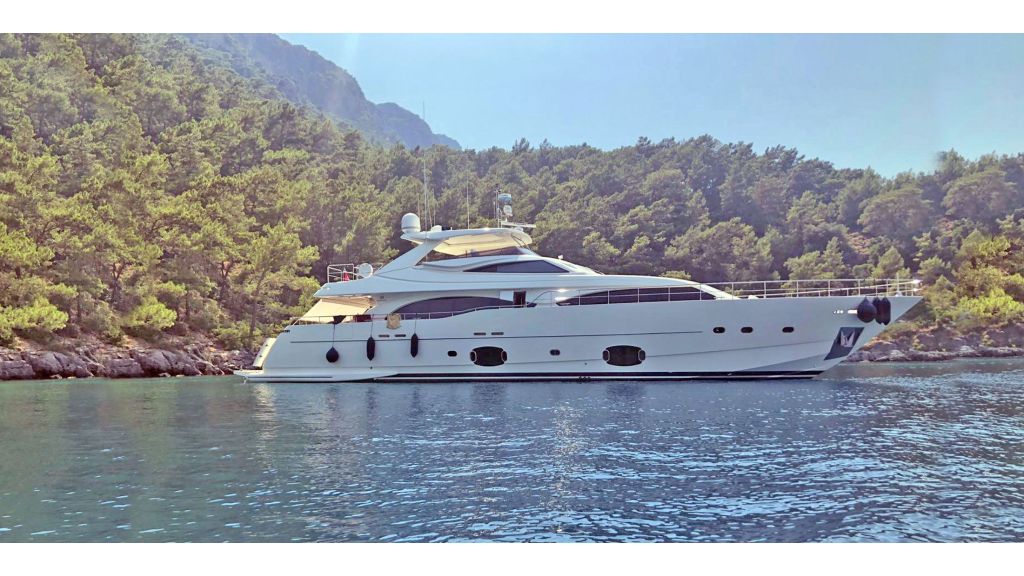 Funda D Motor Yacht was built in 2010. with the renovation it underwent in 2019, it has taken its final form today. the boat, which has a length of 30m and a width of 7.1 m, provides blue tour service to our esteemed guests with 5 personnel.
Our yacht has 5 staterooms, 1 Master Cabin, 2 Double Cabins, 2 Twin Cabins, stylish and comfortable from each other, with its own shower, TOILET and air conditioning. It has a 2 x 2300 Hp MTU horsepower engine and a generator.
There are separate living areas for the crew, a full-fledged kitchen, indoor and outdoor dining areas , relaxation areas, and an American bar.
There are enough sunbathing cushions, chairs and service sets available for all guests. Blue Cruise providing comfort, luxury and tranquility to our guests Decently, this yacht reaches 26 nautical miles.
Thanks to the full-fledged Radio, GSM Phone navigation equipment equipment, you will feel safe in our most preferred blue tour destinations such as Bodrum, Marmaris, Fethiye Gocek with the Funda D boat.
In addition, LCD TV, DVD player, music set are at the service of our dear blue voyage guests in the living room.
In order not to be disconnected from the internet life during the holiday, we also have wi-fi internet service on our boat, which is valid on the borders of Turkish Waters
For guests who wish, water sports such as Jetski, Ringo, Water Skiing, Canoeing are available as an option. It also offers entertainment opportunities to our passengers who want to enjoy the Blue Cruise in the virgin bays of Turkey.
Video of Funda D:
Weekly Charter Rates
General Specifications
Su
Mo
Tu
We
Th
Fr
Sa
Su
Mo
Tu
We
Th
Fr
Sa
Su
Mo
Tu
We
Th
Fr
Sa
Su
Mo
Tu
We
Th
Fr
Sa
Su
Mo
Tu
We
Th
Fr
Sa
Su
Mo
May

1

2

3

4

5

6

7

8

9

10

11

12

13

14

15

16

17

18

19

20

21

22

23

24

25

26

27

28

29

30

31

June

1

2

3

4

5

6

7

8

9

10

11

12

13

14

15

16

17

18

19

20

21

22

23

24

25

26

27

28

29

30

July

1

2

3

4

5

6

7

8

9

10

11

12

13

14

15

16

17

18

19

20

21

22

23

24

25

26

27

28

2914 days Confirmed

---

29.07.2023 16:00PM
till
12.08.2023 10:00AM

---

Gocek, Turkey* to Gocek, Turkey*

3014 days Confirmed

---

29.07.2023 16:00PM
till
12.08.2023 10:00AM

---

Gocek, Turkey* to Gocek, Turkey*

3114 days Confirmed

---

29.07.2023 16:00PM
till
12.08.2023 10:00AM

---

Gocek, Turkey* to Gocek, Turkey*

August

114 days Confirmed

---

29.07.2023 16:00PM
till
12.08.2023 10:00AM

---

Gocek, Turkey* to Gocek, Turkey*

214 days Confirmed

---

29.07.2023 16:00PM
till
12.08.2023 10:00AM

---

Gocek, Turkey* to Gocek, Turkey*

314 days Confirmed

---

29.07.2023 16:00PM
till
12.08.2023 10:00AM

---

Gocek, Turkey* to Gocek, Turkey*

414 days Confirmed

---

29.07.2023 16:00PM
till
12.08.2023 10:00AM

---

Gocek, Turkey* to Gocek, Turkey*

514 days Confirmed

---

29.07.2023 16:00PM
till
12.08.2023 10:00AM

---

Gocek, Turkey* to Gocek, Turkey*

614 days Confirmed

---

29.07.2023 16:00PM
till
12.08.2023 10:00AM

---

Gocek, Turkey* to Gocek, Turkey*

714 days Confirmed

---

29.07.2023 16:00PM
till
12.08.2023 10:00AM

---

Gocek, Turkey* to Gocek, Turkey*

814 days Confirmed

---

29.07.2023 16:00PM
till
12.08.2023 10:00AM

---

Gocek, Turkey* to Gocek, Turkey*

914 days Confirmed

---

29.07.2023 16:00PM
till
12.08.2023 10:00AM

---

Gocek, Turkey* to Gocek, Turkey*

1014 days Confirmed

---

29.07.2023 16:00PM
till
12.08.2023 10:00AM

---

Gocek, Turkey* to Gocek, Turkey*

1114 days Confirmed

---

29.07.2023 16:00PM
till
12.08.2023 10:00AM

---

Gocek, Turkey* to Gocek, Turkey*

1214 days Confirmed

---

29.07.2023 16:00PM
till
12.08.2023 10:00AM

---

Gocek, Turkey* to Gocek, Turkey*

13

14

15

16

17

18

19

20

21

22

23

24

25

26

27

28

29

30

31

September

1

2

3

4

5

6

7

8

9

10

11

12

13

14

15

16

17

18

19

20

21

22

23

24

25

26

27

28

29

30

October

1

2

3

4

5

6

7

8

9

10

11

12

13

14

15

16

17

18

19

20

21

22

23

24

25

26

27

28

29

30

31