M/Y Azimut 58
M/Y Azimut 58
---
Elevate Your Maritime Experience with the Exquisite M/Y Azimut 58 Flybridge Motor Yacht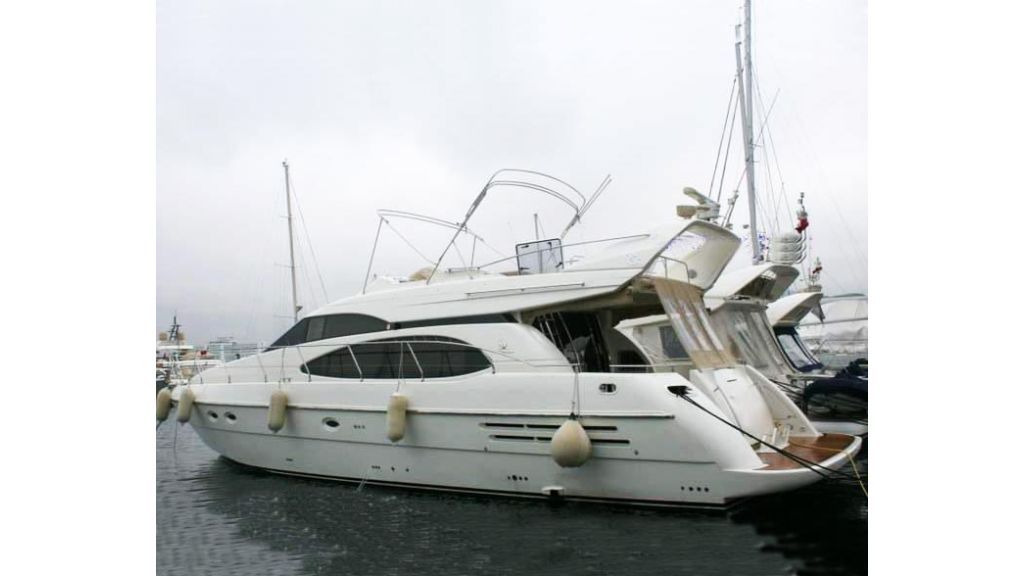 Discover the epitome of opulence and sophistication with the M/Y Azimut 58 Flybridge Motor Yacht. This exceptional vessel redefines luxury with its impeccable design and advanced features. Boasting a flybridge layout and comfortable interior, the Azimut 58 offers an unparalleled cruising experience. Join us as we explore the remarkable features and offerings of this elegant motor yacht, a masterpiece that promises to elevate your journey across the open seas.
Luxurious Interior Design:
Step into a realm of comfort and elegance within the M/Y Azimut 58. The owner's cabin features a spacious double bed, while the VIP cabin offers equally lavish accommodations. Guests' cabins offer twin beds for maximum comfort. A crew cabin is also provided, ensuring that every detail of your voyage is attended to. Air conditioning graces every corner, including the crew cabin, to provide a haven of relaxation. The interiors are adorned with thoughtful amenities, including carpeted salons, wooden kitchen floors, dimmable lighting, and 12V and 220V plugs for your convenience.
Modern Amenities and Appliances:
Indulge in culinary delights with a fully-equipped kitchen featuring a ceramic hob with three burners, a refrigerator, freezer, and microwave oven. An extensible dining table invites you to enjoy sumptuous meals in style. In the bathrooms, separated showers ensure comfort and convenience for all guests. Entertainment is taken to the next level with a TV antenna, CD players, and waterproof systems for your enjoyment.
Advanced Technology and Performance:
The M/Y Azimut 58 is powered by an automatic fire fighting system, ensuring safety and peace of mind. Navigation lights and a gas detector enhance onboard security. A Kohler 16.5 kW generator with only 70 hours of use provides reliable power. Air conditioning throughout the yacht, including the salon, cabins, and crew cabin, guarantees a comfortable environment in any climate. Twin VETUS bow thrusters and an electric windlass facilitate seamless maneuverability, while an extensive array of batteries ensures uninterrupted power.
Innovative Features and Comfort:
Experience the convenience of an electric seat in the wheelhouse and electronic engine commands that offer precise control. CCTV in the engines room and cockpit enhances security and monitoring. Record filters for engines and generator optimize performance, and an inverter ensures smooth operation of 24V and 220V systems. Electro-hydraulic flaps provide effortless control over the yacht's stability.
Conclusion:
The M/Y Azimut 58 Flybridge Motor Yacht is a celebration of luxury, innovation, and comfort. Every detail has been meticulously designed to provide an extraordinary maritime experience. From lavish interiors to advanced technology, this yacht is a testament to opulence at sea. Embark on a journey that transcends ordinary voyages, as the M/Y Azimut 58 invites you to explore the open waters in unparalleled style and sophistication.
Yacht Availability
available
Length overall
17,70 meters
Built
2001 / 2008 in italy
Machinery & Electronics