1975 Built Steel Motor Yacht
1975 Built Steel Motor Yacht
---
Luxury 1975 Built Steel Motor Yacht for Sale in Turkey: Sail the Seas in Style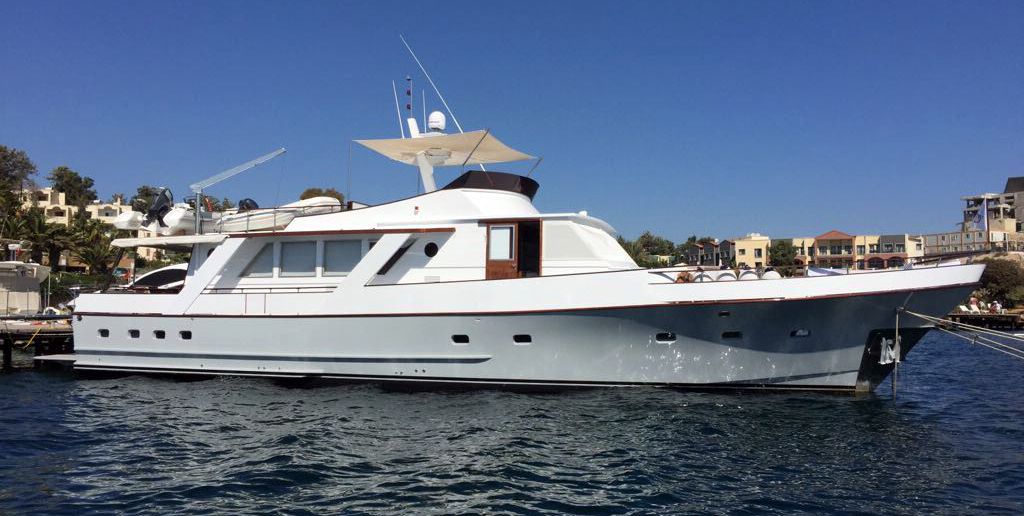 Do you dream of an unforgettable vacation on a luxury yacht cruising the crystal clear waters of the Turkish Riviera? Look no further! We are fortunate to have a real gem in the world of sailing – a steel motor yacht built in 1975, carefully restored in 2020 to meet the standards of comfort and style of the elevation. This unique yacht is now available for sale, offering the opportunity for a unique cruise.
Specifications
This impressive steel boat has amazing details to provide a smooth and enjoyable sailing experience. With a 5.50m beam and 2.85m draft, the boat provides standing room and space for all your activities on board. Its Tonnage is 91.47 Grosston and 49.17 Net tons, ensuring enough space for your guests to stay in complete comfort.
Engine & Machinery
Powered by a reliable 1975 Caterpillar engine, this unique motorboat offers speeds of up to 8 knots, allowing you to enjoy a relaxing cruise among the breathtaking Turkish coastline and explore the hidden gems of the Mediterranean seamlessly and uncertainly at the equal rate of 60 liters per hour. The boat's impressive range of 800 miles ensures that your trip knows no limits.
For 2020, the boat underwent major upgrades, including a modern watermaker, state-of-the-art generator, Panda generator with air conditioning and a 12.5 Kohler engine, so you can expect uninterrupted power and comfort throughout the journey. SMXIR air conditioning ensures a pleasant atmosphere in the rooms, allowing for.
Navigation & Electronics
This unique boat is equipped with high quality electronic indicators for your safety and comfort. A Raymarine RL 70 depth sounder, compass, VHF, GPS and radar systems will keep you navigating, while the Sperry 8T auto-pilot will help you maintain a smooth course with the onboard Sony TV/stereo entertainment system in order to continue the sightseeing along the Turkish coast is worth it
Deck & Safety
Safety is paramount on any boat, and this boat doesn't take that very seriously. The Electric Quick 24 W windlass and Yamaha 40 Hp outboard engine add comfort and safety when anchoring or exploring a secluded cove. Two lifeguards, ten fire extinguishers and twelve life jackets keep you safe during your luxurious journey. Additionally, the boat comes with a variety of blankets, including sun masks, biminis and spray cans, to protect you from the elements and allow you to breathe comfortably
Tankage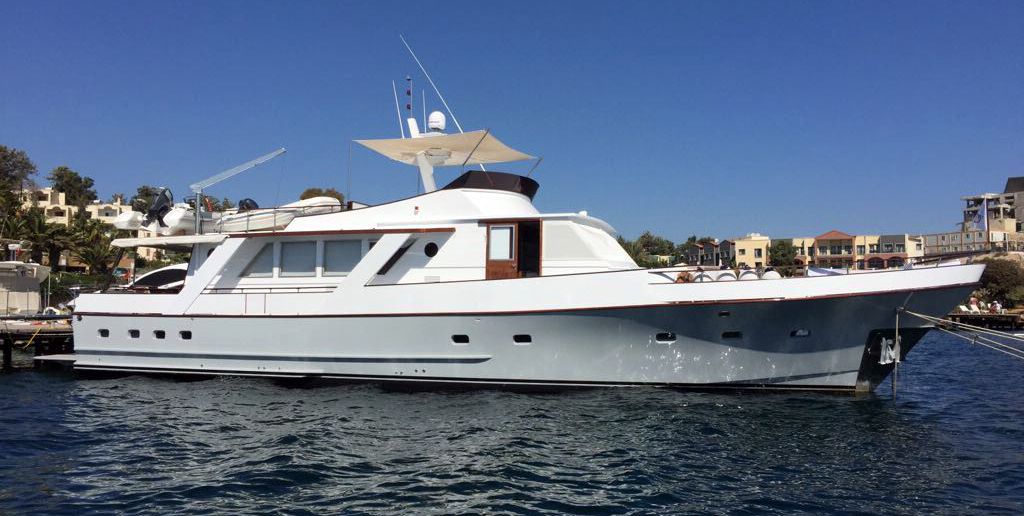 With 4 tons of fuel in stainless steel, 2500 liters of water capacity in GRP water (launched in 2020) and 1 ton of holding in stainless steel, this boat is balanced perfect will between freedom and pleasure in your time Provides the thrill of sailing.
Accommodation
Step aboard this impressive motor yacht, and you'll be greeted with a luxurious saloon and three adjoining staterooms. With a single central cabin and paired cabins aft, the ship can comfortably accommodate six guests, promising an up close and personal experience for everyone on board
Yacht for sale in Turkey: Your Gateway to Unforgettable Experiences
Now that you have experienced the beauty of this Steel Motor Yacht, it is time to embark on an unforgettable voyage through the magnificent waters of Turkey. Whether you are dreaming of selling a luxury motor yacht, renting a motor yacht, or enjoying the luxury of mega yachts for sale, we have the perfect solution for you.
Superstructure is Steel
1975 custom Built Steel
Year: 1975
Length: 72′
Engine/Fuel Type: Twin/diesel
Located In: Turkey
Hull Material: Steel
Engine 2: Total Power: 780 HP new
Engine Brand: CATERPILLAR
Engine Type: Inboard
Engine/Fuel Type: Diesel
Engine Power: 390 HP
Engine 2:
Engine Brand: CATERPILLAR
Engine Type: Inboard
Engine/Fuel Type: Diesel
Engine Power: 390 HP
Specifications
Beam : 5,50 m
Draft : 2,85 m
Tonnage : 91,47 Grosston/49,17 Net ton
Engine & Machinery
Engine Type : Caterpillar
Engine Date : 1975
Speed : 8 knots cruise
Consumption : 60 lt / hr
Range : 800 Miles
Water Maker : 2020
Generator: 2020 / Panda / 12,5 Kohler
Air Condition : SMXIR
Battery Charger : Nevmar
Batteries : 12 x Engine 1,8 Amp 2020
2 x 200 Amp
Navigation & Electronics
Depth Sounder : Raymarine RL 70
Compass : Ripiter
VHF: Raymarine / Sailor SPRADIO
GPS : Raymarine RL 70
Radar : Raymarine RL 70
Auto Pilot : Sperry 8 T
Navtex : Automatik Goniovorsatz
SSB : Sailor
TV/Stereo : Sony
Deck & Safety
Chain : 130 m /90 m x 14 mm
Windlass : Electric Quick 24 W
Outboard : Yamaha 40 Hp
Life Raft : 2 pax
Fire Exting. : 10
Life Jackets : 12
Sun Awning : Sun Awning
Bimini
Spray Hood
Tankage
Fuel Capacity : 4 t ( Stainless Steel)
Water Capacity : 2500 lt (GRP 2020)
Holding Tanks : 1 t ( Stainless Steel)
Accommodation
Saloon : 1
Cabins : 1 x Mid Twin en-suite
2 x Aft Twin en-suite
Asking Price
1.490.000 Euros
Yacht Availability
available
Machinery & Electronics
Main Engines
2 X 390 HP CATERPILLAR
Power Generators
1 X 80 KW / 1 X 12.5 KW new