Wider 50m
Wider 50m
---
Discover Your Dream Yacht: Wider 50m Luxury yachts for sale
If you're looking for the ultimate luxury experience on the open water, exploring the luxury yachts for sale is a perfect place to start. Among the myriad options available, the Wider 50m Yacht stands out as a true masterpiece, blending elegance, innovation and responsibility into a simple package.
Whether you want to buy a yacht, charter one for a memorable trip, or just want to marvel at the grandeur of the luxury yachts for sale, the Wider 50m Yacht is sure to capture your imagination .
She was awarded the winner at the 2019 World Superyacht Awards
Luxury redefined: Wider 50m yacht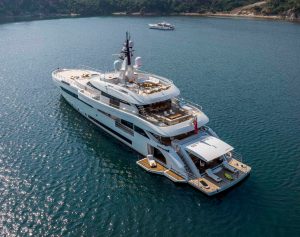 Imagine surfing the waves, surrounded by luxury and comfort – this is the experience offered by the 50-metre wide yacht. With an impressive length of 49.56 meters and an impressive beam of 8.45 meters, this yacht offers you and your guests a spacious and luxurious place to enjoy the beauty of the open sea
The Wider 50m Yacht features an elegant and durable aluminium, marrying timeless design with contemporary technology. The impeccable craftsmanship of Wider, a renowned boat builder with an excellent heritage, ensures that every detail of this vessel has been taken care of
A Symphony of Green Technology: The Wider 50m Yacht
What really sets the Wider 50m Yacht apart is its commitment to environmentally friendly innovation. Embracing the latest developments in marine technology, the vessel features a serial hybrid propulsion system, making it unique among commercial motorboats This groundbreaking system can run on electricity for up to 7 hours while cruising distance and an incredible 14 hours in hotel conditions, all the while with zero emissions into the atmosphere
The zero-emission mode is a game-changer for those looking for a peaceful and environmentally friendly boating experience. The boat can sail quietly at reduced speeds of up to 5 knots, operates solely on battery power and eliminates the need for generators. It's the perfect choice for a quiet morning out or a short trip, providing a peaceful commute with minimal impact on the environment.
Exquisite Design and Unrivaled Comfort: Yacht Specifications
The Wider 50m yacht for sale ship is a luxurious sanctuary, measuring 75 square meters. master suite with private patio, office, gym and sauna. It is the epitome of comfort and entertainment, offering owners an unparalleled experience in the breathtaking beauty of the open sea.
This ship accommodates up to 10 guests in 5 luxury staterooms, allowing each guest to enjoy a luxurious and private retreat. Unsurprisingly, the Widder 50m yacht has the reputation of being the largest yacht in her class, with a gross tonnage of 499 tons.
Embark on Thrilling Adventures: The Yacht's Impressive Range
Are you ready for a different journey? The Wider yachts 50 metre Yacht price offers exceptional options, making it an ideal exploration vessel. With a top speed of 14 knots, the boat's 13-knot speed allows it to cover an impressive 3,100 nautical miles. For those looking for longer adventures, the 10-knot biological speed extends for an impressive 5,400 nautical miles.
Taking advantage of this unparalleled location, you can plan adventurous trips to remote locations or tranquil journeys to hidden paradises. The possibilities are endless, and the Wider 50m Yacht is your ticket to unforgettable experiences.
Responsible Luxury: A Commitment to the Environment
For Wider, polite responsibility isn't just about catching phrases; It's a way of life. The Wider 50m Yacht proudly carries a RINA Green Plus Platinum grade certificate, signifying a commitment to the highest ecological standards. The boat's eco-friendly design and reduced carbon footprint ensure that you can enjoy luxury while treading lightly on the environment.
The boat's motion also helps to minimize noise and vibration, creating a peaceful and undisturbed sailing experience. The Wider 50m Yacht allows you to reconnect with nature without spending a fortune.
Choose Your Perfect Yacht: Options Galore
The world of luxury yachts for sale offers a wide variety of options to suit your tastes. Whether you're looking for a motor yacht, a yacht, or a super yacht, there's the perfect vessel waiting to take you out for a lifetime.
If you are looking to buy a boat, the Wider 50m Yacht stands as a testament to Wider's commitment to excellence, innovation and environmental responsibility. Its unmatched features, and environmentally friendly design make it a top choice for the discerning boat owner.
For those looking to sail for an unforgettable trip, there is a choice of luxury yachts that can take you where you want to go and enjoy a great yacht time exploring the world's most beautiful waters.
Your Luxury Yacht Awaits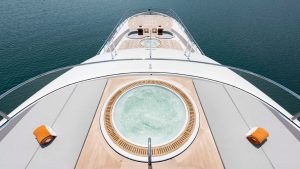 In conclusion, the Wider 50m Yacht represents the pinnacle of luxury and innovation in the world of commercial yachts. Impressive, with incredible engineering and an unwavering commitment to the environment, this boat is a real treasure on the open sea
Whether you're looking for a luxury yacht for sale, contemplating a cruise, or simply interested in the world of superyachts, the Wider 50m Yacht offers an experience that goes beyond convenience. Experience responsible luxury at its finest and take the trip of a lifetime with the Wider 50m Yacht. Your dream boat is waiting – the only question is when your special adventure will begin.
Asking Price
29.500.000 Euros
Yacht Availability
available
Length overall
49,56 meters
Machinery & Electronics
Main Engines
2 X Electric 531 Kw
Power Generators
4 X Man TD 350 Kw