Wicked Felina
Wicked Felina
---
Wicked Felina gulet is a mirror stern yacht built in 2004 and renovated in 2017. Bodrum is connected to the port and has a Turkish flag. It is a very remarkable gulet with its traditional exterior design and elegant interior design. The WICKED FELINA yacht is ideal for blue cruise groups of 10 people.
The total length of the yacht Wicked Felina is 34 meters and the width is 7.50 meters. The aft deck offers a fantastically large bangaça area with soft cushions on it. An oval dining table is located in the middle of the deck, surrounded by a fixed seating group and chairs.
The hall, dominated by white carpet and cream colors on the floor, which makes you feel like you are walking in a cotton field, has a very modern and calming structure. The American bar is placed in the corner of the hall to provide instant service to the guests and to help with every need. Although there is a captain's pavilion in the hall for the dispatch and administration of the yacht, navigational equipment in an open area is usually used on the aft deck.
There are high-quality sunbathing cushions arranged in groups of two on the front deck and loincloths available for guests' use. Easy access to the sea can be provided from the cavalry ladder on the pier side to jump into the water and cool off after sunbathing. On the head side there is a very convenient seating group with a small table in front to enjoy the magnificent views, relax and have a drink while cruising or while moored in the bays.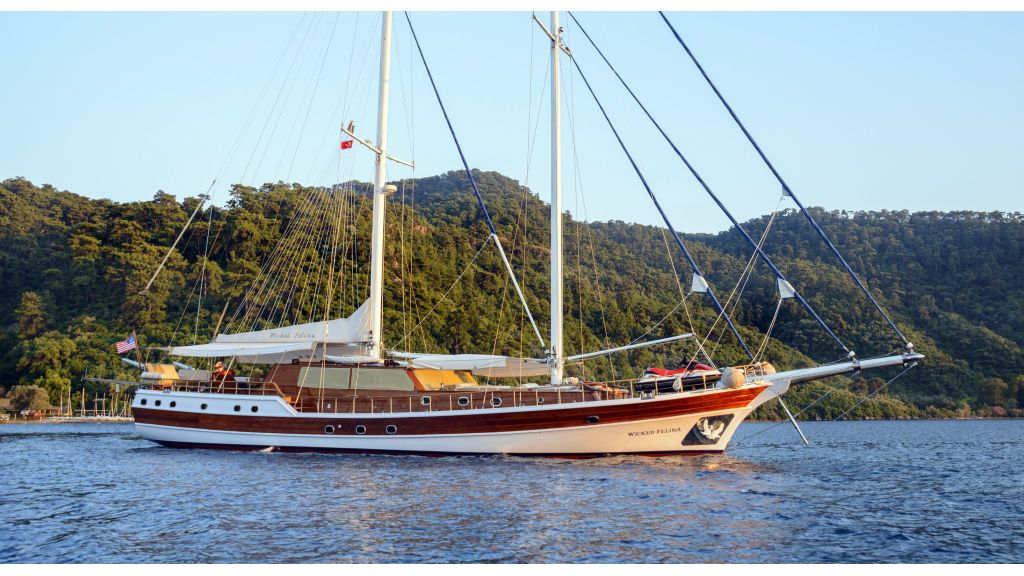 Gulet Wicked Felina can accommodate 10 guests in 5 spacious cabins. The distribution is in the form of 1 master and 4 double. All cabins have a stylish design and are equipped with a TV, a safety deposit box and air conditioning.
For entertainment and spending time, the living room has a TV, an Audio System and a DVD Player. In addition, free Wi-Fi service valid in Turkish Waters is also offered to the guests.
In addition to masks, flippers, snorkels, kayaks, paddleboards, water skiing, ringo and Big Marble and Jet-Skiing provide guests with more adrenaline opportunities with water sports equipment such as.
The Wicked Felina yacht is a must-evaluate option for guests considering luxury yacht rental.
Weekly Charter Rates
General Specifications
Water Toys
Kano, water sky, Ringo, Jetski, Knee Board,
Su
Mo
Tu
We
Th
Fr
Sa
Su
Mo
Tu
We
Th
Fr
Sa
Su
Mo
Tu
We
Th
Fr
Sa
Su
Mo
Tu
We
Th
Fr
Sa
Su
Mo
Tu
We
Th
Fr
Sa
Su
Mo
May

1

2

3

4

5

6

7

8

9

10

11

12

13

14

15

16

17

18

19

20

21

22

23

24

25

26

27

28

29

30

31

June

1

2

3

4

5

6

7

8

9

10

11

12

13

14

15

16

17

18

19

20

21

22

23

24

25

26

27

28

29

30

July

1

2

3

4

5

6

7

8

9

10

11

12

13

14

15

16

17

18

19

20

21

22

23

24

25

26

27

28

29

30

31

August

1

2

3

4

5

6

7

8

9

10

11

12

13

14

15

16

17

18

19

20

21

22

23

24

25

26

27

28

29

30

31

September

1

2

3

4

5

6

7

8

9

10

11

12

13

14

15

1614 days Available

---

16.09.2023 16:00PM
till
30.09.2023 10:00AM

---

1714 days Available

---

16.09.2023 16:00PM
till
30.09.2023 10:00AM

---

1814 days Available

---

16.09.2023 16:00PM
till
30.09.2023 10:00AM

---

1914 days Available

---

16.09.2023 16:00PM
till
30.09.2023 10:00AM

---

2014 days Available

---

16.09.2023 16:00PM
till
30.09.2023 10:00AM

---

2114 days Available

---

16.09.2023 16:00PM
till
30.09.2023 10:00AM

---

2214 days Available

---

16.09.2023 16:00PM
till
30.09.2023 10:00AM

---

2314 days Available

---

16.09.2023 16:00PM
till
30.09.2023 10:00AM

---

2414 days Available

---

16.09.2023 16:00PM
till
30.09.2023 10:00AM

---

2514 days Available

---

16.09.2023 16:00PM
till
30.09.2023 10:00AM

---

2614 days Available

---

16.09.2023 16:00PM
till
30.09.2023 10:00AM

---

2714 days Available

---

16.09.2023 16:00PM
till
30.09.2023 10:00AM

---

2814 days Available

---

16.09.2023 16:00PM
till
30.09.2023 10:00AM

---

2914 days Available

---

16.09.2023 16:00PM
till
30.09.2023 10:00AM

---

3014 days Available

---

16.09.2023 16:00PM
till
30.09.2023 10:00AM

---

October

1

2

3

4

5

6

714 days Available

---

07.10.2023 16:00PM
till
21.10.2023 10:00AM

---

814 days Available

---

07.10.2023 16:00PM
till
21.10.2023 10:00AM

---

914 days Available

---

07.10.2023 16:00PM
till
21.10.2023 10:00AM

---

1014 days Available

---

07.10.2023 16:00PM
till
21.10.2023 10:00AM

---

1114 days Available

---

07.10.2023 16:00PM
till
21.10.2023 10:00AM

---

1214 days Available

---

07.10.2023 16:00PM
till
21.10.2023 10:00AM

---

1314 days Available

---

07.10.2023 16:00PM
till
21.10.2023 10:00AM

---

1414 days Available

---

07.10.2023 16:00PM
till
21.10.2023 10:00AM

---

1514 days Available

---

07.10.2023 16:00PM
till
21.10.2023 10:00AM

---

1614 days Available

---

07.10.2023 16:00PM
till
21.10.2023 10:00AM

---

1714 days Available

---

07.10.2023 16:00PM
till
21.10.2023 10:00AM

---

1814 days Available

---

07.10.2023 16:00PM
till
21.10.2023 10:00AM

---

1914 days Available

---

07.10.2023 16:00PM
till
21.10.2023 10:00AM

---

2014 days Available

---

07.10.2023 16:00PM
till
21.10.2023 10:00AM

---

2114 days Available

---

07.10.2023 16:00PM
till
21.10.2023 10:00AM

---

22

23

24

25

26

27

28

29

30

31