Well Maintained 10 Meter Trawler
Well Maintained 10 Meter Trawler
---
Kept in Pristine Condition: Discover the Well Maintained 10 Meter Trawler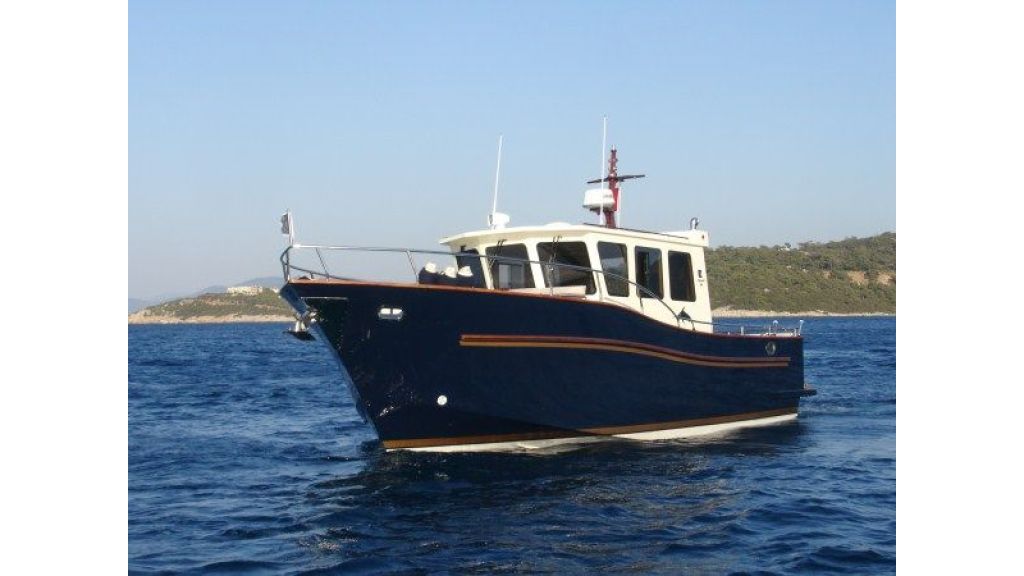 Are you seeking the perfect vessel for your maritime adventures? Look no further than the exquisite Well Maintained 10 Meter Trawler, a true gem that offers both elegance and functionality. Crafted with care and attention to detail, this well-maintained trawler is ready to whisk you away on unforgettable journeys across the open seas. Join us as we delve into the remarkable features and qualities that make the Well Maintained 10 Meter Trawler a sought-after choice for those who crave both luxury and performance.
A Glimpse into Excellence
The Well Maintained 10 Meter Trawler stands as a testament to exceptional craftsmanship and unwavering dedication to quality. With a length of 10.50 meters and a beam of 3.40 meters, this trawler boasts a design that maximizes both space and comfort. The laminated wood hull not only ensures durability but also lends a classic charm that sets it apart from the rest. The vessel's impeccable condition reflects the commitment of its owner to maintaining its pristine state, making it a true treasure for any enthusiast.
Unparalleled Design and Comfort
Step aboard the Well Maintained 10 Meter Trawler and immerse yourself in a world of luxury. With two cabins that can accommodate up to four guests, every inch of this vessel exudes elegance and comfort. The interior has been thoughtfully designed to create a welcoming ambiance, featuring modern amenities that cater to your every need. From well-appointed guest cabins to a cozy crew cabin, every detail has been carefully curated to ensure an exceptional on-board experience.
Power and Performance
Underneath its sleek exterior, the Well Maintained 10 Meter Trawler boasts impressive power and performance capabilities. Equipped with a robust 375 HP Volvo Marine Diesel engine, this vessel effortlessly cruises through the water, offering a smooth and exhilarating ride. The presence of an Onan 9 KW power generator guarantees reliable electricity, ensuring that you have all the comforts of home even when you're far from shore. With a fuel capacity of 500 liters and a fresh water capacity of 500 liters, the Well Maintained 10 Meter Trawler is equipped for extended voyages, allowing you to explore new horizons with confidence.
A Maritime Masterpiece Awaits
The Well Maintained 10 Meter Trawler is more than just a vessel; it's a maritime masterpiece that invites you to embark on extraordinary journeys. With a Turkish flag proudly waving and a base port in the enchanting Bodrum, this trawler is a symbol of maritime elegance. Its remarkable features, combined with meticulous maintenance, make it a rare find in the world of boating. Whether you're a seasoned sailor seeking your next adventure or a novice eager to explore the wonders of the sea, the Well Maintained 10 Meter Trawler is the perfect companion for unforgettable experiences on the water.
Seize the Opportunity
Asking price? A mere 115,000 Euros. This is your chance to own a piece of nautical excellence that promises both luxury and performance. The Well Maintained 10 Meter Trawler is not just a vessel; it's an invitation to create memories, explore uncharted waters, and indulge in the beauty of the maritime world. Don't miss out on this extraordinary opportunity to make the Well Maintained 10 Meter Trawler your own and embark on a journey of a lifetime. Contact us today and set sail for a world of endless possibilities.
Asking Price
115.000 Euros
Length overall
10,50 meters
Hull Material
Laminated_Wood
Machinery & Electronics
Main Engines
375 HP Volvo Marine Diesel
Power Generators
Onan 9 KW