Sailing Yacht Charter
Sailing Yacht Charter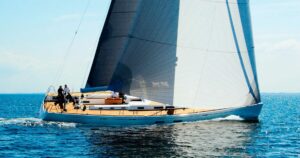 We hereby proudly offer some of the crewed luxury and full fledge crewed sailing yacht charter in the eastern Mediterranean which is of the most prestigious and high adrenaline sports alternatives which used to be practiced by the rich and famous.
With the ultimate technological advances and acceptable prices of grp, carbon-kevlar and modern building and sailing catamaran materials, it has become a commonly practiced leisure and traveling medium which is affordable by almost everyone.
Akasia crewed sailing yacht charter portfolio includes yachts from a small 42 footer to large schooners which can be pronounced as Rolls Royce of the seas. Our privileged guests charter crewed catamaran rental as a group or family with or without an experienced skipper in Turkish and Greek Mediterranean yachts which we have in our listings.
With our Crewed sailing yachts you will have the holiday of a lifetime aboard your own private sailing yacht charter, with a professional crew to look after just you and your family or friends. It is like having your own private island with total freedom, you can enjoy the world's most beautiful places at your own pace and away from the tourist crowds.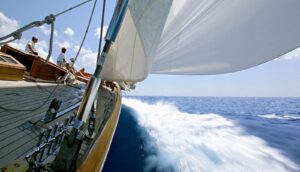 Our fleet of sailing yachts are managed for charter by ourselves, with a level of attention to detail and quality to assure an exceptional experience for you to enjoy Relaxation, fun and excitement, but with a supreme level of comfort which is standard for Catamaran Rental.
Sailing Yacht Charter with First Class Equipments
Crewed sailing yacht charter with us means no compromising on accommodation or food. Our crewed sailing yachts are furnished with everything you would expect of a five-star plus hotel such as king-size beds, fine linens, and towels, powerful air conditioning, television and water toys, and sports equipment. The quality of food and drink served is another priority, as the yacht crew is to serve only you and your loved ones. Sailing yacht charter Turkey no previous experience is necessary on board crewed sailing yachts, you can enjoy participating in the sailing or simply sit back and watch the crew taking care of sailing gears.