Queen Lila
Queen Lila
---
Unforgettable Sea Holiday: Queen Lila Luxury Gulet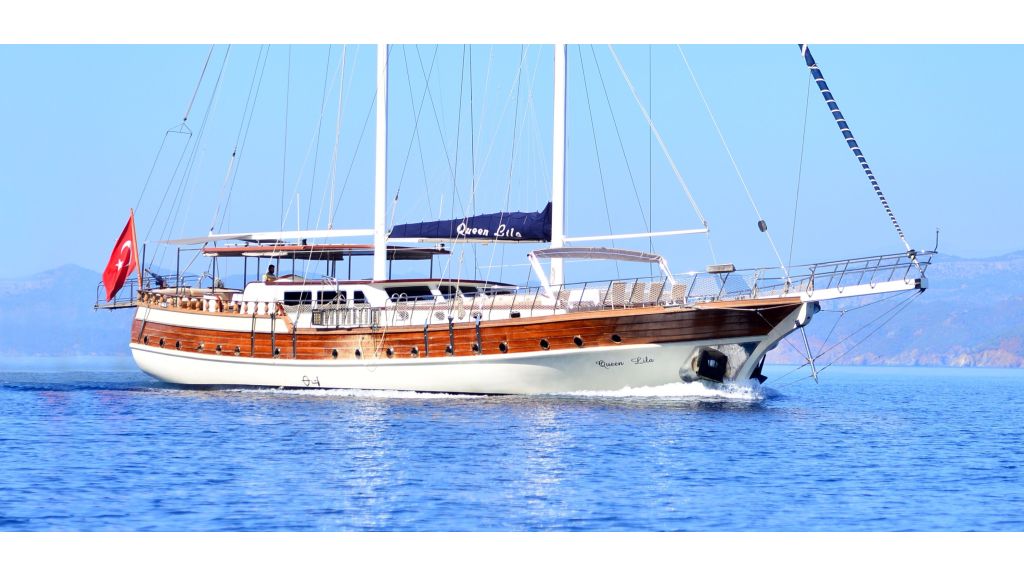 built in 2015 for a famous Turkish businessman, M/S Queen Lila was designed to accommodate 12 guests at the highest level in 6 spacious cabins. Its flat deck, rear seating area and lounge are located at an extremely convenient level for elderly or disabled guests. The spacious deck invites guests to organize a party with a formal seating table and chairs. Queen Lila and her professional team are ready, willing and capable to entertain you and your loved ones on Turkey weekly yacht charter trip.
Queen Lila is an excellent option for those who want to experience unforgettable moments on the blue waters in the fresh breeze of the summer months. While this luxury gulet attracts attention with its elegant design and carefully furnished interior, it offers a high-level experience in accommodation with its spacious and comfortable cabins. the capacity to accommodate a total of 12 guests in 6 large cabins has been designed with the comfort and luxury of each guest at the forefront.
Comfort and Pleasure on a Gulet Holiday
The comfort and enjoyable experience offered by Queen Lila to accommodate its guests is enough to make your sea holiday unforgettable. The flat deck structure, designed especially for elderly or disabled guests, allows even those with limited mobility to easily explore every area of the ship. In this way, you can enjoy every moment of your time on Queen Lila and have pleasant moments on deck.
Professional and Friendly Service
The experienced and attentive crew of  provides a professional and friendly service to its guests. The team, which is ready to help you with everything you need during your vacation, will do its best for your comfort and satisfaction during your trip. The crew, which approaches the demands of the guests with sensitivity, does its best to make your holiday unforgettable.
Luxury and Comfort Decouple at the Same Time
Queen Lila offers a unique sea holiday experience where luxury and comfort come together Decently. While relaxing in the spacious and comfortable cabins, you can enjoy the journey on the open sea. The interior of the ship has an elegant design and a warm and inviting atmosphere welcomes guests. During the gulet holiday, you can enjoy the luxury and comfort of Queen Lila and pamper yourself with the peace and serenity of the sea.
A Special Holiday for Sea Lovers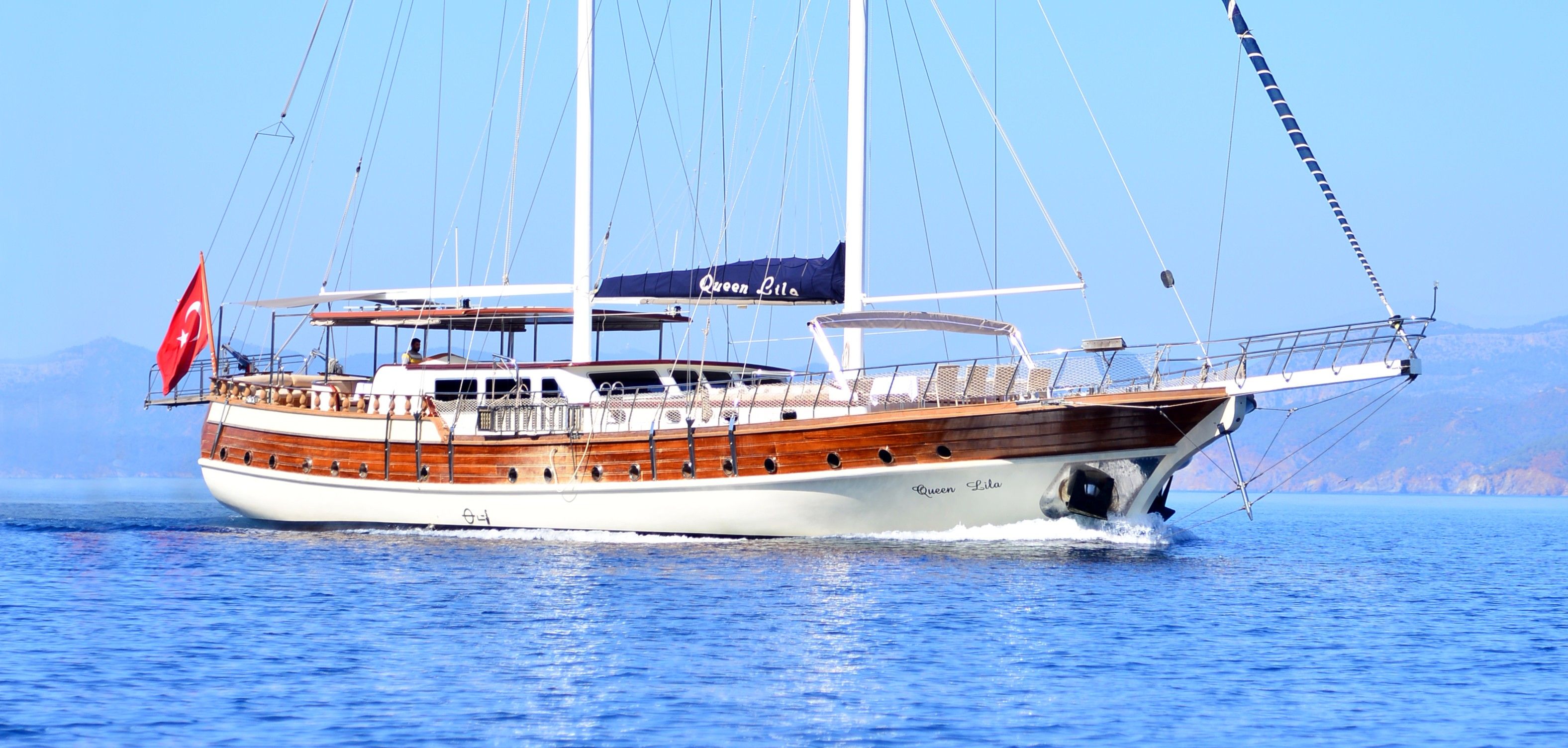 offers a holiday experience specially designed for sea lovers. You can take a pleasant trip on the azure waters accompanied by views that are not satisfied with the course, and you can experience a dreamy sea holiday. A gulet holiday is an excellent option for those who want to be side by side with their love of the sea, and Queen Lila offers this experience at the highest level.
A Sea Adventure Full of Unforgettable Memories
The sea holiday you will spend with Queen Lila offers an adventure full of unforgettable memories. You can explore the unique beauty of the bays, enjoy the calm waters, explore the underwater world. The time you will spend with your family or loved ones in the luxurious and comfortable environment of Queen Lila will turn into an experience full of memories that you will remember for a lifetime.
Enjoy Your Gulet Holiday
Weekly Charter Rates
General Specifications
Length Over All
32.50 meters
Queen Lila 2024 Booking Calender
Booked
Optioned
Confirmed Available
Available
Su
Mo
Tu
We
Th
Fr
Sa
Su
Mo
Tu
We
Th
Fr
Sa
Su
Mo
Tu
We
Th
Fr
Sa
Su
Mo
Tu
We
Th
Fr
Sa
Su
Mo
Tu
We
Th
Fr
Sa
Su
Mo
May

1

2

3

4

5

6

7

8

9

10

11

12

13

14

15

16

17

18

19

20

21

22

23

24

25

26

27

28

29

30

31

June

1

2

3

4

5

6

7

8

9

10

11

12

13

14

15

16

17

18

19

20

21

22

23

24

25

26

27

28

29

30

July

1

2

3

4

5

6

7

8

9

10

11

12

13

14

15

16

17

18

19

20

21

22

23

24

25

26

27

28

29

30

31

August

1

2

3

4

5

6

7

8

9

10

11

12

13

14

15

16

17

18

19

20

21

22

23

24

25

26

27

28

29

30

31

September

1

2

3

4

5

6

7

8

9

10

11

12

13

14

15

16

17

18

19

20

21

22

23

24

25

26

27

28

29

30

October

1

2

3

4

5

6

7

8

9

10

11

12

13

14

15

16

17

18

19

20

21

22

23

24

25

26

27

28

29

30

31