O'Ptasia Mega Yacht
O'Ptasia Mega Yacht
---
Experience Luxury Beyond Measure aboard O'Ptasia Mega Yacht & Motor Yacht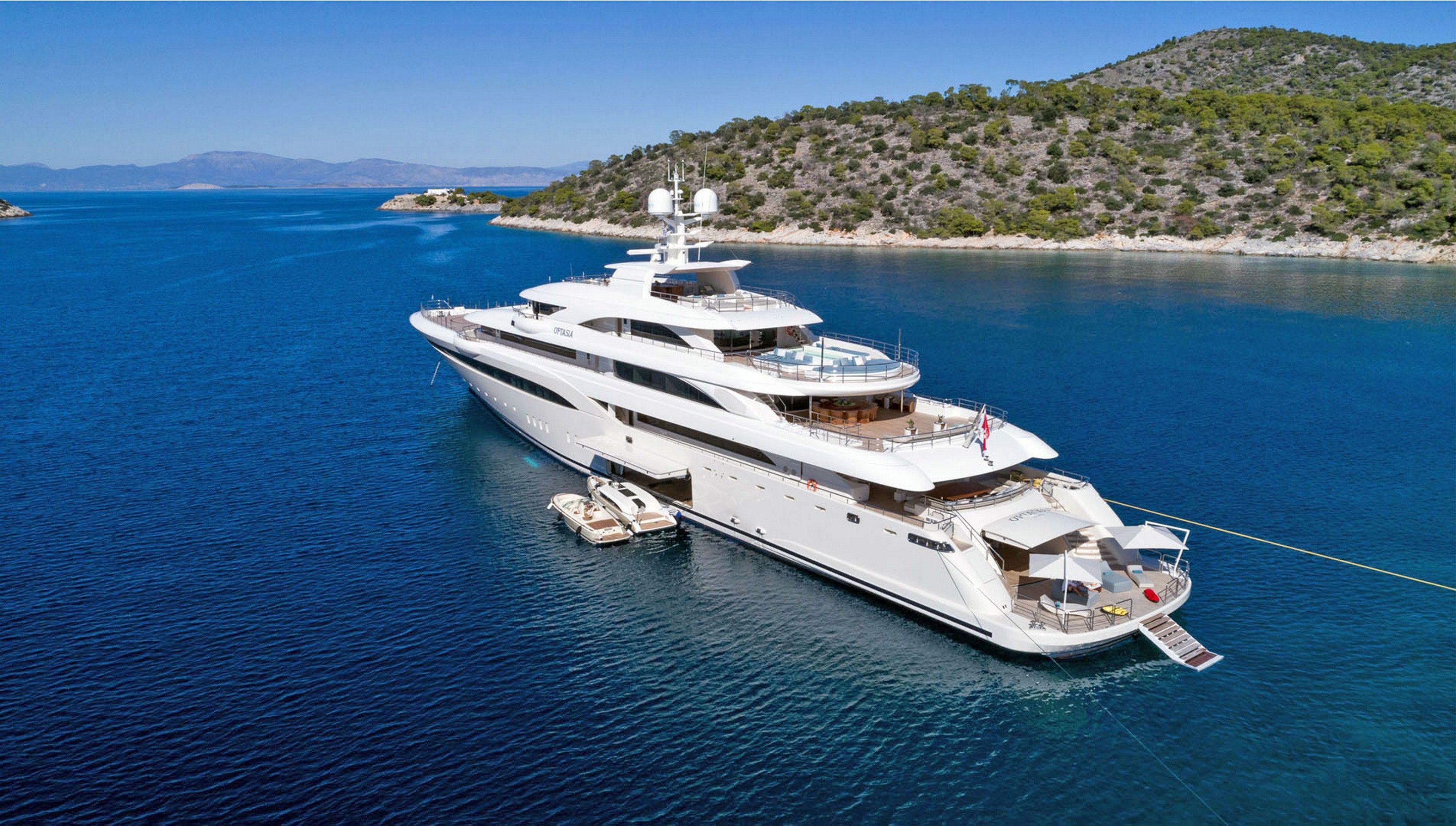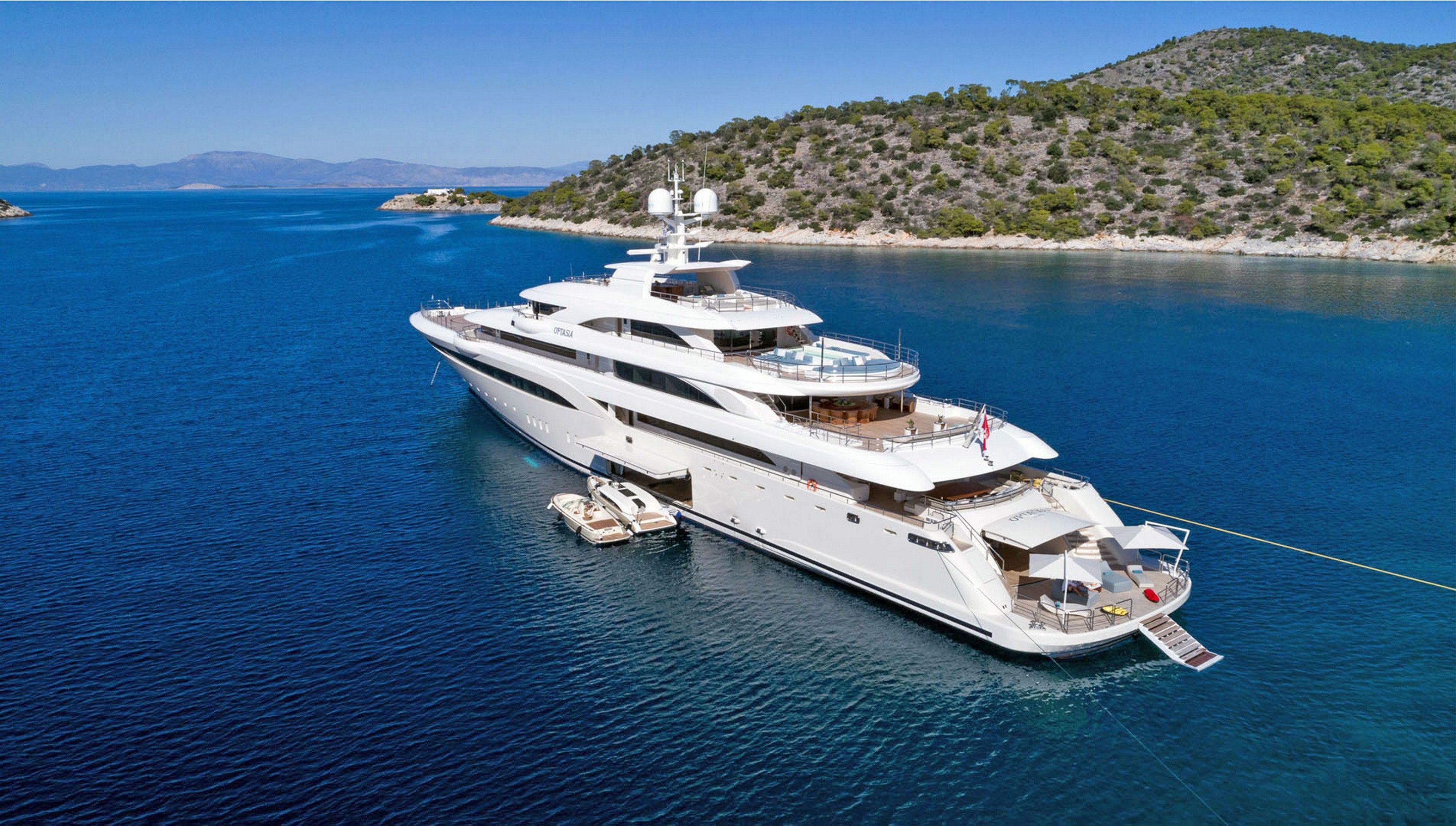 Step aboard the luxury O'PTASIA Motor Yacht, the largest in the fleet of Athens, Greece. Built in 2018, this 278-foot beauty promises 23 guests in 10 luxury cabins to enjoy an unparalleled charter experience. With a wide range of facilities, a professional crew and exciting water sports, O'PTASIA is your gateway to a unique and luxurious charter adventure
As the largest ship in Athens, O'Ptasia boasts an impressive 278-foot loa. With 10 luxurious suites including master and VIP suites, every guest is treated like royalty. With a professional crew of 26, you are on your way to an easy and luxurious trip.
A World of Pleasure:
O'PTASIA Beach Club is a relaxing place, with a steam room, massage room, bar and outdoor toilets for relaxation. Enjoy the inviting pool at sunset or admire the convenience of the onboard airport.
Thrilling Water Sports: Adventure Awaits
For the thrill-seekers, O'PTASIA Mega Yacht offers a variety of water sports options. Zoom on the waves with the Jetsurf GP 100s, explore underwater wonders with the Seabob F5s, or glide to the surface with the Seadoo GTX LTD 230s. The options are endless!
Sail along Turkey's stunning coastline on the luxurious O'Ptesia charter, a voyage punctuated by breathtaking scenery and warm hospitality Explore hidden ships, historic sites and beaches that it's beautiful with every break at your fingertips.
An Ocean Playground: Unparalleled Water Toy Collection
The collection of watersports gear on board O'Ptasia Mega Yacht is a dream come true for adventure enthusiasts. From jet skis to paddleboards, kayaks to wakeboards, every season promises unforgettable fun and excitement.
Prepare to be swept away by the grandeur of O'PTASIA Motor Yacht as you embark on a luxurious and unforgettable charter experience. With luxurious accommodation, professional staff and exciting water sports, O'PTASIA Super Yacht promises a trip beyond your wildest dreams. Explore the wonders of the Turkish coast in style or simply bask in the beauty of the open sea. O'PTASIA is your gateway to the ultimate luxury cruising experience, promising memories to cherish for a lifetime.
She is the largest of the fleet in Athens Greece with her 85 m, 2018 built accommodates 23 guests in 10 cabins, (one Master, one Vip, six double, two twin & one twin/hospital, all with en-suite facilities), operating with a professional crew of 26. Cruising speed 16 knots.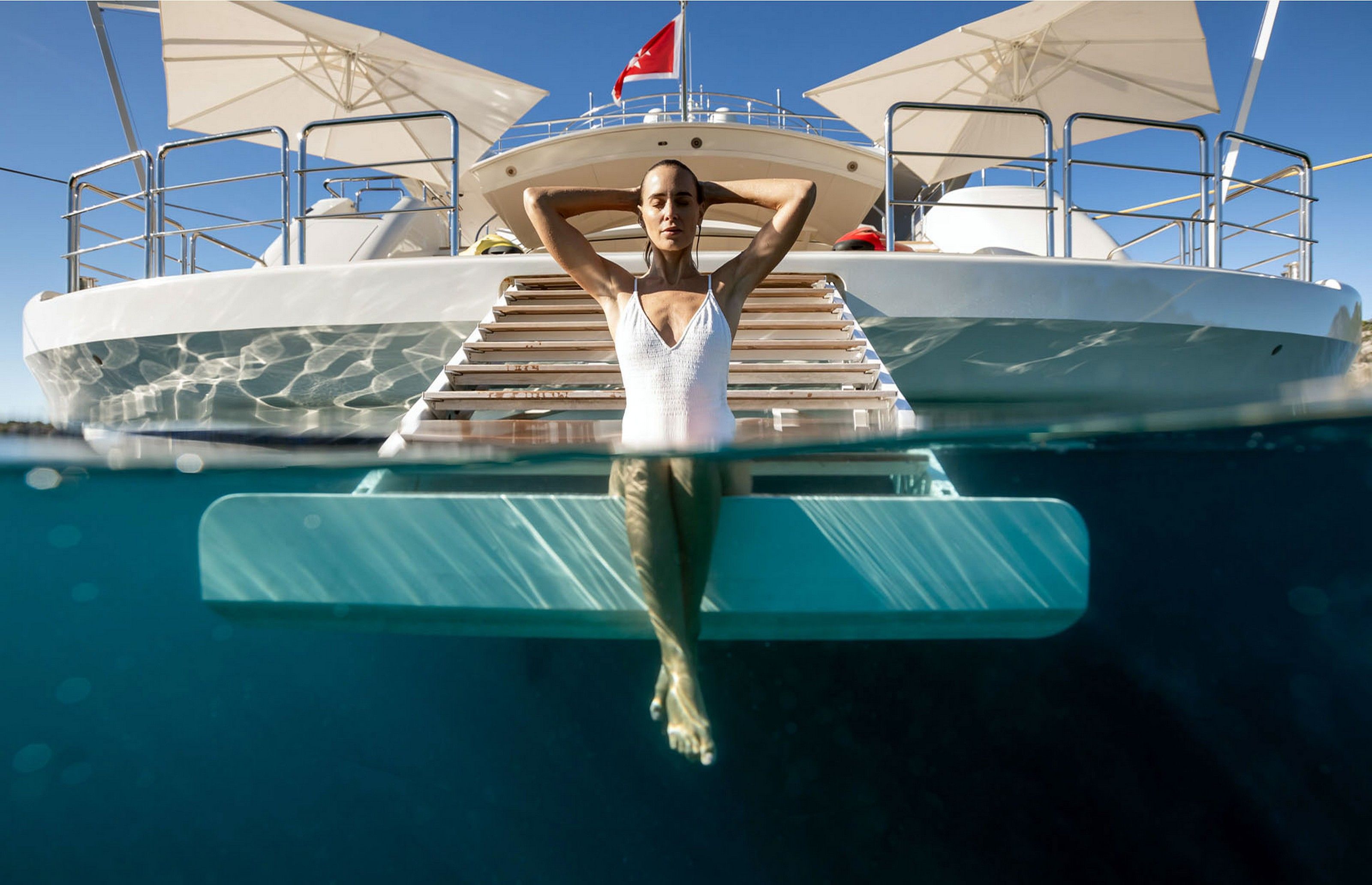 Beach club with steam room, massage room, bar, outdoor shower. Pool on sundeck. Helipad.
Weekly Charter Rates
General Specifications
Water Toys
1 x Limo Tender 9.75m (custom made) with 2x220hp Volvo Penta D3 1 x Novurania Catamaran 6m with 115hp Yamaha outboard engine 1 x Chris Craft 8.13m with Mercury V8 engine (total 350hp) 1 x Avon Sea Sport 440 with 60hp Yamaha outboard engine 2 x Jetsurf GP 100 4 x Seabob F5 2 x Seadoo GTX LTD 230 1 x Seadoo Spark 900HO ACE 2UP/IBR TRIXX 1 x Jungle Jim 1 x Bouncer 16' with slide & ilog 1 x Runway 10' 1 x Ocean Pool 6m x 5m x 2.4m 1 x Kayak (1 pax) 1 x Kayak (2 pax) 1 x Transparent Kayak (1 pax or 2 pax) 2 x Paddleboard 3 x Crusher Towable (1 pax) 1 x Sonar Towable (4 pax) 1 x Chaser Towable (3 pax) 1 x Water Carpet 1 x Ski Pair (Adult) 1 x Ski Pair (Teenager) 1 x Ski Pair (Junior) 1 x Monoski Slalom 1 x Wakeboard 2 x Ski handle with rope 1 x Wake handle with rope 4 x Heavy duty towable rope (max. 4 pax) 2 x Hobie Mirage Eclipse 2 x Electric Bikes 1 x Bike