Omega Motoryacht
Omega Motoryacht
---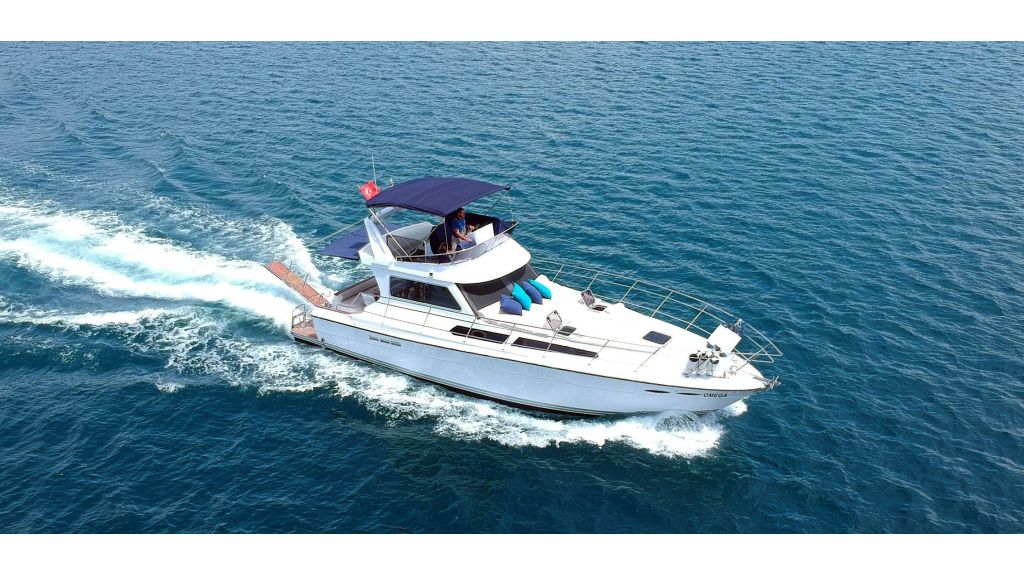 Welcome to the world of the Omega Motoryacht, where elegance, comfort, and exploration intertwine to create an unparalleled yachting experience. Step aboard this remarkable vessel and prepare to embark on a journey that will redefine your perception of luxury.
With its impressive 15 meters in length, the Omega Motoryacht stands as a testament to exquisite craftsmanship and meticulous attention to detail. Built in 1997 and meticulously refitted in 2019, this yacht is a harmonious blend of timeless elegance and modern amenities, offering a truly extraordinary getaway.
The Omega Motoryacht accommodates up to 6 guests in 3 beautifully designed cabins, ensuring an intimate and personalized retreat for you and your companions. Each cabin exudes an air of opulence, offering a haven of tranquility and comfort. Immerse yourself in the plush furnishings and sophisticated ambiance, creating an environment that feels like a home away from home.
Cruise through the azure waters in the lap of luxury as the Omega Yacht effortlessly glides at a cruising speed of 12 knots. Whether you're relaxing on the spacious deck or enjoying a sumptuous meal prepared by our skilled chefs, every moment on board promises to be a delight for your senses. Should you seek a touch of adventure, the yacht's maximum speed of 14 knots offers an exhilarating experience.
The Omega Yacht is based in the picturesque port of Gocek, serving as your gateway to some of the most captivating coastal destinations. From secluded bays to vibrant harbors, your journey unfolds against the backdrop of stunning landscapes. Whether you're drawn to the serenity of hidden coves or the excitement of lively waterfronts, the Omega Yacht promises to deliver unforgettable moments.
Every aspect of the Omega Yacht experience is curated to ensure that your voyage is nothing short of extraordinary. From lounging on the deck and enjoying gourmet cuisine to partaking in various water activities, your options are as limitless as the horizon. Whether you're seeking relaxation or adventure, the Omega Yacht caters to your desires.
Weekly Charter Rates
General Specifications