Daily Yacht Charter in Bodrum
Daily Yacht Charter in Bodrum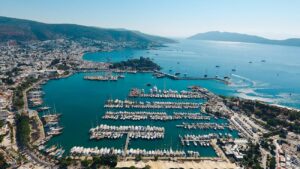 Our yacht advisors and yacht pick the perfect matched yacht for a daily yacht charter in Bodrum, Yalıkavak, Turgutreis, or Marmaris, and dozens of bays. From sailing to gulets, luxury yachts to motor yachts, and luxury yacht charters in Bodrum. Charter a yacht for a day from Bodrum if you want a taste of exploring this amazing island! Amazing beaches, secret places, and the best beach clubs in Turkey.
Travel in style between the glamorous destinations of Bodrum, Yalıkavak, Turgutreis, Marmaris, and more. Relax and unwind in Camel beach or have a day with yacht toys onboard your private yacht. Have dinner on board with a top chef, and let our yacht event planners organize a yacht party. Even on a day yacht charter in Bodrum, the possibilities are endless as the Turks islands. All you have to do is choose activities or lifestyles and enjoy the best day on a Bodrum yacht charter.
Bodrum daily yacht charter, motor yacht, and gulet, sailing yachts charter destinations Bodrum area.
Turkey is a beautiful country located in the Mediterranean region, with a long coastline that is dotted with small islands and a rich history and culture. It is no surprise that Bodrum is a popular destination for daily yacht charter in Bodrum, with a variety of options available for travelers.
There are many companies that offer daily yacht charter in Bodrum, with a range of different boats available to suit different budgets and preferences. Some popular destinations for daily yacht charter in BodrumF include the Turkish Riviera, Marmaris, Bodrum, and Fethiye. These areas offer a range of different activities and attractions for visitors, from ancient ruins and historical landmarks to beautiful beaches and crystal-clear waters.
You can usually find a variety of different types of yachts available for charter in Turkey, including sailing yachts, motor yachts, and catamarans. Sailing yachts are a popular choice for those who want to explore the coast at their own pace, while motor yachts are a good choice for those who want a bit more speed and power. Catamarans are also a popular choice, particularly for larger groups or families, as they offer plenty of space and stability.
Prices for daily yacht charter in Bodrum can vary depending on the type of yacht, the length of the charter, and the time of year you are traveling. In general, prices are higher in the peak summer season, when demand is highest. It's a good idea to shop around and compare prices from different companies to find the best deal.
When planning your daily yacht charter in Bodrum, it's important to consider the type of experience you want to have. If you want to relax and take in the sights and sounds of the Mediterranean, you might want to choose a slower-paced sailing yacht. If you're looking for adventure and excitement, a motor yacht or catamaran might be a better choice.