Daily Yacht Charter in Bodrum
Daily Yacht Charter in Bodrum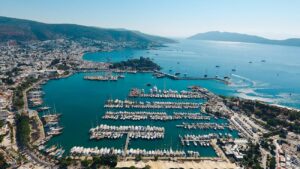 Our yacht advisors and yacht pick the perfect matched yacht for a daily yacht charter in Bodrum, Yalıkavak, Turgutreis, or Marmaris, and dozens of bays. From sailing to gulets, luxury yachts to motor yachts, and luxury yacht charters in Bodrum. Charter a yacht for a day from Bodrum if you want a taste of exploring this amazing island! Amazing beaches, secret places, and the best beach clubs in Turkey.
Travel in style between the glamorous destinations of Bodrum, Yalıkavak, Turgutreis, Marmaris, and more. Relax and unwind in Camel beach or have a day with yacht toys onboard your private yacht. Have dinner on board with a top chef, and let our yacht event planners organize a yacht party. Even on a day yacht charter in Bodrum, the possibilities are endless as the Turks islands. All you have to do is choose activities or lifestyles and enjoy the best day on a Bodrum yacht charter.
Bodrum daily yacht charter, motor yacht, and gulet, sailing yachts charter destinations Bodrum area.