Mega Yacht Charter
Mega Yacht Charter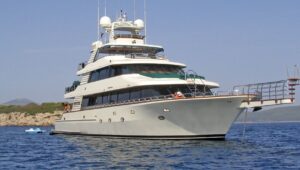 The new generation mega yacht charter has more to offer than French, Turkish, Italian, Chinese cuisine with silverplate service, any destinations, and world-class 5 stars cabins for VIP accommodation. Imagine a floating 5-star hotel with a restaurant where you and your loved ones are served a la carte, gourmet cuisine, and drinks of your choice, a resort where you have the privilege of your family or your friends.
At any time 24/7 and as long as you desire, a relaxing itinerary that is designed only for your pleasure which enables you to go at your own desire, or a megayacht and the luxury floating villa where you can relax in full privacy undisturbed by outsiders.
Megayachts cruise the waters of the Eastern Mediterranean, the Turkish Riviera, Montenegro, and Croatia. Eastern Mediterranean mega yacht charter services combine blue waters cruises along with lush green coastlines thousands of Archaeological remainings of numerous civilizations and natural splendors offered during your megayacht charter.
Visit the beautiful Bodrum, Marmaris, Fethiye, Gocek aboard your mega yacht charter where your crew will be serving your choice of champagne or wine and delicious seafood dinners that reflect the local dishes such as fish, calamary, shrimp, fruits and vegetables, cheese, and green olives.