LAUREN L
LAUREN L
---
M/Y LAUREN L Charter in Turkey
LAUREN L Mega Yacht provides accommodation for up to 48 guests in half that number of rooms. The main Owner suite is 88m squared and includes a separate conference room, lounge, dressing room, walk in wardrobe and spacious bathroom ensuite which boats a lovely full sized marble Jacuzzi tub. The yacht has a further 3 V.I.P. cabins, each of 88 m, with their own separate salons and en-suite bathrooms.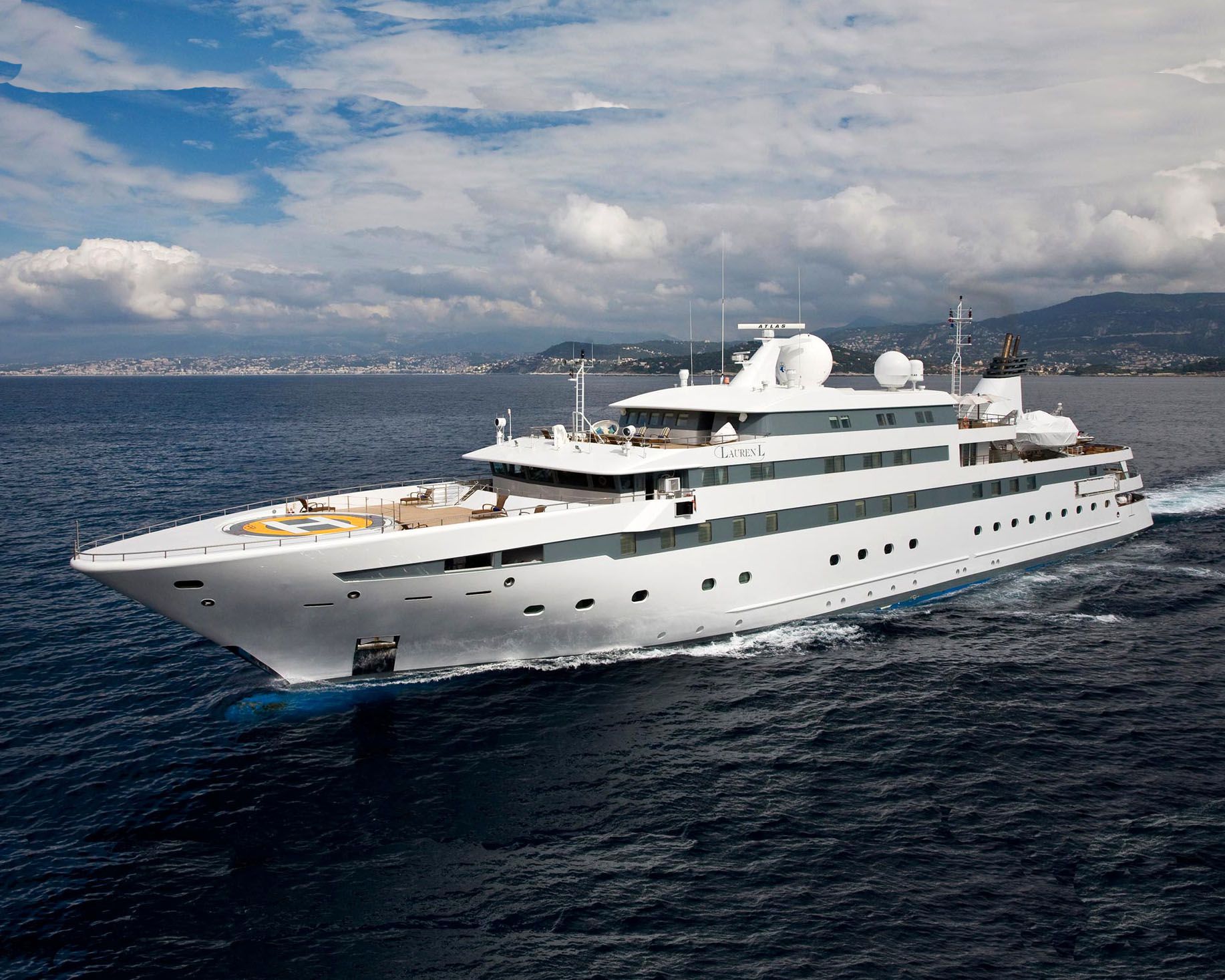 M/Y LAUREN L superyacht has a further equally luxurious 20 guest cabins, of 88m, provide all the superior amenities of the 10 m2 larger V.I.P Suites. Lastly there are 10 19m2 20 cabins which offer charter guests adjustable twin/double beds, en-suite bathrooms, computers as well as a multimedia entertainment package and mini-bar. All of LAUREN L Motor Yacht's suites have Hewlett Packard PCs with unlimited free internet access, 2 plasma flat screen TVs. The yacht offers Numerous 50-inch plasma Televisions and multi-media systems throughout the vessel including in the Main Lounge, the Conference Center and Library. All suites have HP Computer stations with permanent internet access, two Plasma Flat Screen TV systems with DVD, TV and Audio functions.
Music library includes an International selection of 10,000 songs, the Movie library has 800 movies and there is access to 22 TV stations. There is a full range of watersports and tender equipment such as: four jet-skis Polaris two with 140 H.P. and two with 135 H.P. engines, a Sea Doo Bombardier speed boat with 200 H.P., a Duarry Super Cat speed boat with a 160 H.P. engine. Water toys: Various towable toys such as tubsters, U-Tubes, thrashers, and Bananas. Fly Fishing equipment, Water-boards, Windsurfers, Water-skis, and a Water sledge.
Diving gear including a Bauer diving compressor. Sport Skeet Shooting (subject to local legal jurisdictions). M/Y Lauren L Mega Yacht's gym offers a good range of sporting equipment. The yacht provides a Beauty salon which offers facials, manicure, masseurs, hairdressers, and the like, and professional beauticians can be hired for the charter (at additional cost). Full Jacuzzi & sauna
Weekly Charter Rates
General Specifications
Length Over All
88.50 meters
Su
Mo
Tu
We
Th
Fr
Sa
Su
Mo
Tu
We
Th
Fr
Sa
Su
Mo
Tu
We
Th
Fr
Sa
Su
Mo
Tu
We
Th
Fr
Sa
Su
Mo
Tu
We
Th
Fr
Sa
Su
Mo
May

1

2

3

4

5

6

7

8

9

10

11

12

13

14

15

16

17

18

19

20

21

22

23

24

25

26

27

28

29

30

31

June

1

2

3

4

5

6

7

8

9

10

11

12

13

14

15

16

17

18

19

20

21

22

23

24

25

26

27

28

29

30

July

1

2

3

4

5

6

7

8

9

10

11

12

13

14

15

16

17

18

19

20

21

22

23

24

25

26

27

28

29

30

3125 days Confirmed

---

31.07.2023 16:00PM
till
25.08.2023 10:00AM

---

Corfu, Greece to Corfu, Greece

August

125 days Confirmed

---

31.07.2023 16:00PM
till
25.08.2023 10:00AM

---

Corfu, Greece to Corfu, Greece

225 days Confirmed

---

31.07.2023 16:00PM
till
25.08.2023 10:00AM

---

Corfu, Greece to Corfu, Greece

325 days Confirmed

---

31.07.2023 16:00PM
till
25.08.2023 10:00AM

---

Corfu, Greece to Corfu, Greece

425 days Confirmed

---

31.07.2023 16:00PM
till
25.08.2023 10:00AM

---

Corfu, Greece to Corfu, Greece

525 days Confirmed

---

31.07.2023 16:00PM
till
25.08.2023 10:00AM

---

Corfu, Greece to Corfu, Greece

625 days Confirmed

---

31.07.2023 16:00PM
till
25.08.2023 10:00AM

---

Corfu, Greece to Corfu, Greece

725 days Confirmed

---

31.07.2023 16:00PM
till
25.08.2023 10:00AM

---

Corfu, Greece to Corfu, Greece

825 days Confirmed

---

31.07.2023 16:00PM
till
25.08.2023 10:00AM

---

Corfu, Greece to Corfu, Greece

925 days Confirmed

---

31.07.2023 16:00PM
till
25.08.2023 10:00AM

---

Corfu, Greece to Corfu, Greece

1025 days Confirmed

---

31.07.2023 16:00PM
till
25.08.2023 10:00AM

---

Corfu, Greece to Corfu, Greece

1125 days Confirmed

---

31.07.2023 16:00PM
till
25.08.2023 10:00AM

---

Corfu, Greece to Corfu, Greece

1225 days Confirmed

---

31.07.2023 16:00PM
till
25.08.2023 10:00AM

---

Corfu, Greece to Corfu, Greece

1325 days Confirmed

---

31.07.2023 16:00PM
till
25.08.2023 10:00AM

---

Corfu, Greece to Corfu, Greece

1425 days Confirmed

---

31.07.2023 16:00PM
till
25.08.2023 10:00AM

---

Corfu, Greece to Corfu, Greece

1525 days Confirmed

---

31.07.2023 16:00PM
till
25.08.2023 10:00AM

---

Corfu, Greece to Corfu, Greece

1625 days Confirmed

---

31.07.2023 16:00PM
till
25.08.2023 10:00AM

---

Corfu, Greece to Corfu, Greece

1725 days Confirmed

---

31.07.2023 16:00PM
till
25.08.2023 10:00AM

---

Corfu, Greece to Corfu, Greece

1825 days Confirmed

---

31.07.2023 16:00PM
till
25.08.2023 10:00AM

---

Corfu, Greece to Corfu, Greece

1925 days Confirmed

---

31.07.2023 16:00PM
till
25.08.2023 10:00AM

---

Corfu, Greece to Corfu, Greece

2025 days Confirmed

---

31.07.2023 16:00PM
till
25.08.2023 10:00AM

---

Corfu, Greece to Corfu, Greece

2125 days Confirmed

---

31.07.2023 16:00PM
till
25.08.2023 10:00AM

---

Corfu, Greece to Corfu, Greece

2225 days Confirmed

---

31.07.2023 16:00PM
till
25.08.2023 10:00AM

---

Corfu, Greece to Corfu, Greece

2325 days Confirmed

---

31.07.2023 16:00PM
till
25.08.2023 10:00AM

---

Corfu, Greece to Corfu, Greece

2425 days Confirmed

---

31.07.2023 16:00PM
till
25.08.2023 10:00AM

---

Corfu, Greece to Corfu, Greece

2525 days Confirmed

---

31.07.2023 16:00PM
till
25.08.2023 10:00AM

---

Corfu, Greece to Corfu, Greece

26

27

28

29

30

31

September

1

2

3

4

5

6

7

8

9

10

11

12

13

14

15

16

17

18

19

20

21

22

23

24

25

26

27

28

29

30

October

1

2

3

4

5

6

7

8

9

10

11

12

13

14

15

16

17

18

19

20

21

22

23

24

25

26

27

28

29

30

31