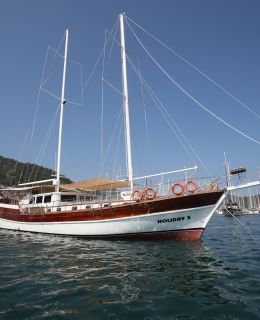 Holiday 5
For those seeking to craft an extraordinary vacation experience, our Holiday V (Holiday 5) gulet-type yacht presents an unparalleled opportunity for an unforgettable getaway. With a capacity to accommodate 20 passengers, our yacht is staffed by a seasoned crew dedicated to ensuring your ultimate comfort and enjoyment.
The Holiday 5 (Holiday 5) gulet-type yacht, designed to complement every shade of blue and green, stands ready to welcome guests with its 20-passenger capacity and experienced crew. Within the gulet category, our yacht boasts specially crafted, high-quality living spaces tailored to your comfort. It features a total of 10 air-conditioned cabins, comprising 8 double and 2 twin cabins. Don't miss out on the chance to charter the immaculately equipped Holiday 5 gulet!
Designed to offer our guests a peaceful holiday immersed in nature, this 31-meter-long, 8-meter-wide yacht boasts fully equipped amenities, including a full kitchen, indoor and outdoor dining areas, relaxation spaces, and a separate living area for the crew. We meticulously select all our staff to provide you with the best possible service. For your safety and connectivity with loved ones, our yacht is equipped with navigation devices such as radios and GSM phones. To ensure the highest level of hygiene and service, our yachts undergo regular disinfection.
With daily charter rates starting from €, our Holiday V (Holiday 5) gulet yacht is at your service in the crystal-clear waters of Fethiye, Bodrum, Kaş, Kalkan, Kekova, Ölüdeniz, Marmaris, Gökova, Hisarönü, Ege, and Akdeniz. Take a step into the blue, where the world seems to flow beneath your feet, away from the stresses and noise of the city. It's your chance to create cherished memories with your loved ones.