Berenim 21m Trawler
Berenim 21m Trawler
---
Are You Ready For a Brand New Sailing Adventure? Berenim 21m Trawler for Charter
Berenim 21m Trawler, which was built in 2022 as the product of a special project in Turkey, attracts attention as a luxury motor yacht. With its large volume and a wide body of 6.2 meters (93 GT), it offers extremely spacious cabins. it provides a luxurious and comfortable experience with 3 cabins for 6 guests and 2 cabins for the crew.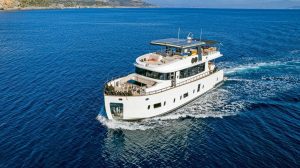 With its huge flybridge area and hydraulic swimming platform, the yacht's outdoor spaces also promise an unforgettable trip. In addition, thanks to its features that feed themselves with electricity, you can enjoy an eco-friendly holiday. The bank of 8 550W solar panels and a lithium ion battery with a total power of 4.4kW can operate the air conditioning system during the night and meets your energy needs without the use of a generator.
Berenim 21m Trawler attracts attention with a unique spacious kitchen and service area facing forward on the main deck. You can enjoy preparing food in the presence of magnificent views. At the same time, a steering console is also available in the flybridge area for water sports and sea enjoyment.
Powered by 2 x 545 HP Doosan engines, the Berenim 21m Trawler is quite powerful with only 220 hours of use. When cruising at a speed of 12 knots at 1550 RPM, both engines consume a total of 50 liters of fuel per hour. with a 4,000-liter fuel tank, it has a range of about 700 nautical miles at a speed of 12 knots. The steering console located in the Flybridge area can be easily steered with a joystick.
Berenim 21m Trawler promises an unforgettable yacht holiday with its unique design and powerful performance. You can consider renting this wonderful motor yacht to give yourself and your loved ones an unforgettable sea adventure. While enjoying peace and luxury, you will spend pleasant moments accompanied by magnificent sea views and the beauties of nature.
Berenim 21m Trawler is waiting for you for a brand new experience and a dreamy holiday. The spacious and comfortable interiors of the yacht, which can be personalized according to your wishes, offer an ideal opportunity for you to experience unforgettable moments. Contact us immediately for rental options and booking and step into a great yacht vacation. Enjoy the sea and the wind with the Berenim 21m Trawler.
Weekly Charter Rates
General Specifications