46m Motor Yacht
46m Motor Yacht
---
46m Motor Yacht: The Epitome of Elegance and Performance
Introducing the stunning 46m Motor Yacht, a masterpiece crafted in Turkey and unveiled in 2018.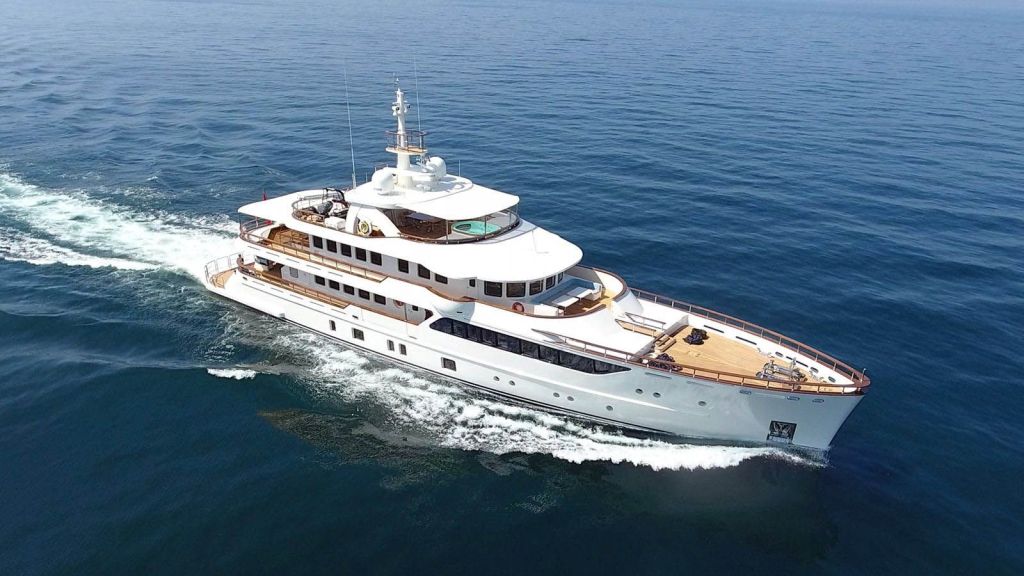 This extraordinary vessel is more than just a yacht; it's an exquisite blend of opulence, innovation, and high-performance engineering. With a top speed of 16.0 knots and an impressive range of 4700.0 nautical miles at cruising speed, powered by two robust Cummins diesel engines, the 46m Motor Yacht promises an unparalleled cruising experience that seamlessly marries luxury and efficiency.
Step aboard and be greeted by the epitome of indulgence and comfort. The yacht's interior is a testament to sophistication, meticulously curated by the masterful minds at Mural Yachts. Five lavish staterooms can host up to 10 discerning guests, each attended to by a dedicated crew of 7 members who cater to your every desire, ensuring a personalized and pampered voyage.
The 46m Motor Yacht boasts , offering a generous and well-appointed space for relaxation and entertainment. With a beam of 8.95 meters, the yacht's expansive decks provide ample room for sunbathing, alfresco dining, and enjoying the breathtaking vistas that only a luxury yacht charter can provide.
Designed by Mural Yachts, a renowned name in the yachting industry, this vessel showcases their exceptional expertise in both naval architecture and interior design. Mural Yachts has successfully crafted the blueprint for three outstanding yachts, lending a wealth of experience and creativity to ensure that every inch of the 46m Motor Yacht is a testament to perfection.
The 46m Motor Yacht isn't just a vessel; it's a sanctuary of elegance, a symphony of power and grace that promises an unforgettable voyage. Whether you yearn for a tranquil cruise through azure waters or a lavish retreat filled with opulent amenities, this yacht is your passport to a world of luxury.
Embark on an extraordinary journey, where every detail is meticulously designed to cater to your desires. Discover the 46m Motor Yacht's legacy of luxury, and create timeless memories as you explore the world's most captivating destinations in unparalleled style and comfort. Your dream charter experience awaits—come aboard the 46m Motor Yacht and embrace the extraordinary.
Asking Price
21.000.000 Euros
Yacht Availability
available
Machinery & Electronics
Main Engines
2 x 1200HP Cummins KTA38-M2
Engine Hours
2 x 1057 Hours
Power Generators
2 x 90 hp