Tankoa Yachts 50m For Sale
Tankoa Yachts 50m For Sale
---
Luxury yachts for sale: Experience the highest levels of luxury and performance on Tankoa's 49.9m masterpiece
Immerse yourself in this world of luxury and exoticism with this exquisite yacht built by Tankoa Yachts in May 2023. At an impressive length of 49.9 meters, this masterpiece redefines luxury, with 9.4 meters of beam and 2.4 meters of draft. Accommodating 12 distinguished guests in 6 luxury cabins including a VIP stateroom, this vessel promises an unforgettable experience for every discerning traveller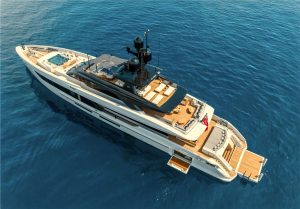 Tankoa Yachts: A high performing asset
With a respected heritage in the yachting industry, Tankoa boats are known for their precision and innovation. The brand's commitment to perfection is evident in every aspect of this vessel, and from her sleek lines and refined interiors to her exceptional performance on the water, this vessel this stands as a true testament to the shipyard's commitment to delivering nothing more than perfection.
Tankoa Yachts Beautiful accommodation
Step into a world of luxurious comfort in the 6 luxurious suites on this ship. The master suite and VIP stateroom on the main deck offer luxury fit for royalty. Beautifully decorated with luxurious furnishings, stylish linens and accessories, each room promises a tranquil haven for relaxation and rejuvenation
Unparalleled entertainment
Entertainment plays a major role on this unique cruise, providing guests with an unparalleled experience. Immerse yourself in a world of rich sound with a high-quality Focal audio system, carefully integrated throughout the boat, delivering an audio experience like no other. A stunning home theater in the park invites guests to watch cinematic entertainment under the twinkling night sky. The Sky Lounge features a rollable top-of-the-line LG TV, setting the stage for unforgettable movie nights and relaxing in comfort.
The last breath of fresh air
Tankoa Yachts is designed to provide the ultimate in relaxation for its discerning guests. The "magic seats" pool and forward lounge area offer a peaceful and inviting place to sunbathe or take a refreshing swim while the large jacuzzi on the sun deck adds a touch of luxury, creating the perfect sanctuary to soak up your breathe while enjoying the relaxation ideas. The master suite continues to feature two balconies, inviting guests to soak in the beauty of the surrounding landscape from the privacy of their resort
State-of-the-art communication
While this luxury yacht epitomizes solitude and tranquility, it also ensures that guests remain connected in the digital world. Keep in touch with family and friends or use WIFI Internet to manage business using Starling and 4G connectivity, ensuring seamless connectivity and convenience.
Unparalleled performance and efficiency
The boat is equipped with CMC stabilizers, providing excellent maneuverability and stability even in rough waters. Sailing at 15 knots and reaching a top speed of 17 knots, she offers speed and efficiency, making her ideal for exploring remote coastlines and coastal paradises Tankoa care see each tour as an easy and relaxing adventure, allowing guests to focus solely on their pleasure surroundings
Excellent art and craftsmanship
The design of this luxury boat is unique, reflecting the skill and passion of Tankoa's master craftsmen. From the carefully designed interiors to the sophisticated technology, no detail has been overlooked. The seamless combination of modern fittings and vintage features creates a sailing style that remains timelessly elegant.
Investing in luxury and travel
Purchasing this luxury yacht not only represents a commitment to unsurpassed quality but also an investment in unforgettable voyages. Imagine exploring the world's most exotic destinations behind the opulence surrounded by the natural beauty of the sea and sky From private beaches to bustling cities, every voyage on this ship promises to be a journey that will they have discovered and enjoyed.
Your gateway to the wonderful
As the sun sets in the horizon, shimmering gold on the open sea, this luxury yacht is waiting to sweep you away on a unique journey Tankoa Yachts's reputation for efficiency can inspire confidence as time every ride on this ship is met with unparalleled service, sophistication and style . Immerse yourself in the paradigm of wealth and embrace a world of infinite pleasure. he is a sign to the sky; Tankoa Yachts for sale, The sale of your luxury yacht awaits.
Asking Price
35.000.000 Euros
Yacht Availability
available
Length overall
49.9 meters
Machinery & Electronics
Main Engines
2X MAN V12 1400 hp