Romea
Romea
---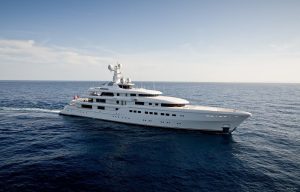 Since the earliest beginnings of civilization, mankindhas been drawn to the sea. For eons, explorersand adventurers have been following its sirensong, taking to the waves to discover new shores,islands and continents. And to revel in the sheer pleasureand freedom of life at sea. The same irresistible pullhas led the most brilliant engineering minds to createbetter and better vessels and seafaring technologies.These compelling energies and the pure joy of the seaare united in the finest of today's yachts.
The Romeo motor yacht invites you to enter a world of unsurpassed luxury, entertainment, recreation and fascination. At first glance, her classic, statelylines evoke the majestic power and grace of a vesselthat is equally at home swiftly cruising far out at sea orcalmly navigating fjords, inlets and fashionable ports.
Step on board and you will be transported to a newlevel of aesthetic refinement and yachting pleasure. Theinterior, also the work of the highly experienced designer, offers different spaces for every moodand activity – from grand saloons, elegant lounges andmultimedia entertainment areas to oases of tranquilityand intimate refuges. Yet, as individual as the variousareas are, they all share an exquisite sense of balanceand design purity, carried out in the finest tradition ofuncompromising handcraftsmanship and attention todetail. Accordingly, the materials are caringly selected toenhance the atmosphere of exclusive luxury: fine bronze,steel and glass, expert stonework, rich leather andexotic woods. Bespoke furnishings and unique worksof art round off the picture.
With a pool, sundecks, observation decks and al fresco dining completewith barbeque, as well as tenders and a full array ofwatersports facilities and equipment, the charter yachtoffers a yachting experience second to none.
Yacht was completed in July, 2015, by therenowned German shipyard Abeking &Rasmussen in Bremen. Founded in 1907 byGeorg Abeking and Henry Rasmussen, A&R draws on along history of building many of the world's finest yachts.The company's family approach ensures freedom toinnovate and respond to special wishes.
Main deck al fresco saloon
A combination of light, foldable deck furniture andcomfortably cushioned seating make the generousopen-air saloon located on the main deck aft the idealfair-weather gathering place. Retractable awnings allowyou to create different atmospheres.
Sundeck
Swim or just relax and enjoy the sun in the expansivepoolside lounge area. The upper-level sundeck allowsample space for open-air recreation and entertainmentset against the backdrop of spectacular views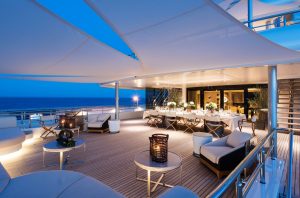 Upper Ovservation Deck
An expansive open-air lounging arealets you take in your surroundingsor simply enjoy the sea air in utmostluxury. Comfortable and elegantlounge furniture easily seats groupsof friends and family for drinks andentertainment
Upper Deck Dinnig Saloon
A semi-enclosed dining area allows an easy transitionfrom the adjacent al fresco lounge. Sliding glasspartitions offer wind protection.
Weekly Charter Rates
Low Season
1.100.000 Euros
Mid Season
1.100.000 Euros
High Season
1.100.000 Euros
General Specifications
Water Toys
1 x 9.6 m Yacht Werft Meyer Limousine 1 x 8.58 m Pascoe Beach Lander 1 x 5.9 m Yacht Werft Meyer Sports tender 1 x Dedicated SOLAS rescue boat 2 x Seadoo BRP GTX-IS 260 wave runners 2 x Yamaha Super jets 2 x Seabobs 2 x Windsurfers, one learner board and one expert 1 x Laser Pico sail boat 2 x Stand up paddle boards 6 x Complete sets of dive equipment, BCD's, Bottles and Regulators 1 x Wakeboard with various bindings 2 x Obrien knee board 4 x Kayaks A selection of water skis A selection towable inflatables A selection of personal floatation devices A selection of wetsuits A selection of protective head gear A selection of fishing equipment