Princess 52Fly Motoryacht
Princess 52Fly Motoryacht
---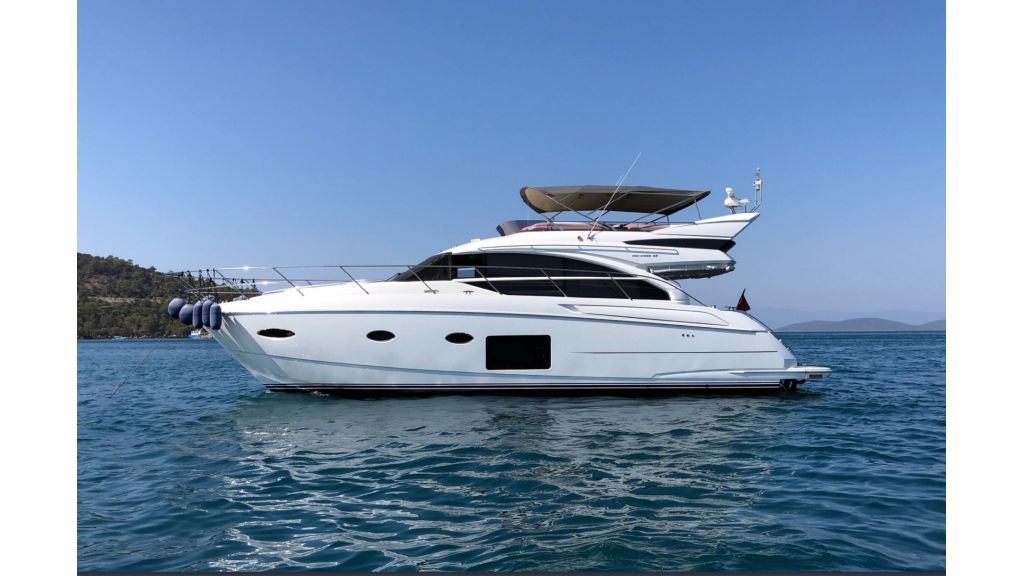 Introducing the epitome of sophistication and luxury on the high seas – the Princess 52Fly Motoryacht. With its impeccable design, remarkable specifications, and uncompromising commitment to excellence, this vessel redefines the art of yachting. Prepare to be enthralled as we unveil the opulent world of the Princess 52Fly Motoryacht.
Setting sail on the Princess 52Fly is akin to entering a realm of pure opulence. From its sleek profile to its meticulously crafted interiors, every aspect of this 16.66-meter masterpiece exudes luxury. This vessel is not merely a yacht; it's a floating palace where comfort, style, and indulgence intertwine to create an unforgettable experience.
Built in 2017, the Princess 52Fly seamlessly blends contemporary innovation with classic maritime elegance. Its design pays homage to timeless yachting aesthetics while incorporating the latest technological advancements. As you cruise the seas under the Turkish sun, you'll appreciate the fusion of modern comforts and traditional charm that define this vessel.
The Princess 52Fly accommodates up to 6 guests across 3 exquisitely designed cabins. Each cabin is a sanctuary of comfort and style, offering a retreat where relaxation meets luxury. The inviting interiors are adorned with carefully chosen materials, creating an ambiance that exudes warmth and sophistication.
Experience the thrill of gliding across the water at a cruising speed of 22 knots, with the capacity to reach a maximum speed of 30 knots. Whether you're exploring secluded coves or cruising towards the horizon, the Princess 52Fly delivers a smooth, exhilarating voyage. Every moment spent aboard is a testament to its impeccable engineering and performance.
Your journey on the Princess 52Fly is not limited to the vessel itself. Engage in water sports, discover vibrant coastal towns, or simply unwind on the spacious deck as you take in breathtaking vistas. Whether you seek adventure, relaxation, or a seamless blend of both, this vessel offers you a canvas to paint your maritime dream.
Weekly Charter Rates
General Specifications
Length Over All
16,66 meters