Naia Motor Yacht
Naia Motor Yacht
---
Explore the Wonders of Naia Motor Yacht: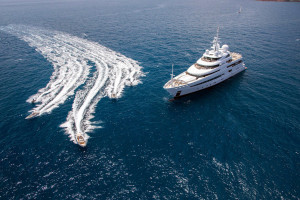 If you are looking for a unique and luxurious experience to sail on the rough seas, look no further than Naia Motor Yacht. Launched in Vigo, Spain in 2011, this magnificent 73-metre adventure promises to take you on a journey like no other. Having recently completed winter renovations, Naia Mega Motor Yacht Charter is ready to offer 15 privileged guests on board for an unforgettable trip. Come explore the wonders of Naia on a custom-built submarine, which serves as a luxury research vessel for studying marine science and conservation.A masterpiec built, Naia  carries the hallmarks of refined design and yacht design. Its elegant exterior and elegant interior convey the ultimate in luxury and comfort. Every inch reflects Naia's attention to detail and dedication to providing an unparalleled charter experience.
Experience Greece's Maritime Paradise:
Embark on a private luxury yacht cruise and explore the beauty of the world's oceans in the utmost comfort and style. With a rich history on the water, this luxury liner combines state-of-the-art technology with timeless luxury. Naia Mega Yacht is not just a character; He is the gateway to unparalleled consciousness.
For those who want to experience the beautiful islands and beaches of Greece, Naia Motor Yacht offers a luxurious escape from which to explore the wonders of the Aegean Sea Imagine waking up to breathtaking views, taking a dip in crystal clear waters like looking in a mirror, discovering the magic of Greek culture and food—all from the comfort of your own luxury yacht .
Sail the Turquoise Waters:
Stunning Turkish beaches and blue water await you on arrival at Naia Yacht Charter Souhay. As you sail along the Turkish Riviera, you will be captivated by ancient ruins, quaint coastal towns and secluded beaches accessible only by boat.
What sets Naia Motor Yacht apart from other luxury charters is her 9m custom-built submarine. Dive into the blue depths with six of your mates and dive to 73 meters below the surface. Witness the wonders of the deep sea, an experience reserved for the lucky ones.
The Naia Motor Yacht stands as an epitome of luxury and adventure on the high seas. With custom-built submarines, scientific equipment, and a dedication to marine science studies and conservation, Naia offers a charter experience unlike any other Discover the majesty of the Greek islands or Turkey breathtaking beaches Await you at Naia Motor Yacht.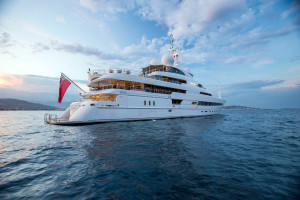 Weekly Charter Rates
General Specifications
Length Over All
73.60 meters
Water Toys
1 x Tender McMullen 9.10m Wing Dive Support / 1 x Tender gine 2 x Tenders Pascoe 6.20 Jet RIB with Styer Goldfish 8.90m Rib with Yanmar EnEngines / 1 x SOLAS rescue boat / 2 x Yamaha VX Cruiser Wave runners / 2 x Paddle boards Wake boards