Marmaris Build Classic Gulet
Marmaris Build Classic Gulet
---
The Dream of Sea Lovers: 42m Marmaris Build Classic Gulet for Sale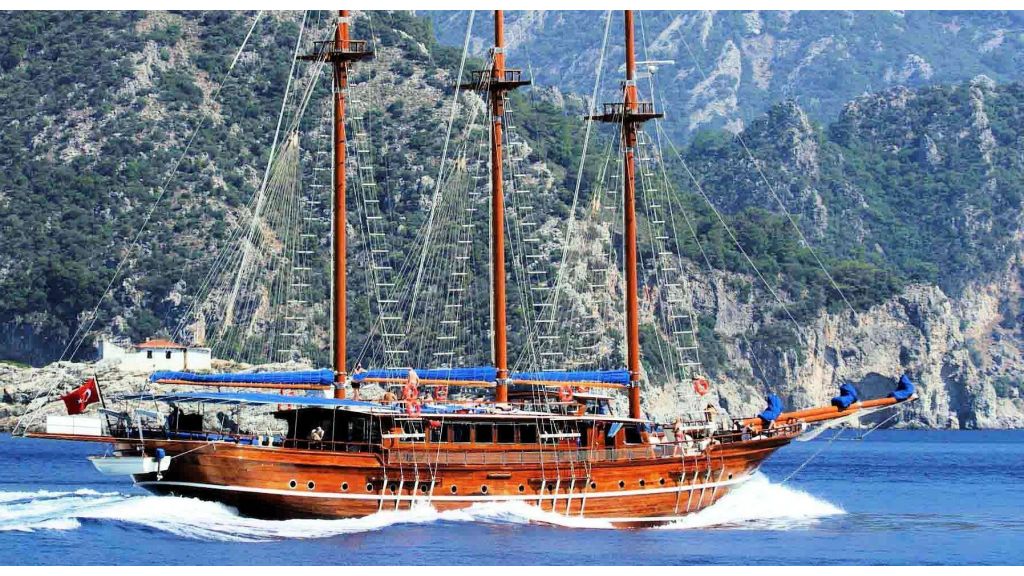 If you are looking for a unique sea experience, it is time to meet Marmaris Build Classic Gulet at the point where luxury and elegance meet. Carefully built by Marmaris Boatyard, this 42-meter gulet offers the perfect combination of high-quality craftsmanship and modern comfort. This ship, which carries the essence of the classic gulet structure and benefits from the advantages of modern maritime technology, attracts attention almost like a work of art.
Perfect Design with Luxury Gulet Build
Marmaris Build Classic Gulet bears the traces of careful design in every detail. Its magnificent structure, elegant woodwork and mastery of details define the character of the ship. On this ship, where traditional gulet design is blended with modern comfort and luxury, every point reflects an aesthetic integrity. The atmosphere that arises when the warmth of the Decking and the blue of the sea come together will fascinate you instantly.
Gulet Charter: Enjoy the Freedom
This magnificent gulet is not only a ship, but also a platform that offers a travel experience full of unforgettable memories. With Gulet Charter options, you get the opportunity to make your dream sea vacation a reality. Marmaris Build Classic Gulet, which you can rent with your loved ones or for your special events, offers all kinds of comfort with its spacious interiors and comfortable outdoor areas. While sailing in the vastness of the sea, you enjoy luxury while enjoying your freedom at the same time.
Gulet for Sale: Don't Miss the Opportunity
If you are a sea enthusiast and want to own your own gulet, you should not miss the sales opportunity of Marmaris Build Classic Gulet. This unique ship was built in 2008 and designed in accordance with the latest technology. offering a spacious living area with a length of 42 meters and a width of 7.60 meters, the ship is ready to welcome its guests with a guest capacity of 16 people and 8 luxury cabins.
Machinery & Electronics: The Power of Technology
Marmaris Build Classic Gulet is powered by 2 x 500 Hp Volvo Penta main engines. thanks to 2 22 kw Onan power generator, the ship meets its energy needs even during long-term trips. with a fuel capacity of 10,000 liters and a fresh water storage capacity of 14,000 liters, the ship offers an ideal option for long and enjoyable sea voyages.
Go Exploring
Marmaris Build Classic Gulet, which travels proudly under the Turkish flag, offers the opportunity to roam the seas freely based in the port of Marmaris. With a maximum speed of 10 nautical miles, you can have a calm and pleasant journey and enjoy every moment.
If you want to enjoy luxury, comfort and freedom on the seas, don't miss the opportunity to experience your dream trip with Marmaris Build Classic Gulet. This unique ship combines the luxurious gulet structure with modern comfort, while offering you unforgettable sea experiences with Gulet Charter and Gulet for Sale options. Now it's time to step in to explore the magical world of the ship and add unforgettable memories to your life!
Asking Price
1.350.000 Euros
Yacht Availability
available
Machinery & Electronics
Main Engines
2 x 500 Hp Volvo Penta
Power Generators
2 x 22 kw Onan