Daily Pirate Ship
Daily Pirate Ship
---
Daily Pirate Ship: Turkey's Grand Pirate Adventure Awaits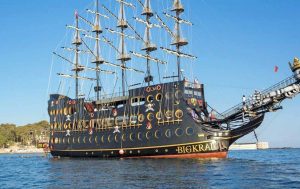 Introduction
Embark on an exhilarating maritime escapade aboard the "Daily Pirate Ship," an iconic vessel that stands as Turkey's largest and most captivating pirate ship. In this article, we invite you to delve into the world of high-seas adventure and explore the enchanting features that set the "Daily Pirate Ship" apart, promising an unforgettable experience for all who come aboard.
A Glimpse of Pirate Majesty
The "Daily Pirate Ship" reigns supreme as a testament to maritime grandeur, proudly holding the title of Turkey's largest pirate ship. Its imposing presence on the open seas captures the imagination and ignites a sense of excitement that can only be found aboard this exceptional vessel. Yet, its distinction goes beyond sheer size; it boasts an unparalleled expertise in crafting seamless pirate-themed arrangements and organizing events that are nothing short of extraordinary.
Navigating a Captivating Voyage
Your journey aboard the "Daily Pirate Ship" promises a delightful exploration of Turkey's stunning coastal landscapes. As you set sail along the meticulously designed route, you'll find yourself captivated by the breathtaking scenery that unfolds before your eyes. But this adventure isn't confined to the visual feast alone – it's a multi-sensory experience that immerses you in a world of engaging animations and captivating tales of pirate lore.
Enthralling Animations for All Ages
Ahoy, young mateys! The "Daily Pirate Ship" has something special in store for its youngest adventurers. Imaginative and carefully curated pirate animations are designed to ignite the wonder and excitement of children. From interactive activities to thrilling contests, the little ones are guaranteed a day filled with laughter, joy, and memories that will last a lifetime.
Feast Like a Pirate King
Indulge your senses in an exquisite culinary journey fit for the high seas. The "Daily Pirate Ship" spoils you with a bountiful open buffet that features a delectable array of dishes. As you savor each bite, you'll be treated to panoramic views of the open sea, creating a harmonious blend of taste and visual splendor. And for refreshment, enjoy a generous supply of unlimited soft beverages that keep you energized throughout your adventure.
A Day of Unending Entertainment
The "Daily Pirate Ship" lives up to its promise of non-stop entertainment. Engage in spirited interactions, partake in thrilling competitions, and be enchanted by captivating performances that unfold throughout the day. From dawn to dusk, the ship becomes a stage for laughter, camaraderie, and shared moments of excitement, ensuring that every passenger finds their day brimming with joy.
Conclusion
The allure of the "Daily Pirate Ship" transcends its title as Turkey's largest pirate vessel. It beckons you to embrace a world of swashbuckling adventure, interactive animations, and gourmet delights that come together to create an experience of unmatched magnificence. Set sail on this remarkable journey, where the spirit of the high seas is alive and well, and where the "Daily Pirate Ship" is ready to welcome you into its captivating embrace.
Asking Price
2.590.000 Dollars
Yacht Availability
available
Machinery & Electronics
Power Generators
2 x 250 kW