Chakra Motor Yacht
Chakra Motor Yacht
---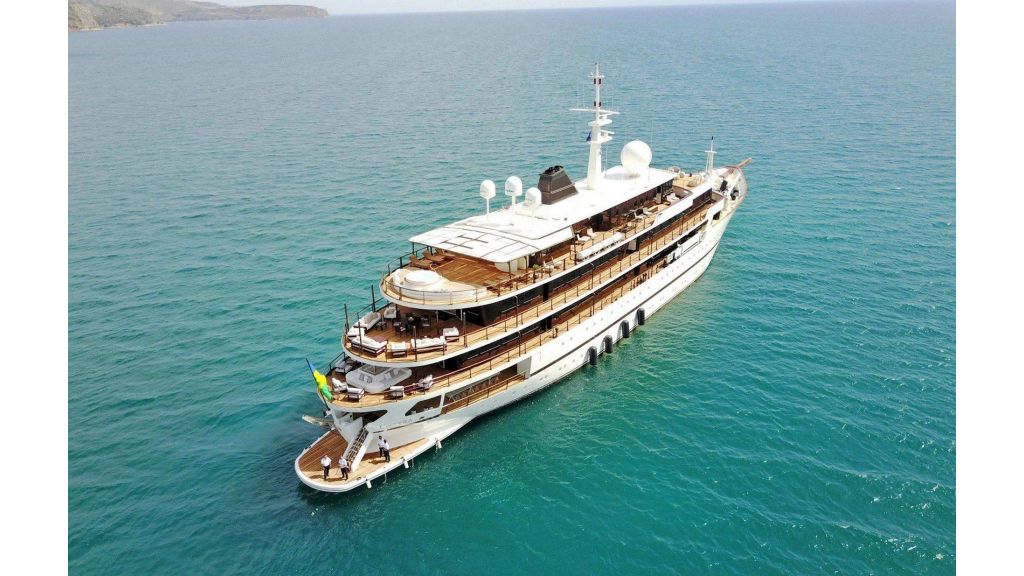 Prepare to embark on an unforgettable journey into the lap of luxury with the magnificent Chakra Motor Yacht. Stretching an impressive 86 meters from bow to stern, this vessel is a floating palace, offering the perfect blend of opulence and adventure for up to 38 fortunate guests. Join us as we set sail into a world where dreams become reality.
The Chakra yacht is not just a vessel; it's a statement of refinement and grandeur. Originally built in 1998 and masterfully refitted in 2016, it boasts a timeless elegance that is complemented by modern amenities, making it one of the most luxurious yachts afloat.
Step aboard and discover the epitome of luxury living. With 19 sumptuous guest cabins, each meticulously designed to exude sophistication and comfort, Chakra Motor Yacht ensures that every guest enjoys a restful and rejuvenating stay. From plush furnishings to tasteful decor, no detail has been spared to create a haven of tranquility.
Chakra's cruising speed of 13 knots allows for relaxed exploration of the world's most captivating destinations. Whether you're gliding through the turquoise waters of the Mediterranean or charting a course to a remote island paradise, every moment on board promises a journey filled with wonder.
For thrill-seekers, Chakra Motor Yacht offers an array of water toys and equipment that will satisfy your sense of adventure. Glide through the waves on powerful jet skis, soar above the water with a thrilling flyboard experience, or take in the scenic views from a jet tender. With scuba diving and snorkeling gear on hand, you can delve into the vibrant underwater world beneath you.
Savor gourmet delights prepared by the onboard culinary team. From delectable seafood feasts to international cuisine that tantalizes the taste buds, every meal on Chakra is an indulgence of the senses. Dine in elegance in the formal dining area or enjoy al fresco meals on the deck, surrounded by the soothing sounds of the ocean.
Weekly Charter Rates
General Specifications
Water Toys
1 x Sessa Marine / Key Largo 36" with Yamaha F350 AETx3 1 x 4.2 M rescue tender WITH 25 HP Yamaha 2 x Jet Sea Doo GTX 260 limited, 4-stroke 1 x Yamaha VXS wave runner Flyboard spark 3 x towing tubes Ski, mono ski, wakeboards, wakesurfs Scuba diving & Snorkelling equipment