Aden 5 Motoryacht
Aden 5 Motoryacht
---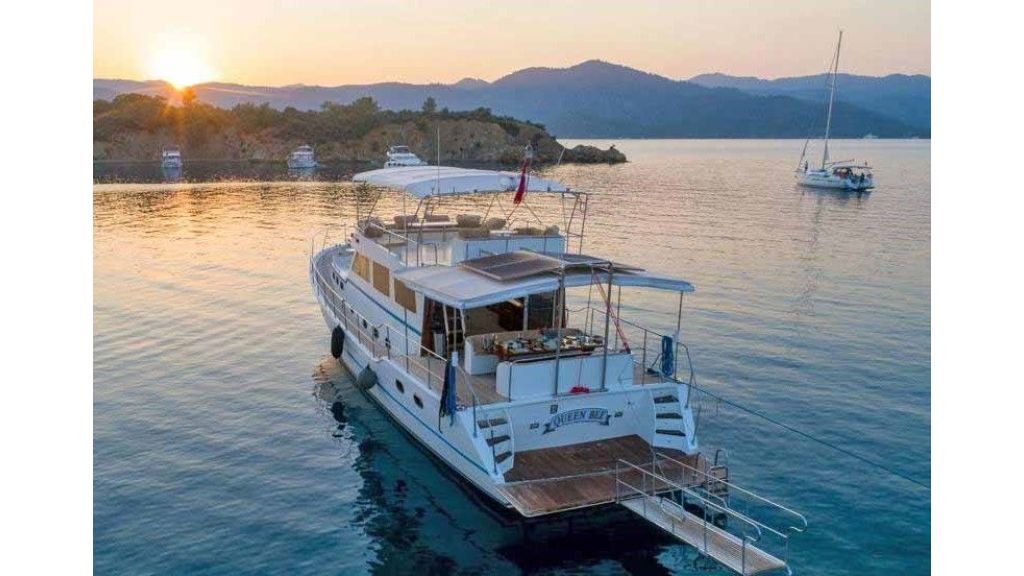 Welcome to the world of ultimate luxury and maritime elegance, where every wave is a whisper of opulence and every breeze carries the scent of adventure. Aden 5 Motoryacht is not just a vessel; it's a floating paradise that invites you to redefine your idea of a perfect escape. Join us as we unravel the luxurious tapestry that is the Aden 5 yacht experience.
Spanning an impressive length of 21 meters, the Aden 5 Motoryacht stands as a testament to timeless beauty and modern luxury. Originally built in 1999 and masterfully refitted in 2023, this vessel is a harmonious fusion of classic charm and contemporary sophistication, offering you an unrivaled yachting experience.
Step aboard the Aden 5 and immerse yourself in a realm of luxury and comfort. With accommodations for up to 8 guests spread across 4 exquisitely designed guest cabins, each thoughtfully adorned with plush furnishings and elegant decor, you'll find that every detail has been carefully curated to ensure your utmost relaxation and enjoyment.
Picture yourself gliding across the azure waters of the Mediterranean on the Aden 5 yacht. With a cruising speed of 9 knots, your voyage promises a leisurely exploration of the seascape. Feel the gentle sway of the yacht beneath your feet as you revel in the serenity of the open ocean. For those who crave a burst of excitement, the maximum speed of 11 knots offers a taste of adventure that is bound to leave you exhilarated.
Nestled in the heart of the stunning Gocek region, the Aden 5 Motoryacht calls the charming town of Gocek its home port. As you embark on your journey from this idyllic location, you'll have the opportunity to explore the breathtaking beauty of the Turkish Riviera, with its secluded coves, crystal-clear waters, and picturesque landscapes.
Every moment aboard the Aden 5 is a masterpiece waiting to unfold. Indulge in gourmet delicacies prepared by the onboard culinary team, unwind in luxurious lounging areas, and relish in the beauty of the sunsets that paint the sky in hues of orange and gold. Whether you seek relaxation, adventure, or a perfect blend of both, the Aden 5 promises an experience that is tailored to your desires.
Weekly Charter Rates
General Specifications