25m Gulet For Sale
25m Gulet For Sale
---
25M Gulet For Sale: A Timeless Beauty Ready for Your Adventure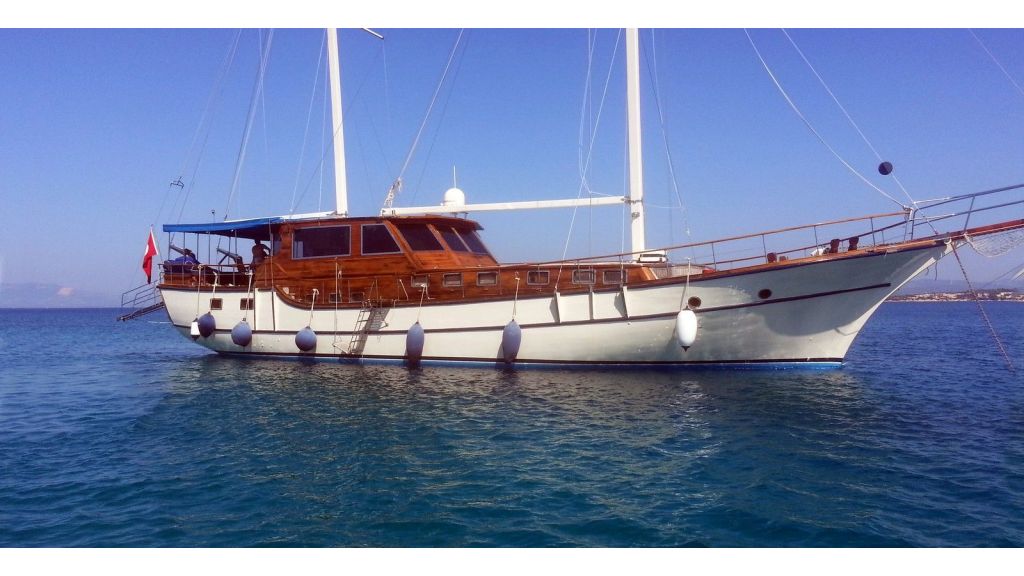 If you're seeking the perfect vessel to embark on a journey of luxury and exploration, look no further than the exquisite 25m Gulet For Sale. Originally launched in 1987, this stunning gulet underwent a total refit in 2013 in Marmaris, where it was transformed with modern materials and amenities, making it a true masterpiece that combines tradition with contemporary comfort.
A Gulet Redefined
The story of the 25m Gulet For Sale is one of evolution and dedication. Over the years, the first and second owners spared no expense in enhancing its beauty and functionality, turning it into a private paradise on the open sea. This remarkable vessel is now available for sale, inviting you to become the next proud owner of a true maritime gem.
Elegant Accommodations
Step on board and indulge in the lavish accommodations that the 25m Gulet For Sale offers. With 4 double cabins and 1 master cabin, you and your guests will enjoy the utmost privacy and comfort. Each cabin is thoughtfully designed and equipped with modern amenities, ensuring a restful and luxurious stay.
Versatile Capacity
Whether you're planning a grand celebration or an intimate gathering, the 25m Gulet For Sale is the perfect setting. With a daily capacity of 12 passengers and a regular capacity of 10, you have the flexibility to create memorable experiences with your loved ones. Host a spectacular event against the backdrop of the open sea or relish quiet moments of serenity—the choice is yours.
Unveiling the Specifications
The 25m Gulet For Sale boasts impressive specifications that make it a true standout in the world of maritime elegance. With a Gross Tonnage of 76.52 GRT and a Net Tonnage of 42.84 NT, this gulet is not only visually striking but also engineered for exceptional performance.
Navigational Excellence
Navigate with confidence using a range of high-quality navigational equipment that ensures your safety and enhances your experience. From the Sailor RT 2048 VHF to the Garmin Etrex 4W F1B GPS/Chart Plotter, you'll have the tools you need to chart your course and discover new horizons.
Seamless Comfort and Amenities
Onboard, the 25m Gulet For Sale spoils you with modern amenities that cater to your every need. Revel in the convenience of the Data Hydraulic Windlass and the comfort of the Teak Deck, offering a blend of functionality and elegance.
Unforgettable Memories Await
Your journey on the 25m Gulet For Sale is about more than just cruising—it's about creating memories that last a lifetime. With a collection of sophisticated features, including the Main Mast and Boom, Mizzen Mast and Boom, and stainless steel Rigging, you'll have everything you need to set sail on a grand adventure.
Your Opportunity Awaits
The 25m Gulet For Sale is not just a vessel; it's an invitation to experience the allure of the sea in unparalleled luxury. As you explore the world's most captivating destinations, you'll do so with the confidence that this gulet provides. Embrace the opportunity to own a piece of maritime history and embark on a journey that promises elegance, comfort, and the thrill of discovery. The 25m Gulet For Sale is more than a boat—it's your gateway to a world of exploration and sophistication. Seize this opportunity and make your maritime dreams a reality.
Asking Price
309.000 Euros
Yacht Availability
available
Machinery & Electronics
Main Engines
Catterpillar 460HP 6x Cylinders 2100 rpm
Power Generators
Onan 12 KWA