Small Gulet
Small Gulet
---
15m Small Gulet
Sail With Small Gulet For A Dreamy Holiday!
Specially designed for those who want to experience a luxurious and comfortable holiday experience accompanied by a unique sea view, Small Gulet takes you on a trip almost like a dream. this special 15-meter-long ship was built in 2012 and overhauled in 2022 and made ready to offer the highest comfort of today.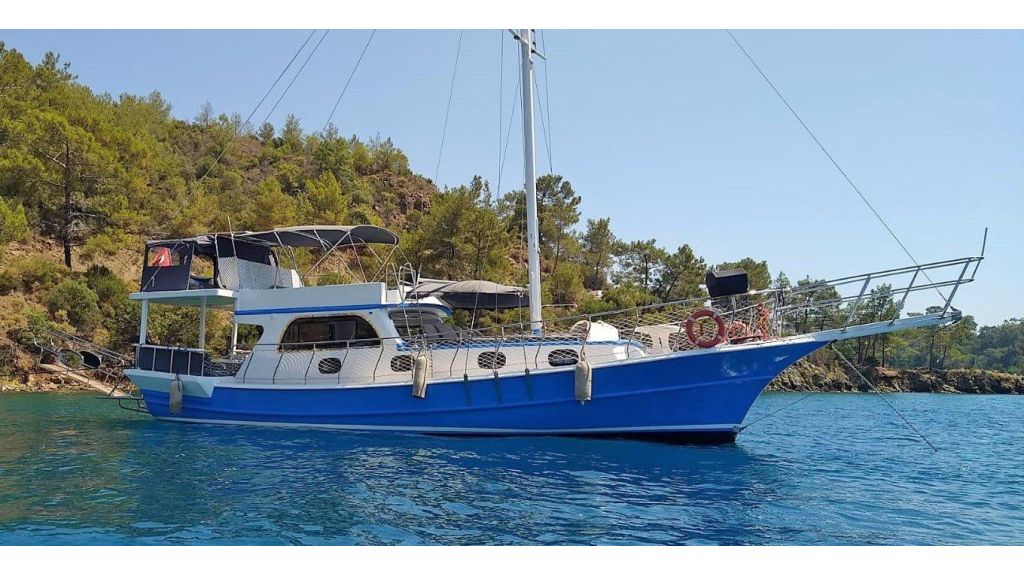 Small Gulet can accommodate a total of 6 guests with 3 staterooms. There are 1 master and 2 single cabins in these special cabins. Offering private bathroom and toilet facilities in each cabin, Small Gulet offers a perfect accommodation experience with every detail.
A Journey Full of Innovations
Small Gulet has been equipped with the innovations made in the recent period. The outer hull of the boat was completely renovated and a chrome platform was added to the rear part. during the 2023 season, air conditioners were installed in the cabins and a 17 Kwa generator was installed. All maintenance and repairs were carried out meticulously. Wind-powered machines have been renovated, tanks have been replaced, and toilets have undergone a modernization process. TV systems were also integrated.
Comfort and Aesthetics Decouple at the Same Time
Its body, built with Epoxy lamination technology, attracts attention with both its durability and aesthetic appearance. Moreover, every detail has been designed with careful consideration. The many areas on the ship are ideal for relaxing and having pleasant moments. The bed sizes of the master cabin and single cabins on Small Gulet are quite comfortable and comfortable. The ensuite bathrooms in each cabin offer a special comfort.
An Unforgettable Blue Cruise Experience with a Small Gulet
Small Gulet is an ideal option for those who want to enjoy the blue cruise by anchoring in the most beautiful bays of Turkish waters. With the special entertainment and water sports facilities on the boat, you can live every moment to the fullest. Crown your blue cruise with a Small Gulet and enjoy the sea with luxury and comfort. Don't miss this special experience where peace and fun are at the same time Decadent!
Asking Price
155.000 Euros
Yacht Availability
available
Machinery & Electronics
Main Engines
200 HP Cummins